Jeremy Renner is on the mend after he was seriously injured in a snowplowing accident in Nevada.
On his birthday, he shared a photo on his Instagram Stories of kids with BASE Chicago, an academic support group for student athletes, wishing him a happy 52nd birthday.
"Thank you for the Birthday Love!!!" he wrote above the clip.
He also gave his fans an update on his condition when he shared a separate Story photo of himself in a hospital bed surrounded by the staff in the medical facility.
"Thank you renowned Medical ICU team for beginning this journey," he wrote on the snap.
In early January, Renner became hospitalized after he underwent surgery after a snowplowing accident gave him blunt chest trauma.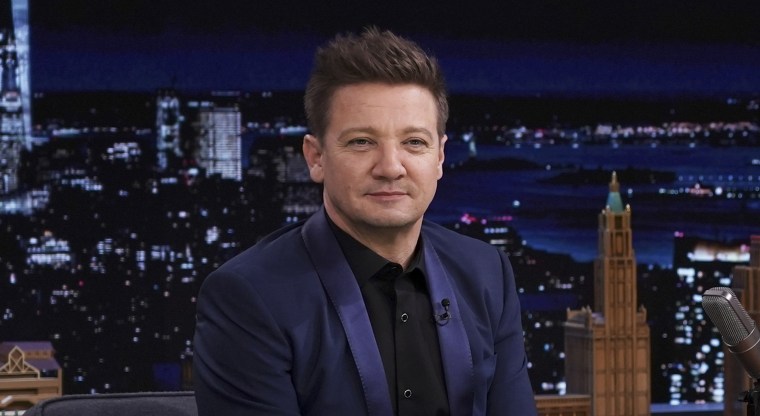 According to an emergency call log obtained by NBC News, an unnamed caller was "screaming" as they told the dispatcher that Renner had been "completely crushed" by a snowplow near his home in Reno, Nevada on Jan. 1.
In a Jan. 3, press conference, Washoe County Sheriff Darin Balaam revealed that Renner had been operating a 7-ton PistenBully to tow away another vehicle that was stuck in the snow.
After climbing out of the PistenBully for a brief moment to speak to a family member, he said that Renner noticed the snowplow starting to roll. That's when the actor attempted to climb back into the driver's seat to stop it in place but was ultimately "run over" at that point, the Sheriff said.
Renner's spokesperson, Sam Mast, told NBC News that the "Hawkeye" actor "suffered blunt chest trauma and orthopedic injuries" from the incident and was in a "critical but stable condition" after he underwent surgery on Jan. 2.
"His family is with him and he is receiving excellent care," Mast confirmed in a statement to NBC News at the time.
One day later, on Jan. 3, Renner updated his fans on his condition when he shared a photo of himself in a hospital bed on Instagram.
He wrote, "Thank you all for your kind words. 🙏. Im too messed up now to type. But I send love to you all."
In the comments, Renner received many well wishes from his fans and celebrity friends, including Jimmy Fallon, Chris Hemsworth, Chris Pratt, Vanessa Hudgens, Kate Beckinsale, Orlando Bloom, Ashley Benson, G-Eazy and more.