In an inspired homage to the "Saturday Night Live" version of "Celebrity Jeopardy!", real-life "Jeopardy!" contestant Talia Lavin got Alex Trebek to utter the phrase "Turd Ferguson" on Wednesday night's episode.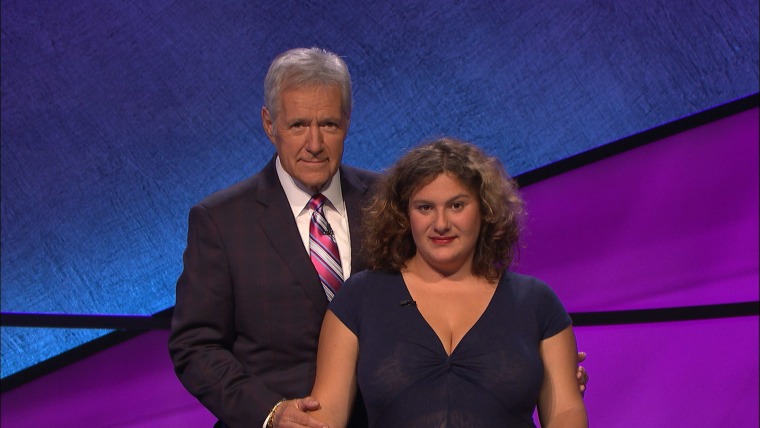 Unlike previous "Jeopardy!" rounds that require contestants to respond verbally, the Final Jeopardy round makes contestants write their responses for Trebek to read aloud. This set the stage for Lavin's viral moment: Responding to a clue about a song from a 1999 film, Lavin recalled the "SNL" sketch that premiered Oct. 23, 1999, and used her digital pen to write, "What is the love ballad of Turd Ferguson?"
Trebek, indeed, read Lavin's words aloud, prompting studio-audience laughter and praise from Twitter users who helped the moment go viral after its broadcast.
Because Lavin — a 26-year-old fact-checker for The New Yorker magazine — mathematically couldn't win without her opponents making major errors or losing on purpose, she opted for the funny response.
"I knew as soon as I had $600 going into Final Jeopardy that I wanted to make a joke, because I couldn't win," Lavin told TODAY.com via email. "But then I had 30 seconds to think of a joke and that was the one my brain came up with. I love Norm Macdonald, so I'm pretty psyched that SNL's best-ever skit is getting more exposure."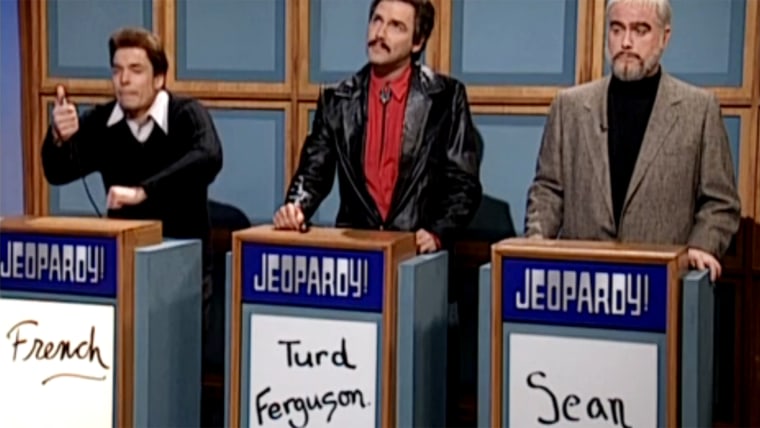 In that popular sketch, Macdonald portrays Burt Reynolds, who insists that an exasperated Alex Trebek (played by Will Ferrell) refer to him as Turd Ferguson. Insisting, "It's a funny name," Macdonald's character frustrates his host with incorrect answers and the wearing of a giant foam cowboy hat that appears out of nowhere.
Back on the real-life "Jeopardy!" set, Trebek approached Lavin about her unorthodox response. "Alex asked me who Turd Ferguson was," Lavin told TODAY.com. "I was like, 'He's from the SNL skits about you.' He was like, 'Oh, I haven't watched them in awhile.'"
Trebek may not have gotten the joke right away, but he hasn't been afraid to have a little fun at his own podium, where he's been known to rap lyrics to popular songs — on more than one occasion.
Contestants who are all but guaranteed to win or lose often take amusing liberties with their Final Jeopardy contributions. Last year, comedian Ari Voukydis did so by drawing an arrow that pointed to himself and asking the world, "Who is this handsome gentleman?"
Lavin taped her "Jeopardy!" episode last month, but the Bronx, New York, resident was not allowed to tell anyone outside the studio the outcome, as she'd signed a non-disclosure agreement. "I had to keep it on the [down low] for a few weeks," she told TODAY.com. "It was pretty tough to keep quiet but so worth it."
The moment went viral online soon after Wednesday's broadcast. Twitter, in particular, rejoiced.
"The Internet is a beautiful, roiling, sometimes vicious, delightful, fickle playground of the id," Lavin told TODAY.com, "and I'm glad I got to stand on the jungle gym and let out my barbaric yawp."
Some on the Web have declared Lavin a hero, but she demurs, "I'm just a regular American who likes oversized Styrofoam hats."
Follow TODAY.com writer Chris Serico on Twitter.