Austin Rogers, as "Jeopardy!" host Alex Trebek noted over the course of 12 nights, is a New York City bartender.
But to millions of fans who came to enjoy Rogers' amusing hand gestures and attitude over the course of his dozen-night streak on the notoriously difficult game show (and for those who did not), the 38-year-old New York native was clearly more than that.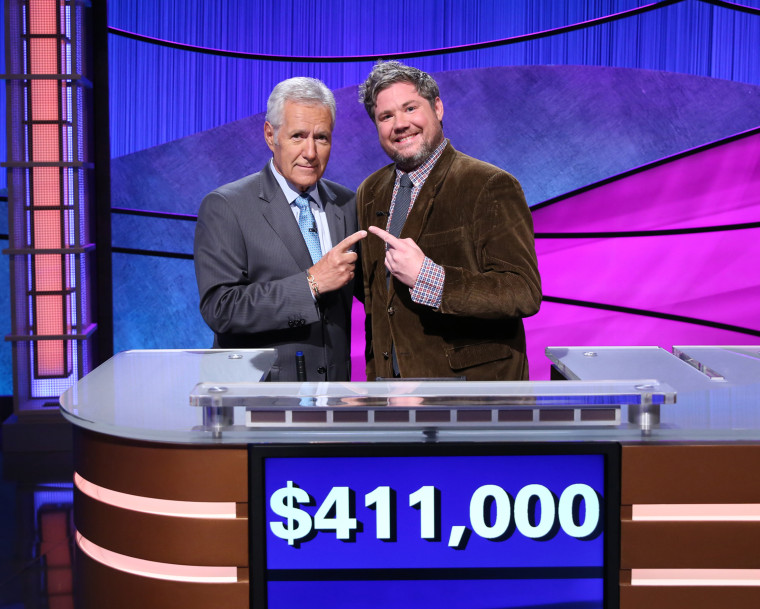 On Thursday, Rogers' winning streak ended when Scarlett Sims, a mom from Tennessee, bested him. But he walked away happy with $411,000 in prize money, a sum that puts him in fifth place in the show's all-time regular season winnings list. And fans will be happy to know they'll get to see him again in November during the "Jeopardy!" Tournament of Champions.
TODAY spoke with Austin on Friday to see what his game plan is next.
TODAY: So, a Tennessee-based stay-at-home mom takes down the New York City bartender. I guess you never know where you'll find your nemesis.
Austin Rogers: She killed it. She nailed it. She had me on the buzzer — I was speechless. So well-deserved.
TODAY: How does it feel to be labeled "quirky"?
Rogers: Stop calling me "quirky"! Why am I quirky? There are so many more words in the English language. Look, there's this really stale and staunchly conservative — not in a political sense — following of "Jeopardy!" and if the natural state of things is altered, people act like gravity has failed. They're so into it. I get it, it's fun — but lighten up a little. It's a game show.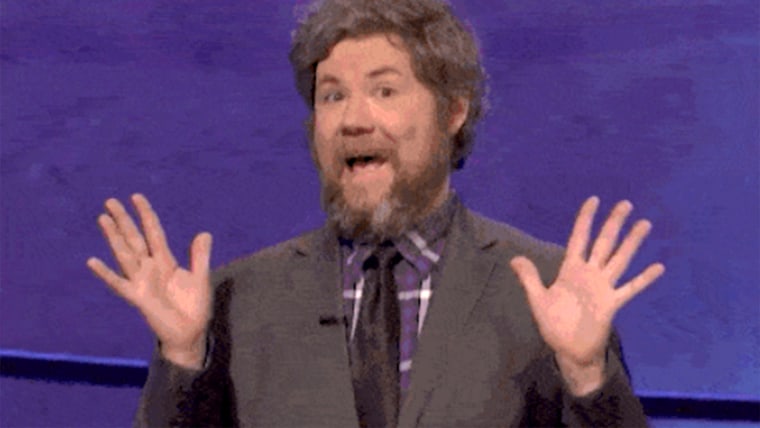 TODAY: You always seemed so relaxed during the game. How did you act like that under pressure?
Rogers: I've been an events planner, I've hosted trivia nights, I've done stand-up comedy. The "lights, camera, action" facet does not faze me at all. I'm also an insufferably arrogant know-it-all, so shouting answers at people is basically what I do. The words that most frequently come up in conversation with me are, "Well, actually…"
TODAY: Did you ever get into a groove where you started to feel, "I got this?"
Rogers: First day was like, "This is easy." Second day was like, "This is disturbingly easy." Third was like, "Oh, I don't care." My goal was to not be one and done. I accomplished my goal. After that, it's like playing with the house's money.
TODAY: Did you have a well-thought out strategy? You did tend to bet big on daily doubles.
Rogers: I read game theory but it was really too complex for me to think about. I mostly bet random numbers.
TODAY: We recently wrote an article about how yes, you have to get the "Jeopardy!" "questions" right, but really it comes down to buzzer control. Is that true?
Rogers: Absolutely. That is the most true thing of the game. About 92 percent of everything is known by every contestant. You've got to beat them to the buzzer. If someone is flustered by the buzzer, during a commercial break producers come out and say, "It's OK, take it easy, you got this" and typically you see improvement after the break. But everyone is incredibly smart; the only key distinction is beating the buzzer and knowing the 7 or 8 percent of questions others don't.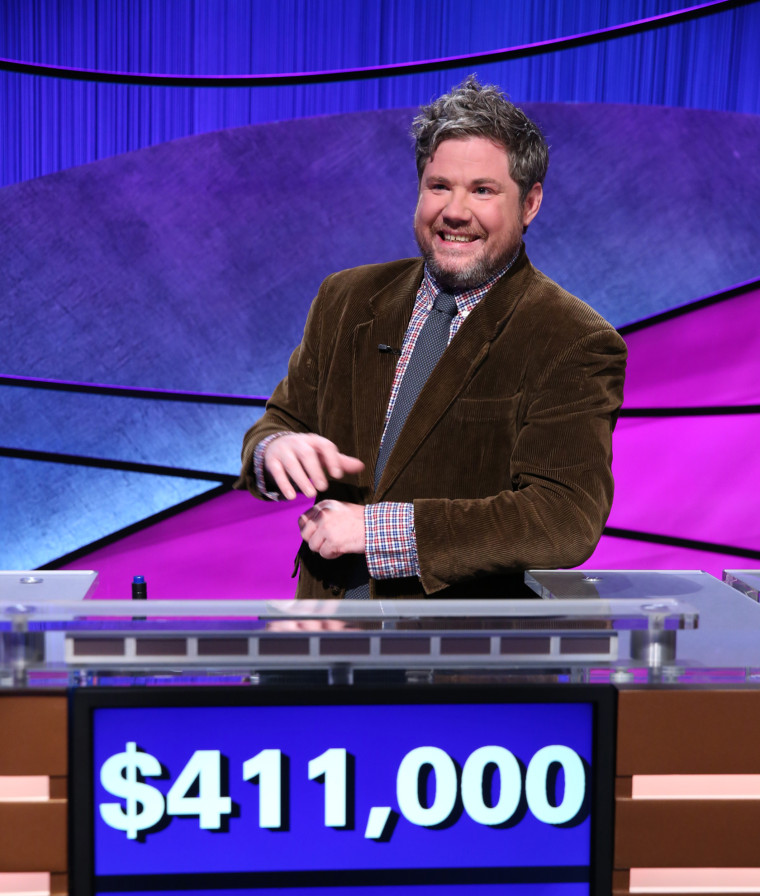 TODAY: Are you a lifelong fan of the show, and it was your dream to get on?
Rogers: It was mandatory childhood viewing. We weren't a big TV family — it was like, PBS, Tom Brokaw and "Jeopardy!" But I'm not SuperFan99 with a vintage "Jeopardy!" jersey and keeping stats while the game is on. This isn't a fulfillment of a life quest. I got in, no big deal. Auditioning was just a whim.
TODAY: Why do you think some people responded to you?
Rogers: It was serendipitous timing. I happened to air at a particularly funny time in the United States. There is this overwhelming climate of media/anti-intellectualism … you're simultaneously upbraiding and idolizing scientists and intellectuals. I'm not sure what it is about the democratization of anti-intellectualism, but being smart is cool. Being dumb is not. Bragging about being smart is not cool, but being smart is cool.
TODAY: Any words for the haters?
Rogers: There was a knee-jerk sense of revulsion to me, which is what most women have. But then I saw a groundswell of the anti-Austin camp changing to pro-Austin. It's like when the Yankees win and suddenly everyone has a Yankees hat. Winning makes converts pretty quickly.
TODAY: What are your plans for the money?
Rogers: It's almost irrelevant at this point. I'm happy with the money I make bartending. Now I've got a nest egg to develop a steady supplemental income. I've always been an idea guy — oh, I want to do this sketch comedy show, or finish this movie about the American Revolution I've been writing — and now I can. I just have to prioritize. Me and my four best friends are talking about flying to Brazil, then driving to the southernmost point on the continent.
TODAY: What's the best thing to come out of all this?
Rogers: Whatever it is, it hasn't come yet. But maybe the enthusiastic response of people, and the fact that I brought joy. I never thought that sentiment would be applied to me, because I'm a miserable curmudgeon, but people tell me: "You bring happiness." I'm honored and privileged to have done that.
Follow Randee Dawn on Twitter.