Every "Jeopardy!" fan has a different moment when current champion Austin Rogers either won their affections, or earned their lifelong enmity.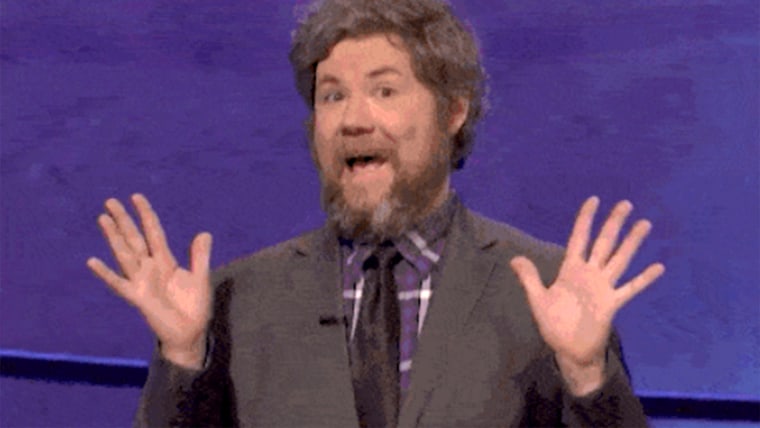 For some, it may have been with his look: The New York-based champ, who's amassed $188,700 in just the past five days, has tousled grayish hair and wears suits that make him seem like a hipster wearing a much older man's costume.
For others, it may have been his devil-may-care attitude in making big daily double bets. And for still more, it may have been that whenever the camera's on him, he acts like it's the Austin Rogers Show and he, Austin Rogers, is its main event.
Which it kind of is.
But for some (including this writer) it was the moment he responded to the "answer" about lyrics to the song "Hotel California" with the most defeated, eye-rolling tone possible by saying, "The Eagles." As if the answer to every question since the dawn of time had, in fact, been "The Eagles."
The thing is, Rogers is hugely watchable and easy to cheer for; that is, unless you find his attitude tiresome. But for now, the scale seems tipped in his favor with viewers, who just love talking about him on social media:
And Rogers has returned the favor — when possible Rogers has been live-tweeting his appearances, sometimes from a New York City bar.
As with any contestant, tonight could be his final night. But we hope Rogers will stick around a little longer — because as regular "Jeopardy!" watchers know, je ne sais quoi on a stressful, brain-twisting show like this is as rare as a successful six-figure true Daily Double wager.
Go Austin!
Follow Randee Dawn on Twitter.