A fun dance track with a serious purpose. Last week, Jennifer Lopez and "Hamilton" creator Lin-Manuel Miranda released "Love Make the World Go Round," a tribute to those affected by the Orlando Pulse shooting, with sales of the single benefiting survivors of the tragedy.
On Monday, they performed the song live for the very first time right here on TODAY, in front of an audience that included 50 Orlando survivors and family members.
"The world needs this right now — the world really needs the message of love being the answer," Lopez explained. "That's what really matters and that's what makes the world go 'round, and nothing else. Hate, anger — it's not going to get us anywhere."
RELATED: 'Love is love is love': Stars turn Tony Awards into moving Orlando tribute
Lopez already had the single in mind before the tragedy in Orlando, but wanted to change her vision for the song after realizing what a fitting tribute it would make.
"I decided it needed a little rework, I wanted to put somebody on the bridge and all these names came up, and then Lin's name came up, and I was like that's it!" she said.
The singer knew Miranda would be the perfect fit after hearing his moving "Love is love is love" speech at the Tony Awards. That speech is even sampled in the track.
"When Jen got in touch, it just felt like — I mean, knowing what Jen represents to the Latino community and what she represents to the LGBT community, that's the music that's playing it every club in Orlando — so, it felt like the perfect sort of way to amplify that message," Miranda recalled.
Or as TODAY's Savannah Guthrie paraphrased "Hamilton," "It felt like 'it's the movement, it's the moment.'"
And it's a particularly apt time to reference the show. Miranda's appearance on TODAY was his first time back in the spotlight since the curtain fell on his final performance in "Hamilton."
"It was an incredible, incredible night," he said of his last show.
And he not only said goodbye to the role Saturday night, but also to his long "Hamilton" locks.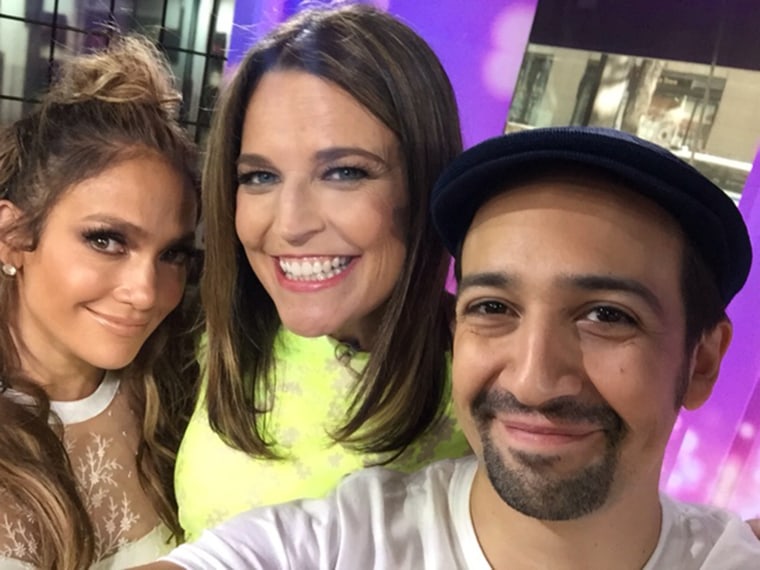 Proceeds "Love Make the World Go Round," which is available on iTunes, will go directly to the Somos Orlando Fund.
"Basically, the money's going to go to mental health services and services for the families of the victims and the greater Orlando area," Miranda announced.
Follow Ree Hines on Twitter.