It's hard to imagine how Jennifer Lopez manages to squeeze all of her exciting jobs into one lifetime. Not only is she an "American Idol" judge, she has a hit TV show on NBC called "Shades of Blue" and a Las Vegas residency!
But as she revealed on TODAY Tuesday, her excitement about doing so many things stems from an unexpected place.
MORE: Jennifer Lopez opens up about 'Idol,' finding love and looking flawless at 46
"I think there's a little bit of FOMO," she told Matt Lauer. "Fear of missing out. I had that from when I was very little."
Each of her jobs requires a different skill set, which keeps things interesting. On "Blue," which was just renewed for a second season, she keys into the core of her police character. "She's human first ... and that's what I think the [show] is about," she said. "It's about human nature and how it's easy to slide down that slippery slope."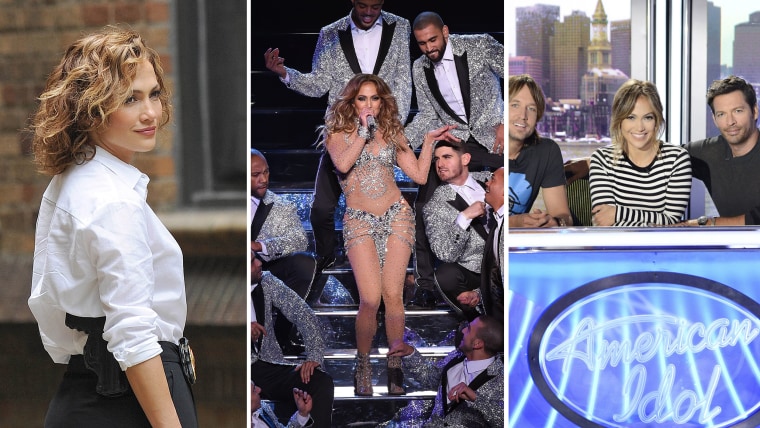 As for her Las Vegas residency, she got so excited about putting all the routines together that by the time she was ready to perform the intensity took her by surprise: "I realized ... they were all really high-energy [routines] and I was like, 'What the heck am I doing?'"
MORE: Jennifer Lopez opens Las Vegas residency: Go backstage with Hoda Kotb
And if Lopez thinks her routines are tough, she surely understands when her mom calls to complain after standing in the front row at one of her shows. "She goes, 'Jen, I'm kind of depressed.' And I'm like, 'Why?' And she's like, 'Because I can't dance the way I used to,'" Lopez recalled. "I said, 'No, you were dancing like crazy!'"
From Fly Girl to international celebrity, Jennifer Lopez's rise to fame -- and her search for love -- has made her a global phenomenon.
Well, at least Lopez will be able to dial things back a little when "Idol" ends after this season. For her, doing that show was a chance to "let people know who I really was." As she noted, being a judge let people see her as "a human being, the person who loves music and [gets] very emotional."
And maybe she'll finally have a little less FOMO in her life, now that she seems to have done everything.
"I did take on a lot last year," she admitted. "Probably more than I should have. ... A lot of irons in the fire, but it was [a lot of] great opportunities I couldn't say no to."
"Shades of Blue" airs on NBC Thursday nights at 10 p.m. ET.
Follow Randee Dawn on Twitter.