In an essay attributed to Jennifer Lawrence, the Academy Award winner rails against gender double-standards ranging from salary inequity to workplace conversation.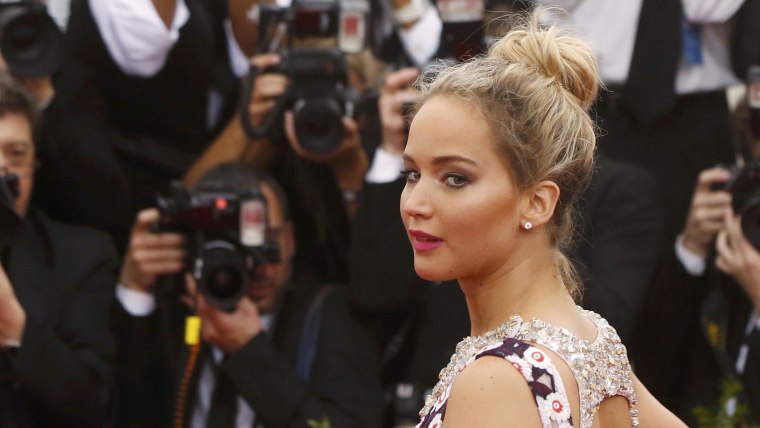 Lawrence's "Why Do I Make Less Than My Male Co‑Stars?" appeared in Tuesday's edition of Lena Dunham's newsletter, Lenny.
"When the Sony [email] hack happened and I found out how much less I was being paid than [male co-stars], I didn't get mad at Sony. I got mad at myself," she wrote. "I failed as a negotiator because I gave up early. I didn't want to keep fighting over millions of dollars that, frankly, due to two [movie] franchises, I don't need."
The actress wrote that she was reluctant to discuss the topic for a few reasons, including her income bracket and a desire to remain well-liked. "It's hard for me to speak about my experience as a working woman because I can safely say my problems aren't exactly relatable. … But if I'm honest with myself, I would be lying if I didn't say there was an element of wanting to be liked that influenced my decision to close the deal without a real fight. I didn't want to seem 'difficult' or 'spoiled.'"
Still, she suspected she wasn't the only woman who faced these problems on a fundamental level. "Are we socially conditioned to behave this way?" she asked. "We've only been able to vote for what, 90 years? … Could there still be a lingering habit of trying to express our opinions in a certain way that doesn't 'offend' or 'scare' men?"
Lawrence lamented that even basic conversations face double standards in a workplace setting.
"A few weeks ago at work, I spoke my mind and gave my opinion in a clear and no-[nonsense] way; no aggression, just blunt," she wrote. "The man I was working with (actually, he was working for me) said, 'Whoa! We're all on the same team here!' As if I was yelling at him. I was so shocked because nothing that I said was personal, offensive, or, to be honest, wrong. All I hear and see all day are men speaking their opinions, and I give mine in the same exact manner, and you would have thought I had said something offensive."
She concluded that she's done seeking an "adorable" way to share her opinion while trying to stay likable.
"[Forget] that," she wrote. "I don't think I've ever worked for a man in charge who spent time contemplating what angle he should use to have his voice heard. It's just heard. … I wasn't completely wrong when another leaked Sony email revealed a producer referring to a fellow lead actress in a negotiation as a 'spoiled brat.' For some reason, I just can't picture someone saying that about a man."
On Tuesday afternoon, Dunham's Instagram account hailed Lawrence for sharing her "brave and beautiful essay."
Follow TODAY.com writer Chris Serico on Twitter.