From the moment Jennifer Lawrence showed up on the Golden Globes red carpet, viewers had to know that hijinks would ensue. And the "American Hustle" actress, who picked up the first Globe of the night, did not let her fans down. Here's how JLaw made the Globes even more golden than usual:
Pranking Taylor Swift
During Swift's chat with E!'s Ryan Seacrest, Lawrence was spotted making a cartoon tippy-toe up to the interview platform with the intent of pushing the singer, as she confessed afterward. (Don't worry, the two are friends and embraced a moment later.) It's not a photo-bomb ... it's a goof-bomb!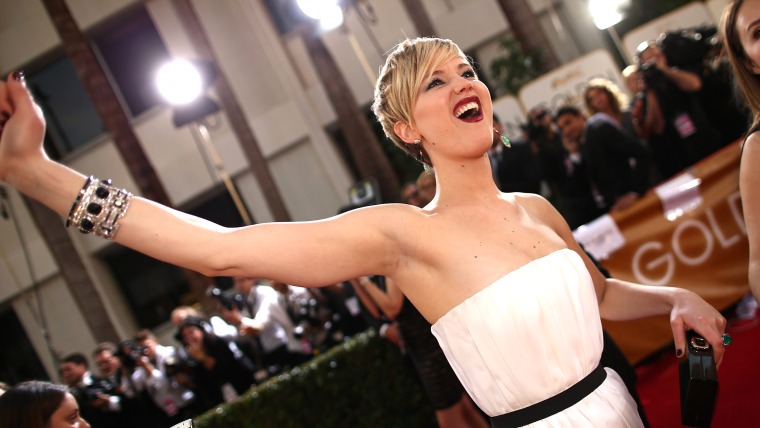 Throwing it all away
JLaw and bracelets have a sketchy history — when presented with some wrist candy during a "Catching Fire" interview she pretty much ate the whole thing mid-chat — so perhaps her blingy bracelet, which slid off of her wrist during her own Seacrest interview was making a pre-emptive dash for freedom. Check out the incident over at the Huffington Post. 
Award acceptance, with brutal honesty
Lawrence made it up the steps without tripping (a la her Oscar win), but was still breathless and fluttery while holding her prize and thanking director David O. Russell, among others. She wanted to make sure her fellow nominees in the category of best supporting actress in a motion picture got a mention, though, so she noted, "I watched all the movies. Not all of them, but you know what I mean." 
And don't worry, if Lawrence finds other ways to delight during the awards, you'll see an update, pronto.