Jennifer Lawrence had the most relatable reaction to eating super spicy chicken wings during a recent interview.
Lawrence made her "Hot Ones" debut June 22, less than a week after the premiere of her new raunchy comedy, "No Hard Feelings." She set her expectations with host Sean Evans before they began the interview, tentatively thanking him for having her on the show before sharing how well she can handle spicy food.
"I'm OK, but I'm going into this very humble," she explained. "I don't think I have that high of a pain tolerance."
As it turned out, Lawrence was correct in her assumption. 
After taking a singular bite of the eighth wing, she immediately looked shocked. In true Lawrence fashion, her shock turned into concern as she began waving at her mouth and tearing up while the pain settled in.
"Oh my god, I'm panicking," the 32-year-old said before she tearfully took a large gulp of water.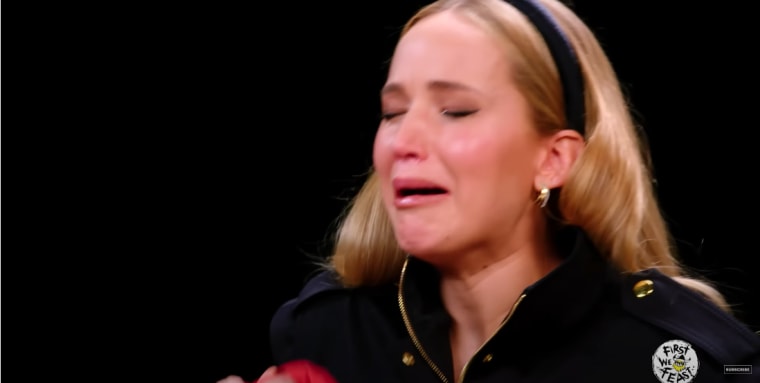 The "Hunger Games" star kept crying as the wing continued to wreak havoc. Evans attempted to coach the actor through the moment, letting her know that the sauce was "the hottest, most disgusting hot sauce in the world" and that "the worst is over."
"Nothing helps!" she yelled after taking a sip of her beverage. "I'm drooling so much! Is my face okay?" 
For many guests on "Hot Ones," the eighth hot sauce — aptly named Da'bomb Beyond Insanity — usually marks a turning point for the worse. (TODAY's very own Al Roker is a notable exception, as he breezed through the wing during his 2018 appearance on the show.)
For Melissa McCarthy, the sauce sent her into a wheezing fit before downing an entire pitcher of water. The hot sauce has also spawned several memes over the years, including the viral video of Idris Elba crying and choking after consuming a chicken wing slathered in the sauce.
Lawrence continued full speed ahead with the "Hot Ones" gauntlet, surprising Evans when she took a quick bite of the ninth wing.
"I feel like I'm gonna die," Lawrence cried as she chewed her bite. "Have you ever had anybody act like this?"
By the time the final and hottest wing rolled around — with a sauce called The Last Dab, named after the longstanding tradition of adding an extra dollop of sauce on the already coated wing — Lawrence became suspicious of Evans. After she asked if the final wing was as spicy as the rest, the "Hot Ones" host started to ominously shake the sauce bottle.
"What do you mean? What do you mean by shaking it? What are you doing?" Lawrence asked.
In a turn of events, after taking a first bite of the wing, Lawrence laughed as she told Evans, "I actually feel better. We're in a mind trick."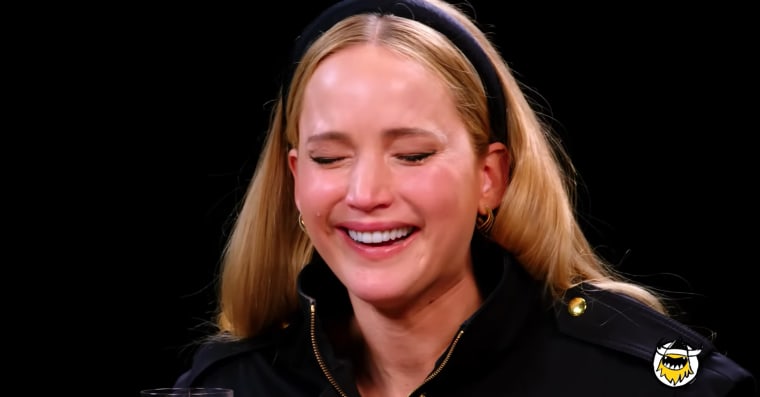 Fans applauded Lawrence for how she handled the hot wings in the comment section, with one YouTube user calling it "one of the best episodes ever," adding, "Jennifer Lawrence really truly impressed. Not only did she stick it out to the end but she took real healthy sized bites each and every time. A+!"
"Watching Jennifer Lawrence give the most realistic and relatable reaction dying to hot wings is one of the most precious things I will ever see," another fan commented.
One YouTube user added, "J Law might've been the bravest guest I've ever seen on this show! To push forward after having such a rough time with Da Bomb shows a ton of resolve."