Jennifer Lawrence started 2013 by winning awards for her role in "Silver Linings Playbook" and she's ending the year with new nominations as a star of "American Hustle." In between she won us over with her sense of humor and style and another blockbuster "Hunger Games" film. She's our runaway choice for celebrity of the year.
It's hard to root against Lawrence, 23, as we head into the new year and another round of Golden Globes and Oscars and more. Her refreshingly frank demeanor throughout last year's trophy season has us hoping we get to watch her stumble up to the stage more than once in 2014.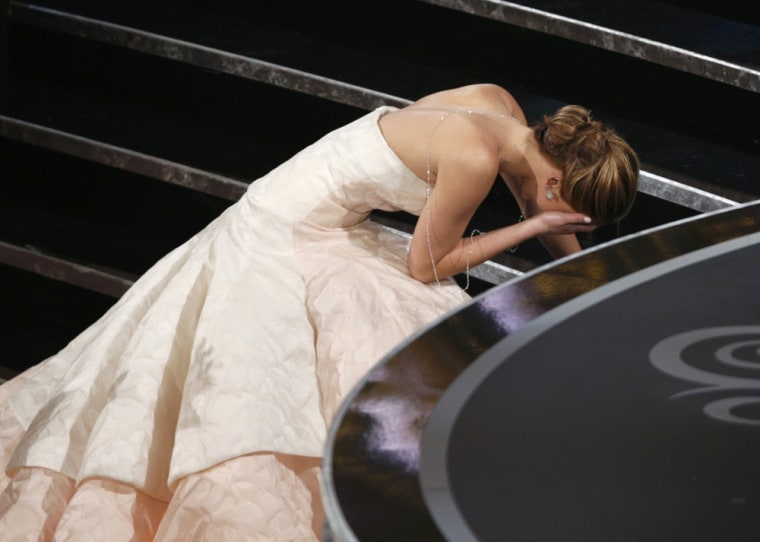 At the Golden Globes in January, the first words out of Lawrence's mouth as she looked at her award were: "Oh, what does it say? I beat Meryl!" in a sly jab at fellow nominee Meryl Streep. She also thanked producer Harvey Weinstein for "killing whoever you had to kill to get me up here today."

At the Academy Awards in February, the best actress winner tripped on her way to the stage and joked about it when she got there. During a hilarious backstage interview session, she admitted that getting ready for Hollywood's biggest night involved taking a shower and getting dressed. "I'm sorry, I did a shot before I ...," she joked.
She won again at the L.A. Film Critics Awards in April and delivered another memorable speech in which she coughed and apologized to everyone she shook hands with: "I'm sick so you're screwed."
Lawrence continued her streak of saying and doing memorable things long after the red carpet was rolled up on awards season.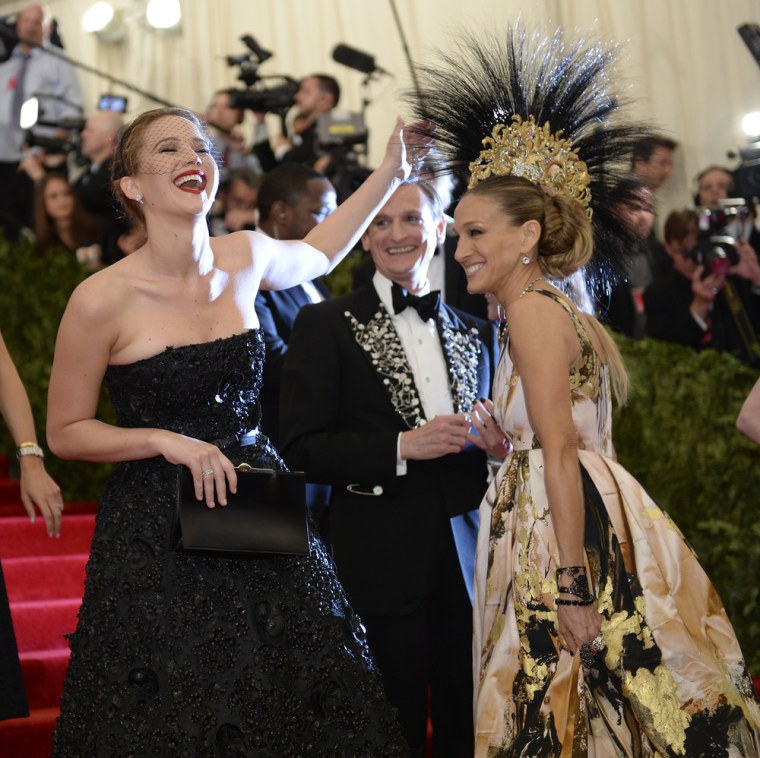 At the Met Costume Gala in New York in May — a fancy event for people in fancy clothes — Lawrence messed with the spiky headpiece worn by actress Sarah Jessica Parker. ''I have this thing when I meet famous people where I just shut down and do something really embarrassing,'' she told Entertainment Weekly.
During the rollout for "The Hunger Games: Catching Fire," Lawrence debuted a new pixie haircut and explained that she chopped her hair because it "couldn't get any uglier" after being "fried from being dyed too much."
At the London premiere of "Catching Fire" on Nov. 11, Lawrence left the red carpet to give comfort to a crying fan in a wheelchair.
When she did stick around to pose at premieres, Lawrence wowed us with a stunning variety of looks from head to toe.
As 2013 drew to a close, Lawrence — a popular pick on year-end best-of lists — was also named one of Barbara Walters' "10 Most Fascinating People of 2013." True to form, in a year filled with too much twerk talk, Lawrence said something worth listening to as she took to task those who focus way too much on women and their bodies. "If we're regulating cigarettes and sex and cuss words because of the effect they have on our younger generation, why aren't we regulating things like calling people 'fat'?" she told Walters in her Dec. 18 TV special.
Here's to a new year filled with the same old wit and wisdom, from a young star whose name we weren't afraid to see in headlines. Oh, and one last moment to savor. Mint anyone?