Jennifer Garner is one of the most recent celebrities to make an appearance at Taylor Swift's Eras Tour.
Garner attended night one of the singer's Kansas City stop July 7, sharing a carousel post on Instagram documenting her "epic night." 
The "13 Going on 30" star didn't leave the Eras Tour empty handed or bare armed. In the second frame of her post, Garner shared a video showing off both of her forearms decked out in friendship bracelets, which have become a staple at Swift's tours.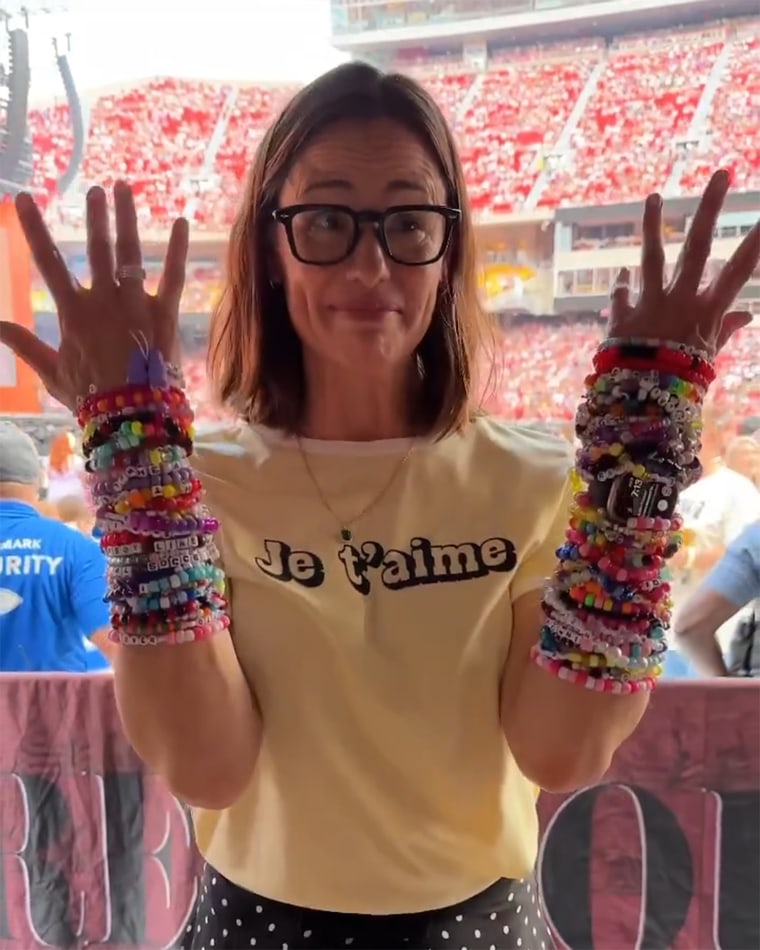 Garner shared several other images and videos in her post, including a snap of her posing with her arm around one of Swift's opening acts, Gracie Abrams, who is the daughter of "Alias" creator J.J. Abrams.
Garner who is set to reprise her character Elektra in "Deadpool 3," finished her post with several clips from the concert, including a video of Abrams performing as well as two clips from the "Reputation" portion of Swift's performance.
"@gracieabrams and @taylorswift: a match made in heaven," Garner wrote in the caption. "We swooned for you, Gracie! And our minds are still blown by the generosity of spirit, ferocity and stamina of Taylor Swift."
The 51-year-old continued her caption, giving a shoutout to Swift's second opener, Muna, as well as thanking all of the fans who gave her friendship bracelets throughout the night.
The actor gave a special shoutout to herself and the crowd for "lucking into the unofficial release party of both Speak Now (Taylor's Version) and the music video for 'I Can See You.'"
Swift debuted the music video for "I Can See You (Taylor's Version) (From the Vault)" at the concert July 7, the same day she released the rerecording of her third studio album, "Speak Now."
The video starred Taylor Lautner alongside Joey King and Presley Cash. All three of the actors were present at night one of the Kansas City show and made an appearance on stage, which included a unique entrance from Lautner via a backflip. 
Garner's post was met with plenty of love and support from Swift's fans, friends — as well as her Eras Tour companions from the evening.
"Best night EVER," Lautner commented on the post. 
King added, "You are the absolute coolest. I wish we danced together more."
"you're the sweetest," Muna commented from the band's account.
Even Ina Garten — who Swift penned a touching tribute for in the November 2022 issue of Food Network Magazine — commented on the post, writing, "Wow how amazing was THAT?!!!"
Garner joins a celebrity-studded group of attendees at Swift's Eras Tour, which kicked off in Arizona in March.
Emma Stone, who fans think inspired Swift's new track "When Emma Falls In Love (Taylor's Version) (From the Vault)," made an appearance on the opening night of the tour in Glendale, Arizona.
When Swift brought her Eras Tour to MetLife Stadium near New York, the audience was teeming with celebrities, including Lin-Manuel Miranda, Molly Ringwald, Aaron Rodgers and Mariska Hargitay.
Drew Barrymore was also in attendance and reflected on social media about how she "cried so hard" when Swift performed her track "Welcome to New York."
Even TODAY's Hoda Kotb and Jenna Bush Hager had nights to remember at their Eras Tour shows. Hoda attended the May 26 date at MetLife Stadium with her friends while Jenna and her husband took their daughters, Mila and Poppy, to Foxborough, Massachusetts, for the singer's May 19 concert.