Jennifer Aniston announced the death of her mother, Nancy Dow, Wednesday night.
"It is with great sadness that my brother John and I announce the passing of our mother Nancy Dow," Aniston told People in a statement. "She was 79 years old and passed peacefully surrounded by family and friends after enduring a long illness."
"We ask that our family's privacy be respected as we grieve our loss."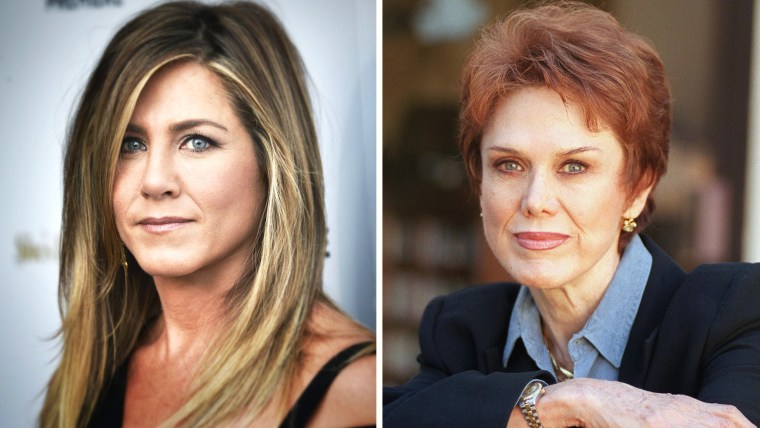 Dow suffered a series of strokes in 2011 that affected her ability to speak and walk.
RELATED: Report: Jennifer Aniston's mom suffers stroke
Aniston opened up about their relationship to The Hollywood Reporter in January 2015, saying that there were years when they didn't speak.
"She was very critical of me. Because she was a model, she was gorgeous, stunning. I wasn't. I never was," Aniston said. "I honestly still don't think of myself in that sort of light, which is fine. She was also very unforgiving. She would hold grudges that I just found so petty."
Aniston added that she likes to think of herself as a forgiving person. Despite their issues, the 47-year-old actress doesn't hold any grudges.
"What's the point of holding on to [anger]? That's so toxic," Aniston told THR. "We're human beings. Human beings make mistakes. Human beings are not perfect. And by not forgiving someone, it's not allowing human beings to evolve and become better people."
RELATED: Jennifer Aniston reveals dyslexia struggle: 'I thought I wasn't smart'
Dow, a mother of two known for her work in "The Beverly Hillbillies" and "The Wild Wild West," was married to Jack Melick from 1956 to 1961, before she wed John Aniston in 1965. The pair then divorced in 1980, when the "Friends" star was 9 years old.
"No matter how complicated and difficult the relationship between Nancy and Jennifer may have been, it is heartbreaking for any daughter to lose her mother," a source close to the family reportedly told People. "Nancy fought a very long battle, with many ups and downs, and Jennifer is grateful for the happy times they shared. She is pulling close to her husband and family and feels so supported by their love."