Jennifer Aniston found herself facing criticism over the weekend after she seemingly liked a cryptic Instagram post by Jamie Foxx that some have called antisemitic.
Foxx, who has been recovering since being hospitalized with an unspecified medical emergency in April, posted a message about Jesus being killed, hashtagging the post #fakefriends #fakelove.
Eagle-eyed Instagram users noted that Aniston's official Instagram account was among those who liked Foxx's post, which her "Horrible Bosses" co-star later deleted.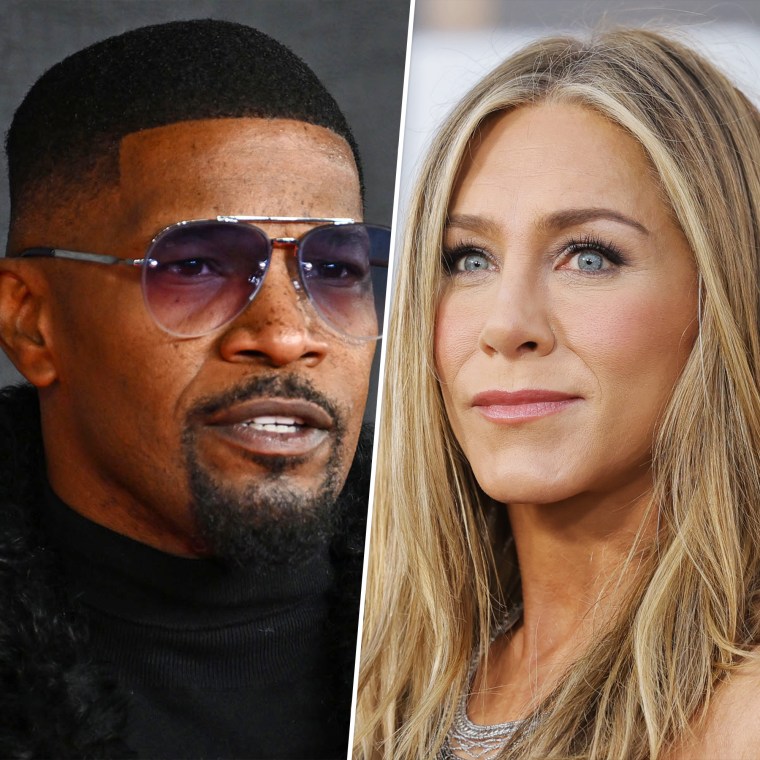 Both Foxx, 55, and Aniston, 54, have since issued separate statements explaining that they never meant to offend the Jewish community. When reached for further comment, Foxx's representatives pointed to his Aug. 5 Instagram post. Reps for Aniston, who seemed to deny liking the post at all, did not immediately respond to TODAY.com's request for comment.
Here's what we know about the controversy:
What Jamie Foxx posted
Foxx posted a message on Instagram, now deleted, seemingly calling out "fake friends."
He wrote: "THEY KILLED THIS DUDE NAME JESUS...WHAT DO YOU THINK THEY'LL DO TO YOU???! #fakefriends #fakelove."
Why Jamie Foxx was criticized
A Wider Frame, a newsletter that focuses on issues affecting the Jewish community, on Instagram described Foxx's post as a "horrifically antisemitic message to his 16.7 million followers."
On its Instagram story, A Wider Frame posted a message that seemed to explain its criticism of Foxx's post: That it was echoing an antisemitic trope that insists that Jews are collectively responsible for the killing of Jesus.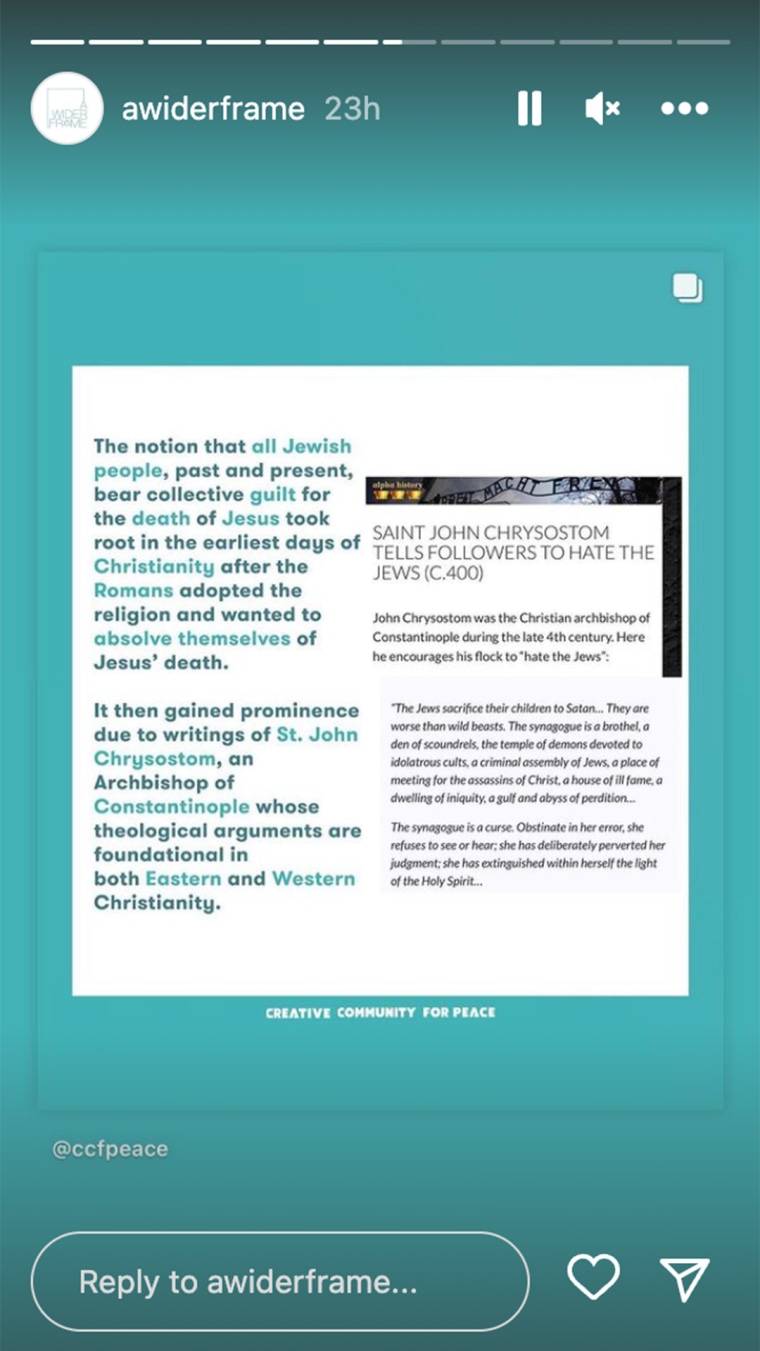 Some people on social media came to Foxx's defense.
"Any black person growing up in the south will tell you that Jamie Foxx wasn't referring to Jewish people," one user wrote on X, the social media site formerly known as Twitter. 'They killed/lied on/talked about Jesus' simply means 'If Jesus can be betrayed, so can you.' He genuinely meant fake friends/fake people. So quick to reach, it's ridiculous."
"Jamie Foxx is a decent person so of course he apologized for potentially offending folks. But it def got misconstrued in the most oblivious way possible, like was the 'fake friends' hashtag only visible for some folks??" wrote another.
Jamie Foxx apologized
Foxx issued an apology for the post on Aug. 5, explaining that he was referring to "fake friends" in his own life and never meant to offend the Jewish community.
"I want to apologize to the Jewish community and everyone who was offended by my post. I now know my choice of words have caused offense and I'm sorry," he wrote. "That was never my intent."
"To clarify, I was betrayed by a fake friend and that's what I meant with 'they' not anything more," he added. "I only have love in my heart for everyone. I love and support the Jewish community. My deepest apologies to anyone who was offended."
The actor added several heart emoji and concluded, "Nothing but love always."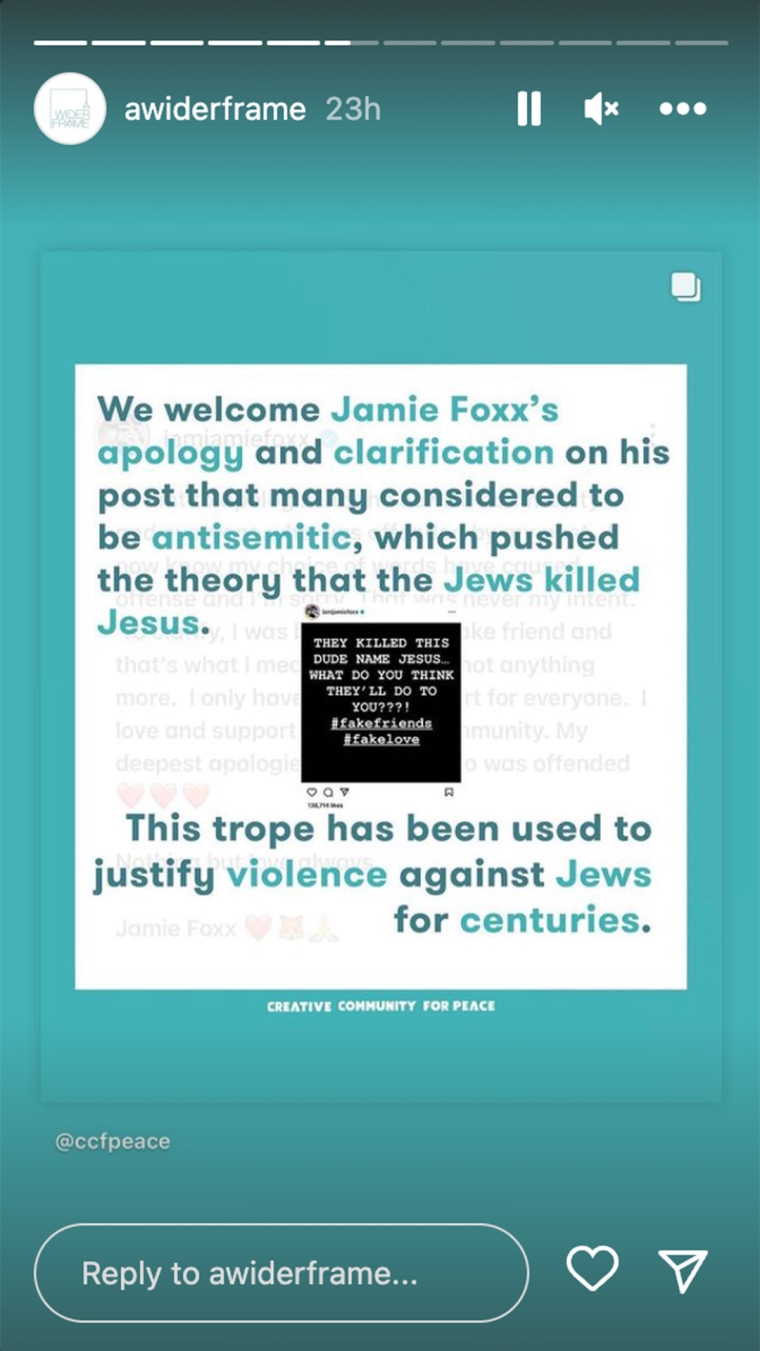 A Wider Frame responded to Foxx's post, writing on its Instagram story: "We welcome Jamie Foxx's apology and clarification on his post that many considered to be antisemitic, which pushed the theory that the Jews killed Jesus. This trope has been used to justify violence against Jews for centuries."
How Jennifer Aniston is involved
In a screenshot shared by A Wider Frame, it appeared that Aniston, or someone using Aniston's account on Instagram, liked Foxx's original post.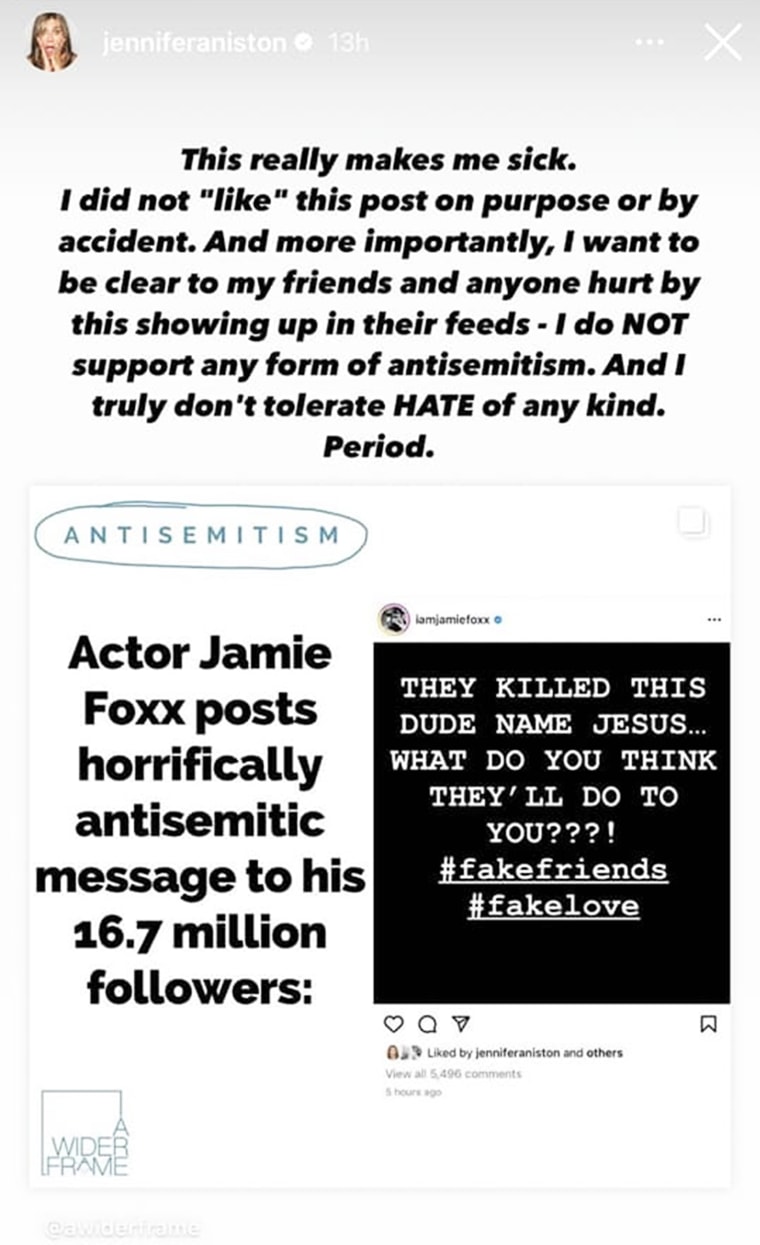 After the controversy over Foxx's post erupted, Aniston shared to her Instagram stories images of both Foxx's post and the post by A Wider Frame accusing Foxx of antisemitism.
"This really makes me sick," she wrote in her own message, which has since expired from her Instagram story. "I did not 'like' this post on purpose or by accident.
"And more importantly, I want to be clear to my friends and anyone hurt by this showing up in their feed — I do NOT support any type of antisemitism. And I truly don't tolerate HATE of any kind. Period," she added.
Aniston also turned off the comment function on all of her Instagram posts.