Is she pregnant? Is she trying to get pregnant? Did she gain weight? Lose weight? Jennifer Aniston, like so many women in the entertainment industry, has seen photos of herself on tabloid covers accompanied by just that sort of speculation.
It's not rare, it's not right, and the actress is speaking out against it — again.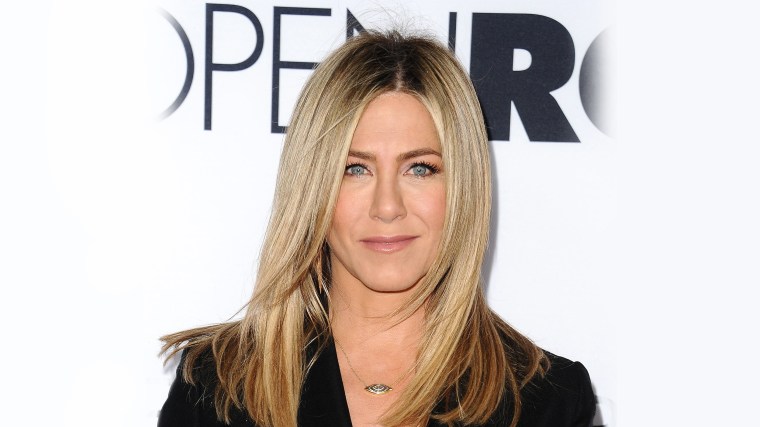 Just last year, Aniston penned a powerful piece taking tabloids to task for the constant objectification, body-shaming and baby-bump gossip she and others face, and now she's returning to the topic in an inspiring new interview.
"I mean, it's like they take a picture of you and create this story," she told Glamour magazine. "If your body is in a normal moment of having had a bite or two, or you're having a moment of bloat, then there's arrows circled around your stomach, telling you that you're pregnant. And it's like, actually no, it's just my body. Not that it's any of your business to begin with. Having a child, as we know, is no one's business except the couple or individual that's going through it."
At 48 years old, and having been in the business for 30 of those years, she's not buying into the constant critiques — or into the broader narratives about being a woman getting older in society.
"I don't think life stops after 50 — if anything, it gets more and more exciting," she said. "For some reason, we don't honor or pay respect to aging. It's something that we look at as a negative, and yet every single person on this planet does it. I don't understand why it's not something that's celebrated, why there's some sort of an expiration date on who you are as a person worth watching and a story being told about you."
And that's where Aniston has a problem with the picture-perfect concept of ageless beauty that doesn't really exist.
"Just because you can't bounce a penny off your tummy anymore, because you're not 22 or 32, doesn't mean that should quantify what makes you relevant and interesting," she added.
Real beauty — enduring beauty — is based in mindfulness, according to the actress.
"It's being as full and complete of a human being as you possibly can be," she explained. "And that means going to therapy, figuring out your darker corners, and getting to work on them, so you're not passing on your negative experiences — and trying to become a fully realized human being, so you can go out in the world and bring that to people."
RELATED: Jennifer Aniston's hairstylist swears by this 1 product for silky strands