If you follow tabloid headlines, you already know that Jennifer Aniston is lonely — or maybe she's dating someone new. She's definitely pining for a baby — or she absolutely isn't. Surely she's devastated about her split from Justin Theroux.
Unless she's not.
Wild speculation about the star's private life is nothing new and the constant stream of inaccuracies about it all hasn't changed either.
"It's pretty crazy," the 49-year-old said of all the tabloid talk during an interview with InStyle. "The misconceptions are 'Jen can't keep a man,' and 'Jen refuses to have a baby because she's selfish and committed to her career.' Or that I'm sad and heartbroken."
And while she's not planning to go through the long list of claims and counter them all one-by-one, she is ready to set the record straight about a couple of things.
"First, with all due respect, I'm not heartbroken," she insisted. "And second, those are reckless assumptions. No one knows what's going on behind closed doors. No one considers how sensitive that might be for my partner and me."
Particularly when it comes to the topic of babies.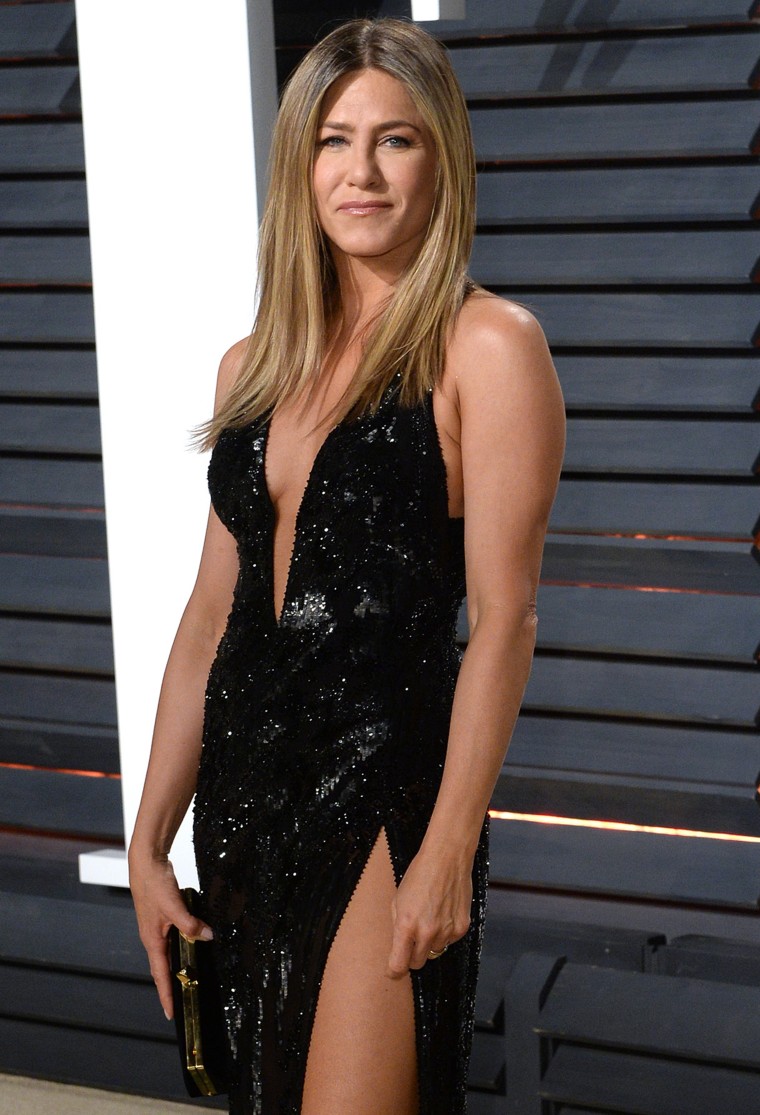 "They don't know what I've been through medically or emotionally," Aniston said of those who guess at her motivations. "There is a pressure on women to be mothers, and if they are not, then they're deemed damaged goods. Maybe my purpose on this planet isn't to procreate. Maybe I have other things I'm supposed to do?"
But right now, she's not exactly sure what those things are.
"I've never been someone who knows how to answer, 'Where do you see yourself in five years?'" she said. "I do know that lately I've had moments. The world we're in is so challenging right now, the scrutiny, the way people interact. There's just bad behavior around us a lot. There have been moments when I would just love to get out of Dodge and move to Switzerland — or somewhere — and start anew. Just have this shit behind me. Does it really matter? Are we really doing anything? What is my life's purpose? Every seven years I try to sum up what I am doing and what I want to make my focus. I'm trying to make better choices."
For her fans, there's one choice they're always rooting for: a return to "Friends."
In the era of the retro-TV reboot, the question of if or when the wildly successful '90s sitcom might return is a perennial one. And the answer?
"Before that show ended, people were asking if we were coming back," the actress explained. "Courteney (Cox) and Lisa (Kudrow) and I talk about it. I fantasize about it. It really was the greatest job I ever had. I don't know what it would look like today, but you never know. So many shows are being successfully rebooted."
However, she's not so sure the male cast members — especially outspoken Matt LeBlanc — are interested. But that may not be a problem.
"We just give it some time and then Lisa, Courteney and I could reboot 'The Golden Girls' and spend our last years together on wicker furniture," she joked.
Honestly, we want to see that!