Fame literally became a cage for Luke Perry and Jennie Garth at one point during the height of their "Beverly Hills, 90210" popularity.
Garth, 49, shared one of the more surreal experiences from her time on the hit '90s teen drama while talking to hosts Jason Sheeler and Andrea Lavinthal on the latest "People in the '90s" podcast.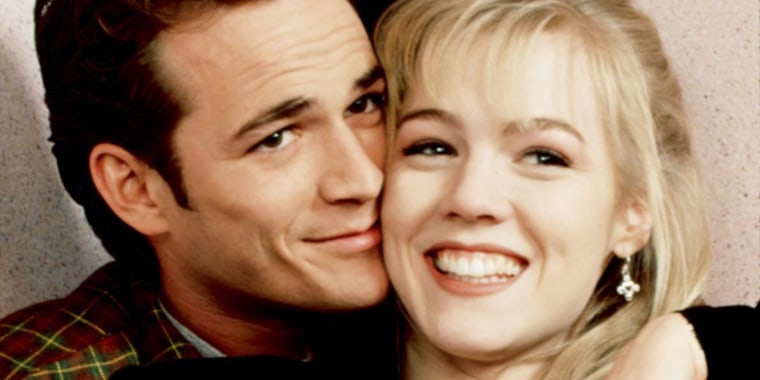 Garth, who played Kelly Taylor, and Perry, who played Dylan McKay, were making a public appearance in California in 1991 that quickly went awry due to delirious "90210" fans.
"I can remember one of the pivotal moments for me, I was on an appearance with Luke," Garth said. "They had sent us, I think it was Fresno, to do an appearance at a zoo.
· Watch TODAY All Day! Get the best news, information and inspiration from TODAY, all day long. · Sign up for the TODAY Newsletter!
"And it sort of summed it up for me because I felt like a zoo animal, and I was in a zoo. It was just weird. And then it got too crazy, and people were rushing the zoo cages, and we had to go out through one of the enclosures of the animals — I don't remember, the monkeys or something - but I just remember them actually putting us in a cage at the zoo. And I was like, 'This feels good.' "
Garth, who appeared on the podcast alongside former "90210" castmate Tori Spelling, remembered fame sinking in for the first time when she saw Mattel had created dolls of the entire cast.
Related:
For Spelling, 48, who played Donna Martin, that moment came when she was shopping at Sherman Oaks Galleria in Los Angeles and people started yelling "Donna!" at her when she was going down an escalator.
"And I remember thinking like, 'Oh that's weird that's my character's name,' and I was like, 'Whoa, I'm famous,'" Spelling said.
While Spelling, Garth and castmate Shannen Doherty received their fair share of attention, Spelling remembered fans going particularly wild over Perry, Jason Priestley, Brian Austin Green and Ian Ziering.
"I guess when everyone started fanning out over us, mostly we remember the boys, they would go crazy for the boys," she said. "And we were like, 'They're dreamy, but we are with them every day.' So it was very different to see how girls would freak out."
The two stars also remembered the long hours of filming the 10 seasons of the show, which ran from 1990 to 2000.
"The whole thing is a little bit of a blur," Spelling said. "We were in our late teens, and then friends started going off to college and going to parties and we just lived it on TV. And it was like, we were working really, really hard, but I think it was great. It really set us up for life. We're super driven because of it."
It also created a bond among the cast that has endured through difficult times, like Perry's death from a stroke at 52 in 2019 and Doherty's treatment for breast cancer. They all still have a regular text message chain together, decades after the show ended.
"The bond that we all have with one another is so unique and so strong and so genuine," Garth said. "It came before anything else. It's the foundation of who we are as people. We will always be there for each other.