Hours before Jenna Bush Hager went on the air for her debut as permanent co-host of TODAY With Hoda & Jenna, she found a special gift in her dressing room from her predecessor, Kathie Lee Gifford.
She discovered a beautiful card with "the sweetest things" attached to a jewelry box. Inside was a bracelet that featured Kathie Lee's signature catchphrase, "My joy is non-negotiable."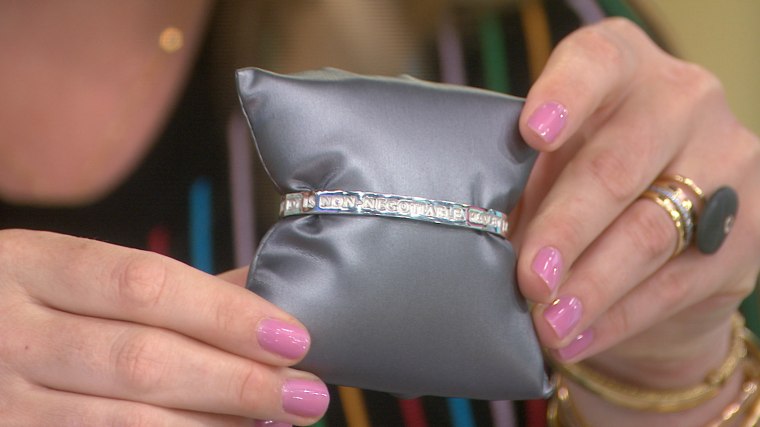 Jenna said she meant to show it off Monday but forgot after being overcome by all the first-day excitement.
"Kathie has been so gracious, and this is just another example of that," Jenna said Tuesday after putting the bracelet on her wrist.
However, Jenna later discovered something unusual about the bracelet.
"You want to read what it says?" she asked Hoda on Wednesday's show, handing over the bracelet.
"It says, 'My joy is non-negotiable. Haley Joy 2017,'" Hoda read aloud before laughing.
"I think what happened here is that this was a gift that was given ... " Jenna said before Hoda chimed in, " ... to Kath for me."
"Thank you!" Hoda joked.
"It looks beautiful on you. I think it was meant for you," Jenna said.
This week has been full of surprises for Jenna. Her father, former President George W. Bush, appeared in a video message Monday that left his daughter in tears.
Jenna's mother, former first lady Laura Bush, also sent a recorded message along with Jenna's mother-in-law, Maggie Hager.
Of course, the new fourth-hour co-host was also paid an in-person visit by her husband, Henry Hager, and their two daughters, Mila, 5, and Poppy, 3.
Hoda Kotb agreed it was all a lot to absorb.
"You were so excited," she said, and added that she spoke with Kathie Lee to give her a report after Monday's show.
"I said, 'Jenna just knocked it out of the park.'"