Jay Leno isn't sure where his slow-burning feud with Jimmy Kimmel came from, but he's not letting it bother him much.
Leno, the former "Tonight Show" host who's now in charge of the upcoming series "Jay Leno's Garage" on CNBC, visited TODAY on Wednesday and mentioned he keeps in touch with many of the late-night shows by watching the jokes.
"I can't watch all of the late-night shows, but yeah, I go around," he noted. "I like the monologues; I like Seth [Meyers], Jimmy [Fallon], [Stephen] Colbert."
One name he missed, though, was Jimmy Kimmel, who hosts "Jimmy Kimmel Live!" on ABC. The two did go head-to-head in late night when Leno was still hosting "Tonight," but that doesn't seem to be the source of the tension between them.
For Kimmel, it goes back years. In 2010 he called out Leno on "Tonight" after Conan O'Brien was taken off of the show (and Leno returned to the spot he had vacated just a year earlier). Then, in 2012 on "Larry King Live" Kimmel noted, "I always felt weird about how Jay got that 11:30 spot. Of course, that was NBC's decision, but the whole thing seemed premeditated to me."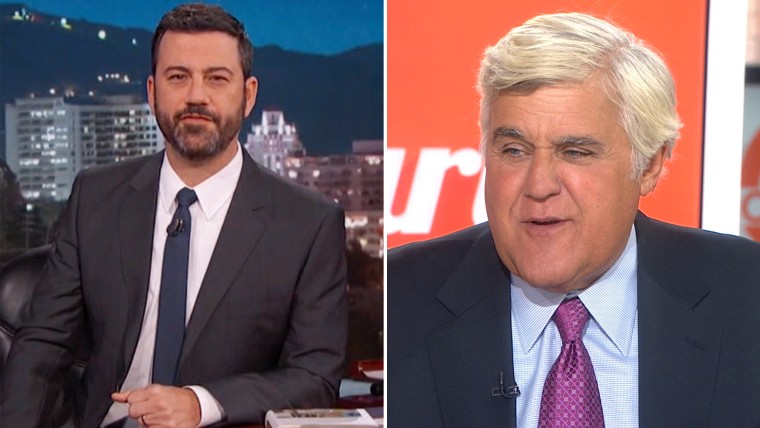 But Leno has been quoted recently saying Kimmel's "problem" is that while he's talented and funny, "he has a mean streak, and it comes across."
On TODAY he clarified that statement a bit more: "[Kimmel] comes from radio ... where you find some enemy and then you make up a phony battle. I never had any problems with the guy, but he chose to go after me. And that's fine, welcome to show business."