From the "Beverly Hills, 90210" gang's days at West Beverly to their adult adventures, Brandon Walsh had plenty of unforgettable storylines on the long-running series.
And when Jason Priestley visited TODAY recently, we asked him to dish on his favorites.
"It was probably in the college years when we were at our fictitious California University, when Brandon was starting to do some of the darker things," Priestley said. "Not that he ever got that dark — but he started to do some of the more devious things in his life, like when he had the affair with Lucinda Nicholson. I found that those things were more interesting to tap into as an actor. I found that those storylines were more complicated and more complex than some of the other stuff that I was asked to do early on in the show."
Of course, Brandon had quite a few love interests over the years.
"I thought that the Susan Keats years were a lot of fun," he said referring to his season six girlfriend from the CU Condor. "The year that Brandon and Dylan spent with Emily Valentine — she was dangerous and fun, and we had a good time with that."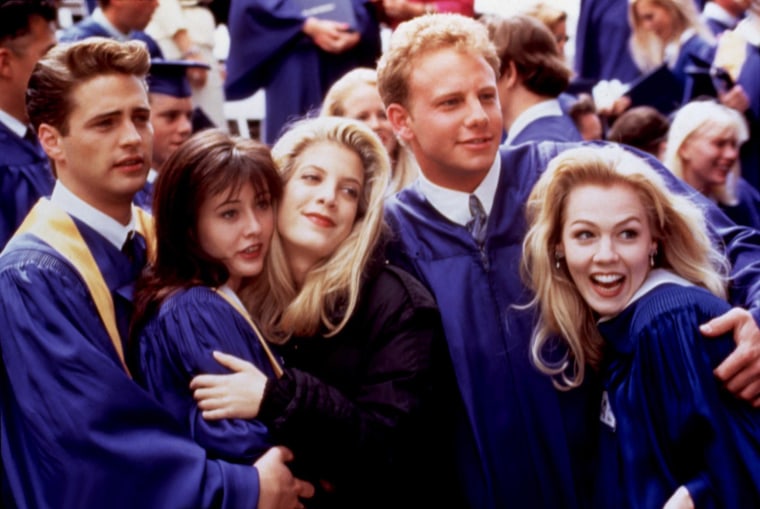 This spring marks the 25th anniversary of one of the show's most iconic moments — the episode where Brandon leads the student body in protesting a school policy that would ban Donna (Tori Spelling) from commencement activities.
"At the time, I don't think any of us had the realization that 'Donna Martin graduates' would have quite the resonance that it still has to this day," Priestley said. "I have a lot of memories of that day. We thought it was hysterical to chant everything but 'Donna Martin graduates' — everything that rhymes with 'Donna Martin graduates' but actually isn't 'Donna Martin graduates.' I'll let the audience at home fill in things that could rhyme. Because we knew that they were going to have to replace all the dialogue later because we had a huge group of hundreds of extras that were marching with us, that they wouldn't be able to use the audio or they would have to pay them all as actors, so they were going to have to replace all the audio anyway. So we thought it was very funny at the time."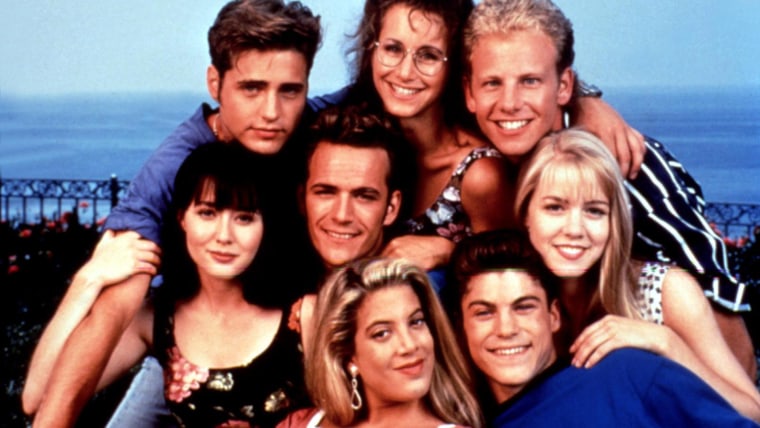 Priestley's final episode on "90210" saw Brandon departing for his dream newspaper job in Washington, D.C. — so where does the actor think his character would be now?
"Brandon today would still be in Washington, D.C.," he said. "I think he would be enjoying his time with all of his Republican cronies in D.C., doing his thing."
For more with Priestley — including his reactions to his character's doll and his '90s style — watch the video above!
Jason Priestley currently stars on ION Television's "Private Eyes."