Just when you thought Jason and Kylie Kelce and those lovable children of theirs couldn't be cuter, the Philadelphia Eagles center and his family have released a sweet photo ahead of the holidays.
The Kelces partnered with Minted to exclusively share with TODAY.com their 2023 holiday card. In it, Jason Kelce poses in his backyard with wife Kylie and their three daughters, Wyatt, 4, Elliotte, 2, and Bennett, 8 months, as their two pups, Winnie and Baloo, sit with them.
The card itself by artist Megan Cash features a festive plaid design, with reds, greens and beige tones, that Minted dubbed "Madras."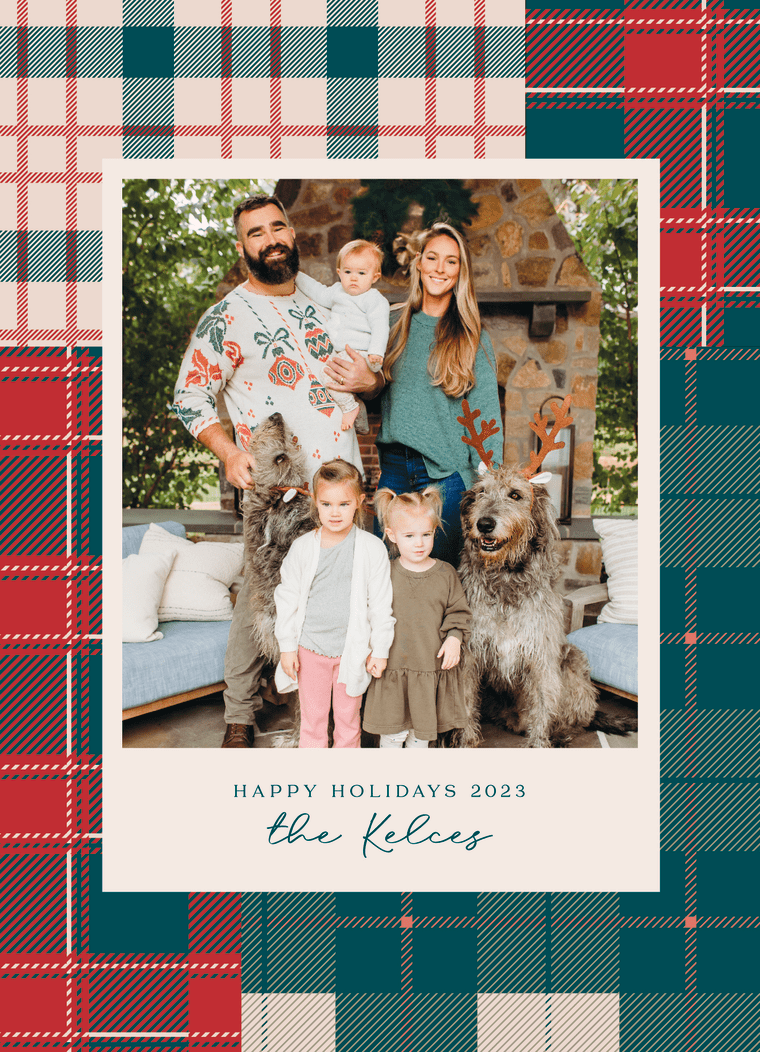 In behind-the-scenes footage exclusively shared with TODAY, the Kelce bunch showed the reality of wrangling a family of five — especially with three little ones and two giant dogs — into place for a sweet shot.
"It's going to be a long season," Jason Kelce said glancing around with a concerned look, sporting his festive Christmas sweater. "I can tell."
As her daughters ran around distracted by one another and the pups, Kylie Kelce was in full mom mode, asking her girls to keep their hands to themselves and turn around for the camera.
"I am prepared for football. I am not prepared for holiday season," Jason Kelce added.
Kylie Kelce noted that the pair made it a priority to feed their kids a "nutritious" breakfast because "we were about to bribe the living daylights of out of these children." The camera then flashed to Jason Kelce asking his daughter about the donut she was devouring.
The NFL player tapped into the Christmas spirit on the early side this year, as he and his Eagles teammates have been working on more holiday music as a follow-up to their debut holiday album released last year. "A Philly Special Christmas" raised more than $1 million for local charities in 2022.
Listeners can expect some special guests on this new music, too. Philly legend Patti LaBelle will appear on a duet with Eagles player Jordan Mailata, and Jason Kelce teamed up with his brother, Kansas City Chiefs tight end Travis Kelce, for a song already released.
Plus, pop superstar Taylor Swift, who's dating Travis Kelce, may be featured, as she's included in the animated cover art for the album.
As for the Kelce kiddos, they continue to steal hearts each time moments with them are shared with fans. And, of course, who could forget all the fun with Uncle Trav?!