Country singer Jason Aldean returned to Las Vegas exactly one week after performing at the music festival where a gunman took the lives of 58 people and injured hundreds more.
Aldean and his wife flew in Sunday to visit with shooting survivors who were hospitalized at University Medical Center.
"Feels surreal being back in Vegas today," the pregnant Brittany Aldean, who is expecting the couple's child in December, wrote in an Instagram post.
"Visiting some of the strongest people we have ever met... fighting the toughest battle of them all... for their lives," she wrote in the caption of a photo showing the couple in a parking lot and facing the Mandalay Bay Resort and Casino, where a gunman opened fire on the concert crowd from his hotel room on Oct. 1.
"You have helped us try to begin the healing process by seeing the strength each one of you have," she wrote. "Thank you for today. We will never forget."
Jason Aldean was on stage at the Route 91 Harvest country music festival in Las Vegas on Oct. 1 when a gunman opened fire from the Mandalay Bay in what became the deadliest mass shooting in modern U.S. history.
The night before he flew to Las Vegas, Aldean payed tribute to shooting victims in a "Saturday Night Live" performance in New York City.
"Like everyone, I'm struggling to understand what happened that night, and how to pick up the pieces and start to heal," he said.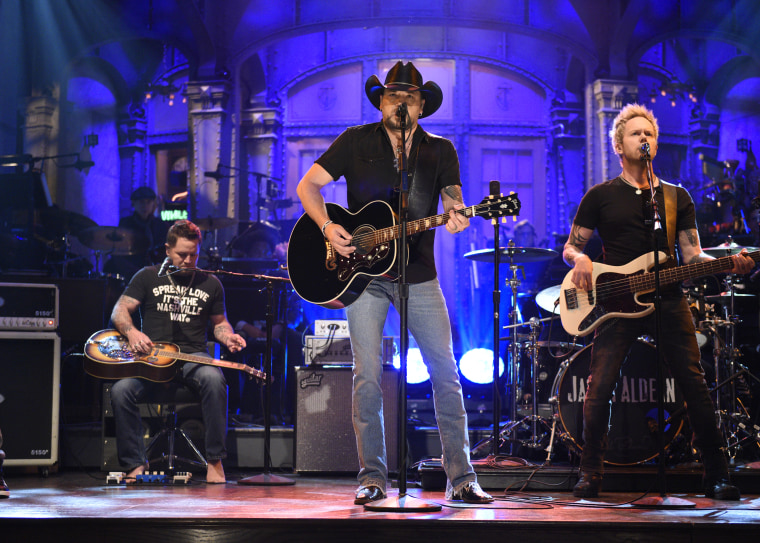 "So many people are hurting. They're our children, parents, brothers, sisters, friends — they're all part of our family," he told the audience before his performance. "So I want to say to them: We hurt for you and we hurt with you. But you can be sure that we're going to walk through these tough times together, every step of the way. Because when America is at its best, our bond and our spirit, it's unbreakable."
Aldean then performed the song "I Won't Back Down" by the late Rock and Roll Hall of Famer Tom Petty, who died Monday at the age of 66.
Officials at University Medical Center in Las Vegas thanked Aldean for his visit and spending time with critically injured survivors and giving them a much-needed boost in spirits.
"His visit helped heal hearts and cheer those who were wounded in this tragedy," the hospital said in a Facebook post Sunday.