It really is happening! Plans are in the works to make a sequel to the 1980 hit comedy "9 to 5."
Jane Fonda said she will serve as the film's executive producer, but she also plans to reprise her big screen role with her original co-stars, Dolly Parton and Lily Tomlin.
"Right now, Dolly, Lily and I are all intending to be in it," Fonda told reporters Wednesday at a Television Critics Association press event.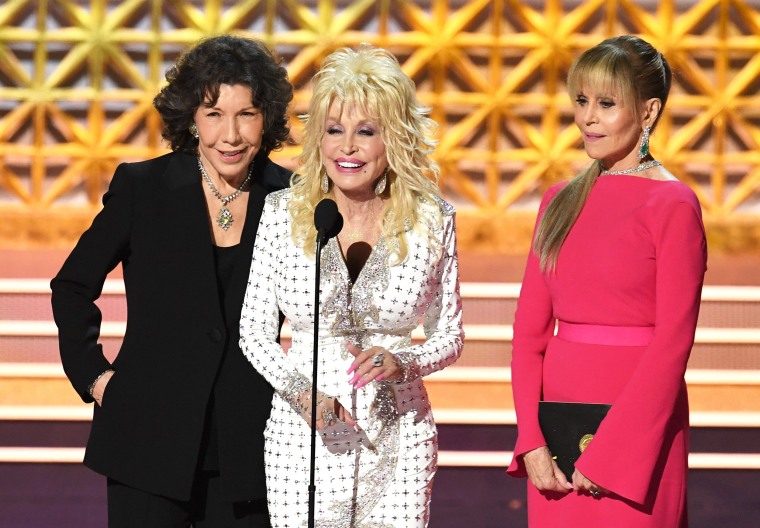 Speculation about a "9 to 5" sequel surfaced earlier this year, when 20th Century Fox reportedly expressed interest in having "Angie Tribeca" star Rashida Jones work on a script with the movie's original screenwriter, Patricia Resnick.
At the time, Parton said she'd be open to a reboot of the beloved workplace comedy, saying it would make sense in the wake of the #MeToo movement.
The original film followed the lives of three women working in the same office under an incompetent and chauvinistic boss, played by Dabney Coleman.
Fonda said that the workplace environment hasn't improved much since the movie's release in 1980.
"I'm sorry to say the situation is worse today," she said. "Today a lot of the workforce is hired by an outside company. Who do you talk to if you have a problem?"
Fonda also said that the internet and social media have made it easier for companies to spy on their employees. But she expressed optimism that the #MeToo movement, along with campaigns like Time's Up, will eventually turn things around for working women.
"I do think sexual harassment will tend to drop," she said. "Guys are scared."
"9 to 5" was a box office hit after its release. It eventually inspired a short-lived television series and a Tony-nominated Broadway musical. The three actresses in the original have remained friends, with Fonda and Tomlin currently starring in Netflix sitcom "Grace and Frankie."