Between Savannah Guthrie testing positive for COVID-19 during the Feb. 28 TODAY broadcast and Hoda Kotb taking time off to handle a family matter, it's been a challenging time for the TODAY co-anchors.
"Both of you have had a hard thing this last week," Jamie Lee Curtis told the duo when she appeared on TODAY March 7. "I recognize that."
"We're doing life on life's terms," she said. "You're suiting up and showing up in sleeveless matching tops."
Savannah and Hoda both laughed, and Hoda did a few fist pumps.
"Nobody knows this," the actor continued, "but your phones match. You both have pink cases."
"Oh we do actually, that wasn't planned either," Savannah said.
"You guys are twinning like mad here on morning television," Curtis said.
Hoda and Savannah both returned to work Monday, March 6, after Savannah recovered from COVID and Hoda took about two weeks to tend to her younger daughter, Hope, 3, who spent a few days in the ICU and a little more than a week in the hospital.
"I'm so grateful she's home," Hoda said about Hope March 6 on TODAY. "She is back home. I was waiting for that day to come. And we are watching her closely. I'm just so happy."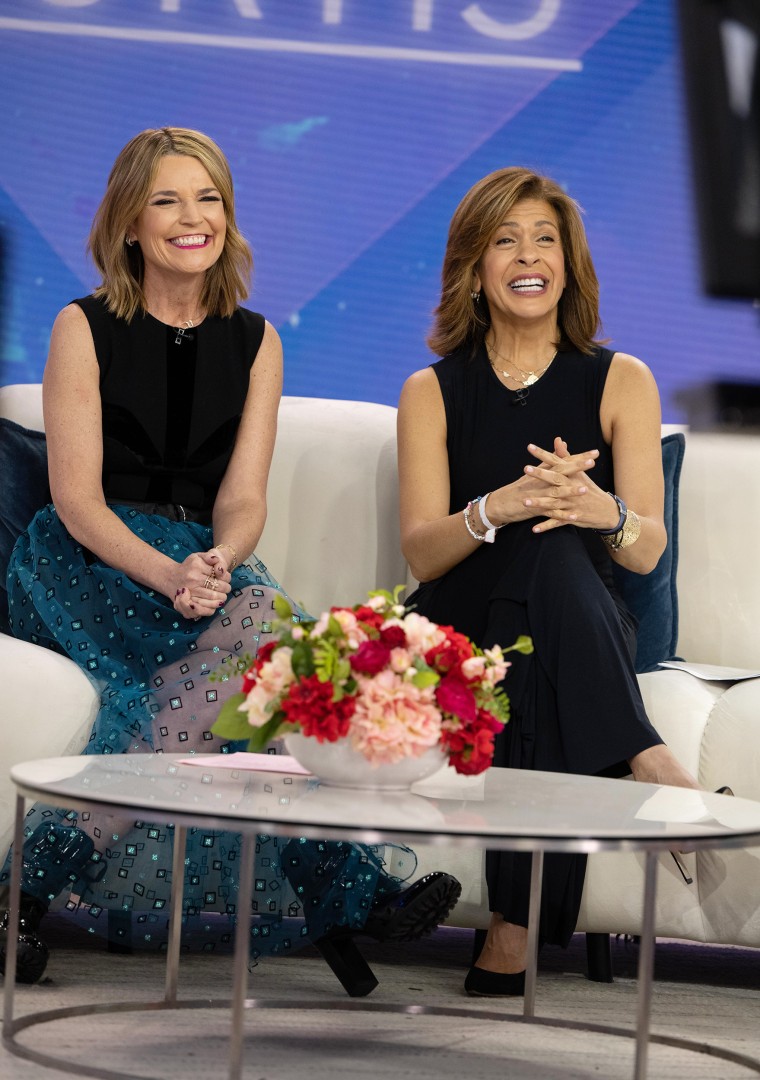 Hoda also thanked Savannah for her support during a difficult time, and Curtis admired their friendship — and offered some advice.
"Here's my message for you guys," the 64-year-old actor said, holding up a shirt with two women, who appear to be Curtis and Michelle Yeoh's "Everything Everywhere All At Once" characters, hugging with the words "Be Kind."
"This is our love for each other, all of us," she said. "Be kind. Be kind. Be kind."
"It's your kindness. It's the kindness of women supporting other women. It's beautiful," she continued.
"God bless you guys."