James Van Der Beek sometimes has trouble living down his "Dawson's Creek" past, but on Thursday, the actor proved he's still got fond memories of Capeside High when he shared a sweet throwback pic with his former co-stars.
The 40-year-old actor took to Instagram to share a photo with cast mates Katie Holmes, Michelle Williams and Joshua Jackson in honor of the teen drama's 20th anniversary on Jan. 20.
Van Der Beek, who played the show's titular character Dawson Leery, thanked his former co-stars, as well as the show's writers and producers, in a lengthy, heartfelt caption.
"Squad '97. I'd known these people all of 7 days when this pic was taken. 20 years ago this week the little pilot we shot in that small town for that fledgling network aired, changed our lives and launched our careers," Van Der Beek wrote.
The dad of four reserved his most special thanks for "Dawson's Creek" fans, who, he shared, have shaped how he now thinks about the series.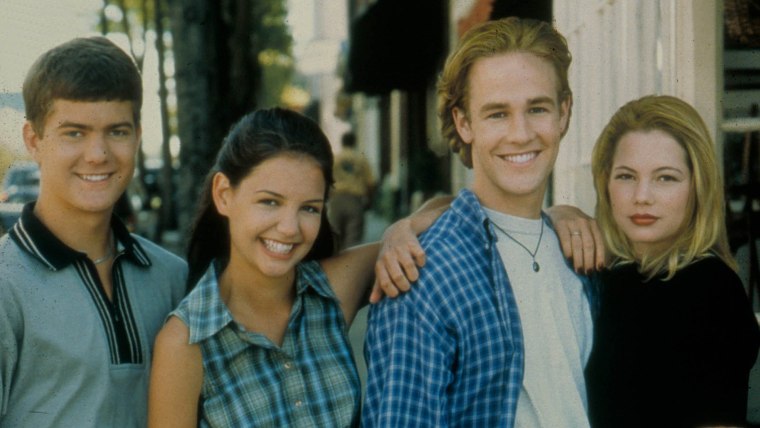 "It's a funny relationship we have... your experience of this project is what you saw on camera, while my memories are mostly what I experienced off of it," he wrote, addressing fans directly.
"And yes, it's true that I haven't seen most episodes (it became healthier at a certain point to just commit 100% on the day and let it go completely), but the beauty of this arrangement is that my impression of the show now is what you've all reflected back to me over the years... and it's been lovely to witness," he gushed.
The "What Would Diplo Do?" star went on to thank "anyone who's ever expressed appreciation for the work we did," adding that "it makes me feel proud to be associated with these three fine people (and the rest of the cast), and proud to have been a part of #DawsonsCreek."
"This one," he wrote, "will always have a special little place in my heart."