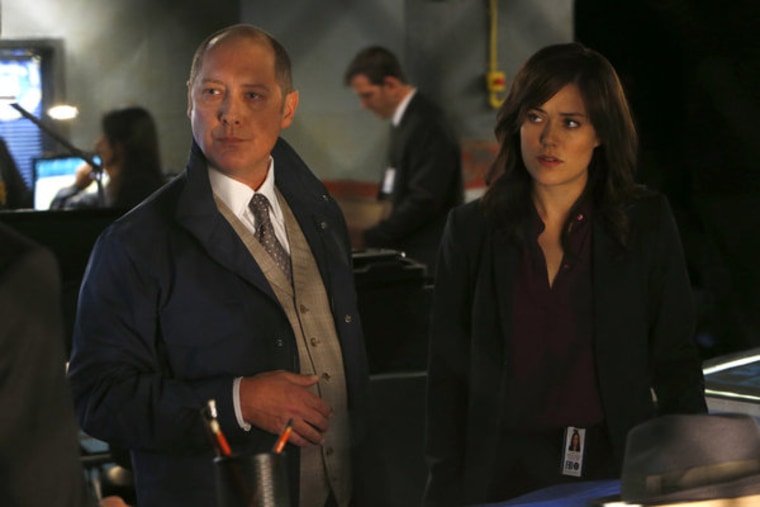 James Spader has made a career of playing compelling sleaze balls, dirty lawyers, and sadomasochists — and yet he is on his way to becoming NBC's next George Clooney. 
Spader's new psychological thriller, "The Blacklist," is NBC's top new fall drama since "ER" debuted in 1994 and is poised to surpass ABC's "Marvel's Agents of S.H.I.E.L.D" for top new drama among advertiser-friendly 18-to-49-year-olds this week. It's not the first time Spader has met success on television. He earned three Emmys and another nomination during his six-year run on ABC's "The Practice" and "Boston Legal" at a time when acting heavyweights James Gandolfini and Kiefer Sutherland also had hit shows.  
Renown for making audiences feel unsettled but interested, Spader has defied the odds and become a familiar face in a medium that "shrieked" a decade ago when "The Practice" first wanted to hire him. Sporting a new crew cut and a fedora hat, audiences have resoundingly welcomed Spader back into their homes, begging the question: Has the actor who dazzles with his penchant for perversity transformed into a network face?
"I'm not so sure about that," Spader told TODAY during an interview. "The world of television has changed dramatically even since I was on 'Boston Legal.' I am not really sure if there is a face for television anymore. Maybe that's a positive thing. I don't know what that face would be now."
"The Blacklist" marks the first time the 53-year-old actor, who appeared in "Lincoln" last year and spent a year on Broadway in David Mamet's "Race," has launched a new TV show. "Boston Legal" was a spin-off of "The Practice," the legal drama where Spader first played the morally challenged lawyer Alan Shore. Spader also spent a year on "The Office" in its penultimate season.
"This is like opening a restaurant or something," he said. "It's like you're starting a whole new business. That's been all through the summer and beginning of fall. We've been trying to stay open and get the plates on the tables. You have to get the plates on the table but you also gotta make sure the food's good so that people want to come back."
An average 16.7 million viewers apparently think it is. In its second week, "The Blacklist," which premiered on Sept. 23, added more than five million viewers from DVR playbacks — more than any other show. NBC has given it a full season order, which means that its writers will be able to satisfy some of the audience's questions about the show's many mysteries.
Spader's Raymond "Red" Reddington is an ex-government agent turned into one of the FBI's Most Wanted fugitives. In the pilot, Red mysteriously surrenders and makes a deal to help the agency catch other elusive criminals on the condition that he speaks only to a brand-new profiler Elizabeth Keen (Megan Boone). So far, Red has helped the agency catch a terrorist believed to be dead, a killer who disguised his crimes with large-scale tragic accidents, and a Chinese assassin computer hacker. Although Elizabeth asks Red repeatedly why he chose her, Red has returned only cryptic responses: "Because of your father" and "I wish the answer were as simple as the question seems but the truth is the question isn't simple either."

By the end of the first season, viewers will know a little more than that, the show's executive producers promise. "We will reveal certain facts that will hopefully satisfy the audience that is asking that question," executive producer John Eisendrath said in an interview with TODAY. "But also each answer will open a new door. We're definitely going right at it and will give answers that are hopefully satisfying on this journey toward the ultimate truth — which we will not get to this year."
Each week, as Red helps the FBI catch other criminals, viewers will get to know him and Liz better and learn more about the mysteries surrounding her husband (Ryan Eggold) who in the pilot brutalized by a man on Red's bad guy list, and was later found to have a hidden stash that includes cash, fake passports and a gun.  
"It's a lot of fun for me because it means I get to have a lot of secrets from the other characters and the audience," Boone told TODAY. "She's very purposefully ambiguous. I do love her heart. She is so madly in love with her husband and devastated by the cruel world she is being introduced to. It's a tumultuous journey for her. In her case, it's a story of a young woman coming into her own."
Although Red was introduced as a super villain, he now is possibly on the road to redemption.
"He does start out as someone who appears to be, by all reckonings, evil and dark and self-serving," Eisendrath said. "Over time, our job is to develop him into a much more dimensional character who is all those things but also explains to the audience how he became the person we met in the pilot."
"One of the things going forward that we're going to find out is what matters to Red and what his vulnerabilities are," executive producer Jon Bokenkamp added in the interview. "[Elizabeth] appears to be one of the few things thus far that he truly cares about."
But viewers should take care in making up their minds about Red too soon, Spader warned.
"I think you will discover that your feelings about who he is and what he's up to will change directions and change directions again," he said. "That's one of the great surprises of the show. Just when you feel you might be getting comfortable, you haven't. Just when you think you can get cozy with him, he does something to make you realize he's not someone to be cozy with."
To form the character, Spader relied on his own instincts and long conversations with the writers. As an actor, he said he never researches similar characters in other movies or television shows and doesn't try to learn about real people who might fit the bill.
"Anybody in the real world that would be a paradigm for Raymond Reddington, we wouldn't know anything about him," Spader said and laughed. "I look at things and I read things that relate to the world that he must operate in. And I read the paper every day. He lives in that world out there. He operates in that world out there. And he moves swiftly and frequently throughout that world. And it allows for your imagination to run wild."
Judging from audience theories on the Internet, most viewers assume that Red will turn out to be Liz's father. But Spader, who does not know for certain, says he thinks it will turn out to be more interesting than that.
"I think if we're successful in any way, shape or form it will be," he said, cracking up.