ROME -- James Gandolfini and his teenage son were on a special celebration trip when the actor suddenly died on Wednesday. Gandolfini, who was being honored at a film festival in Sicily, turned the trip into a commemoration of his son, Michael, who had just graduated from junior high school and won a soccer championship.
"He was going to combine the two things and they were going to spend some time together there," said screenwriter and actor Pat Healy ("Compliance" and "The Innkeepers"), who met with Gandolfini on Friday at HBO offices in Santa Monica, Calif., about an upcoming film Gandolfini was going to star in. "He was very excited about it. We had a lot of laughs that day. It was a really fun afternoon."
Gandolfini and his son were last publicly seen having dinner at Sabatini Restaurant in the Trastevere section of Rome on Tuesday, WXIA in Atlanta reported. An Atlanta man told the TV station that he saw the actor and his son sitting at an outdoor table and both appeared to be in great spirits.
The award-winning actor made even brutal mob boss Tony Soprano seem likable, but that was far from his only role.
It would be their last dinner together. The next afternoon, Gandolfini's son, Michael, called for help after discovering his father collapsed in a bathroom, according to the manager of the Italian hotel where the "The Sopranos" star was staying. The Emmy-winning actor was later pronounced dead Wednesday at age 51.
Gandolfini, who rose to fame as mob boss Tony Soprano on the hit HBO show, was still alive when the ambulance arrived, according to Antonio D'amore, who runs the Hotel Boscolo in Rome.
Gandolfini suffered a suspected heart attack in the bathroom of his hotel room at about 10 p.m. local time (4 p.m. ET) Wednesday, according to D'amore.
He said Gandolfini's son was with him in the room and called for help. Hotel staff rushed to the room and found the actor on the bathroom floor, D'amore said.
Workers tried to resuscitate him and he was taken to the nearby Policlinico Umberto I hospital. Michael Kobold, who lived with Gandolfini years ago and considered him a "big brother," spoke to reporters Thursday outside the hotel and confirmed that hotel workers called an ambulance and first aid was administered on Gandolfini before he was transported to the hospital.
"Our prayers and condolences go to Mr Gandolfini's family and firends," Kobold said, referring to himself as a family spokesman. "We ask you all to respect the family's privacy at this difficult time."
Kobold said Gandolfini died of "an apparent heart attack."
Claudio Modini, head of the hospital's emergency room said that Gandolfini was admitted at 10:40 p.m. (4:40 p.m. ET) and doctors tried to resuscitate him. But he was declared dead at 11 p.m. (5 p.m. ET), 20 minutes after being admitted. He said an autopsy would be performed Friday, as required by local law.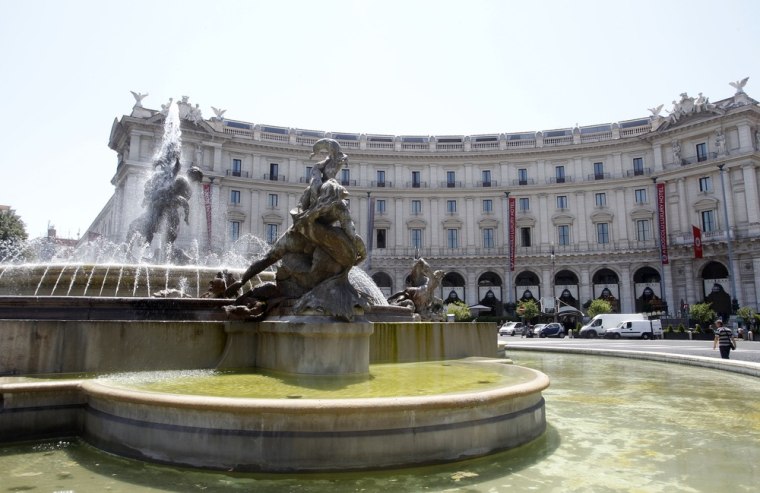 Gandolfini and his family were visiting Rome prior to his scheduled appearance on Saturday as guest of honor at the Taormina Film Festival in Sicily. The actor was going to participate in a roundtable with Italian director Gabriele Muccino. Now, the festival organizers said they will pay him tribute instead.

"He was a genius," said "Sopranos" creator David Chase. "Anyone who saw him even in the smallest of his performances knows that. He is one of the greatest actors of this or any time."

Edie Falco who played Carmela Soprano, the unforgettable mobster's wife, said Gandolfini was "a man of tremendous depth and sensitivity, with a kindness and generosity beyond words."
"My heart goes out to his family," she added. "As those of us in his pretend one hold on to the memories of our intense and beautiful time together. The love between Tony and Carmela was one of the greatest I've ever known."
Jamie Lynn Sigler spent 10 years playing Gandolfini's daughter on the HBO ground-breaking series and said she was "heartbroken" to hear of his passing.
"I spent 10 years of my life studying and admiring one of the most brilliant actors , yes, but more importantly one of the greatest men," she said. "Jim had the ability, unbeknownst to him, to make you feel like everything would be alright if he was around. I treasure my memories with him and feel so honored that I was an up close witness to his greatness."
Michael Imperioli, who played Tony Soprano's nephew, called working with Gandolfini a "pleasure and a privilege" in a statement. "Jimmy treated us all like family with a generosity, loyalty and compassion that is rare in this world...I will be forever grateful having had a friend the likes of Jimmy."
Federico Castelluccio, who played Furio Giunta on the series, described Gandolfini as "really well-naunced" and "one of the greatest actors of our time."
"He was a soft-spoken guy, but a warm guy," New York Times TV writer Bill Carter told TODAY's Matt Lauer. "When he hugged you, it was genuine."
Gandolfini won critical acclaim, three Emmy Awards and three Screen Actors Guild awards for playing Tony Soprano from 1999-2007.

"We're all in shock and feeling immeasurable sadness at the loss of a beloved member of our family," HBO said in a statement. "He was a special man, a great talent, but more importantly a gentle and loving person who treated everyone no matter their title or position with equal respect. He touched so many of us over the years with his humor, his warmth and his humility. Our hearts go out to his wife and children during this terrible time. He will be deeply missed by all of us."

Although a New Jersey native, Gandolfini didn't expect to land the role of Tony Soprano. "I thought that they would hire some good-looking guy, not George Clooney but some Italian George Clooney, and that would be that," he told Vanity Fair in 2012.
But instead, it was Gandolfini who got the nod, and he made viewers care about a mob boss who could order the murder of a family member one minute and turn around and tenderly feed the ducks that swam in his estate's swimming pool the next.
"I think you cared about Tony because David was smart enough to write the Greek chorus, through (Soprano's psychiatrist) Dr. Melfi," Gandolfini said. "So you sat there and you got to see his motives, what he was thinking, what he was trying to do, what he was trying to fix, what he was trying to become. And then you saw it didn't really work out the way he wanted it to."
Actress Lorraine Bracco, who played Melfi, said in a statement, "We lost a giant today. I am utterly heartbroken."
Chef Mario Batali, one of Gandolfini's oldest friends, said he was "shocked and devasted" by the actor's death. "I only hope to help his family any way I can in their grief and mourning."
Despite being globally associated with Tony Soprano, Gandolfini went on to play quite different roles including Defense Secretary Leon Panetta in Kathryn Bigelow's Osama bin Laden-hunt docudrama "Zero Dark Thirty." He also played a tortured alcoholic on "Killing Them Softly" and starred in the remake of "The Taking of Pelham 123."
"I admire Jimmy as a ferocious actor, a gentle soul and a genuinely funny man," said actor Brad Pitt, who worked with Gandolfini on "The Mexican" and "Killing Them Softly. "I am fortunate to have sat across the table from him and am gutted by this loss."
Gandolfini went on a USO tour to Kuwait and Iraq in 2004, and found himself unable to forget the soldiers and Marines he met there. The result was his 2008 HBO documentary, "Alive Day Memories," in which he spoke with 10 men and women who survived the war. The program was nominated for an Emmy Award for outstanding nonfiction special, and NBC Nightly News anchor Brian Williams called it a "powerful and nonpolitical hour of television."
He recently completed shooting Fox Searchlight's "Animal Rescue" with Tom Hardy and Noomi Rapace, and was developing "Criminal Justice," a limited series at HBO. The movie that Healy was writing and Gandolfini was going to star in, "Eating with the Enemy," is based on a non-fiction book about a New Jersey restaurant owner and his unexpected friendship with the North Korean deputy ambassador to the United Nations.
Healy only met Gandolfini three times over the course of this year, but said the two men forged a deep connection one night when Gandolfini turned a conversation about the script into a three-hour discussion of both of their personal lives.
"We had a lot in common and I felt very comfortable," Healy said. "I guess he felt very comfortable opening up to me because he certainly did. He was very proud of his son. In fact, he was booking the trip to Italy then and he was very excited about it."
On Friday, when the HBO meeting ended, Healy shook Gandolfini's hand but the actor "grabbed me and he gave me a big hug."
"I felt like this was really the start of a wonderful friendship," he said. "I knew that we knew each other deeply, though it was such a short period of time. I'm just incredibly sad about it. I'm so sad for his family and his little daughter who will only know him from his work and for his wife and son and for everyone who won't get to see great things he was going to continue to do."
Another close friend of Gandolfini's, actor Gilles Marini, took to his Facebook page to express his heartbreak over the death of "my bud." Marini wrote that he saw Gandolfini last weekend at their children's graduations and Gandolfini told him he was excited to go with his son on a boy's trip to Italy.

"It was an honor to have met this man, such a great Dad!" Marini said. "I spent so much time with James' son teaching him soccer. I feel for that kid. It must be so hard right now for little Michael . Guys, say a prayer for him and his family. This is going to be very difficult time for them. I am so so sad!"
TODAY.com's Gael Fashingbauer Cooper and NBC News' Alastair Jamieson contributed to this report.