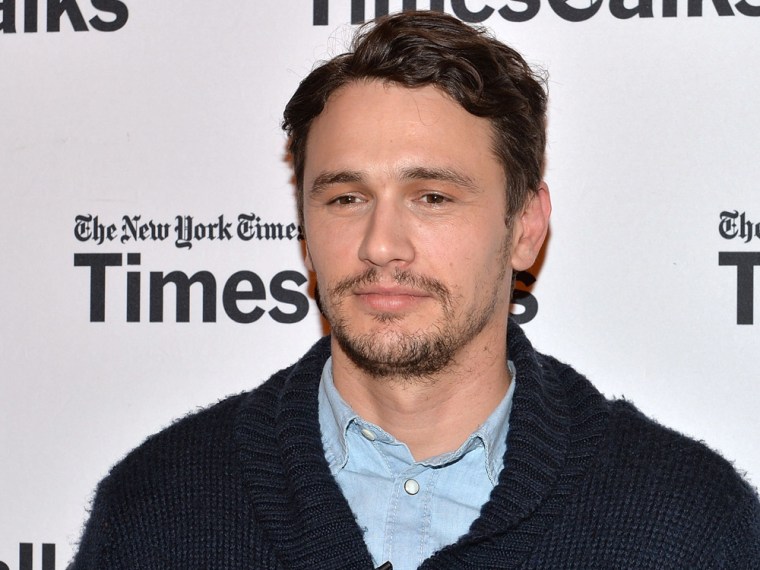 James Franco has admitted to flirting with Scottish tourist Lucy Clode via Instagram and text messages.
Leaked conversations between the 35-year-old actor and the 17-year-old student surfaced online earlier this week, which showed Franco trying to initiate a hotel hookup. The poet and "Palo Alto" star addressed the incident via Instagram, but he deleted the post; the link remains on his Twitter account.
During a Friday appearance on "Live! With Kelly and Michael," Franco addressed the scandal head-on. Though he appeared a bit nervous, he felt it was necessary to share his side of the story.
"I didn't want to come on the show and ... feel awkward, so uh, yeah. I mean I guess, you know, I'm embarrassed, and I guess I'm just a model of, you know, how social media is tricky," he said. "It's a way people meet each other today. But what I've learned I guess just because I'm new to it is like, you don't know who's on the other end. You meet somebody in person and you get a feel for them but you don't know who you're talking to, and, you know? So I used bad judgment. I learned my lesson."
VIDEO: James Franco doesn't mind the gay jokes
Clode visited New York City as an early 18th birthday present, and she met Franco at his Broadway show, "Of Mice and Men." She took an Instagram video with the star, and he said, "You gotta tag me."
She did as instructed, and later that evening, Franco tried to initiate a rendezvous with Clode.
NEWS: James Franco shares an nearly naked selfie on Instagram
"Unfortunately in my position, I mean ... I have a very good life, but not only do I have to go through the embarrassing kind of rituals of kind of meeting someone, sometimes if I do that then it gets, you know, published for the world so now, you know, it's like doubly embarrassing," Franco said. "But, anyway ..."
Kelly Ripa praised Franco for telling his truth on the morning talk show. "I think the way you came out here and handled it is perfectly acceptable. It happens to everybody," she said. "And I think it happens to movie stars on a much grander scale, like you just said, because everybody knows who you are."
Ripa then joked, "I promise I will not reveal our text messages to the world!"
"I was sending some good ones backstage," Franco joked.
Co-host Michael Strahan commended Franco for being so candid, telling the "Spring Breakers" star, "I always think honesty and not avoiding anything is always the best policy and I appreciate that."