Backstreet Boys has a new member ... well sort of. James Corden joined the Backstreet Boys for one magic (and hilarious) night in Sin City!
In a segment of Tuesday's "The Late Late Show with James Corden," the comedic host met up with the legendary boy band before their Las Vegas residency and eagerly offered to replace one of its members in that night's show.
When singer Kevin Richardson explained that Backstreet Boys fans expect to see all five band members onstage together, Corden insisted he'd be a fine substitute. After all, he's performed with the band before.
"How hard is it? What is being a Backstreet Boy? It's wearing a fedora and dancing on some tarmac. I think I got it," he said.
Corden then asked all five singers — Richardson, Brian Littrell, Nick Carter, Howie Dorough and AJ McLean — to close their eyes and choose which member they should kick out for the night. When no one responded, Corden decided to give Littrell the boot.
"Show me the meaning of being lonely," the host teased as Littrell left the room.
During rehearsal, Corden made a hilarious mess of the band's choreography. He also blundered a meet-and-greet with fans.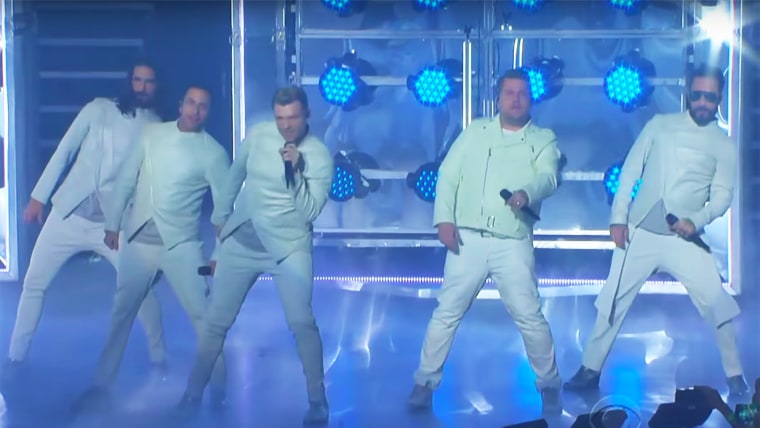 But, onstage that night — with everyone decked out in white "Millennium"-era ensembles — Corden nailed his performance as the group sang and danced its way through the band's 1999 hit "Larger Than Life."
Eventually Littrell joined the gang onstage, and Corden got to show off his dance moves, stepping out front to wow the crowd with the Running Man and the Worm. But when he heard the group still had 22 more songs to perform, Corden quit the band on the spot.
The Backstreet Boys apparently liked what Corden delivered. The band proudly teased the segment by tweeting a mock album cover featuring him as member.
We can't stop laughing!