Ariana Grande's music can't help but lift you up. So when she joined "The Late Late Show" host James Corden for his beloved "Carpool Karaoke" segment Wednesday, we expected to feel elevated.
What we didn't realize is that she would be, too — literally!
There were a bunch of amazing bits in the singing part of the segment, which aired just two days after Grande and Corden blew us away with their condensed "Titanic" interpretation. Some of our favorites: hearing her belt out "Side to Side," "God Is a Woman" and "Dangerous Woman," and her amazing take on Celine Dion.
Though we never got an explanation as to her bandaged hand, they did discuss the rumor that she prefers to be carried around by her employees.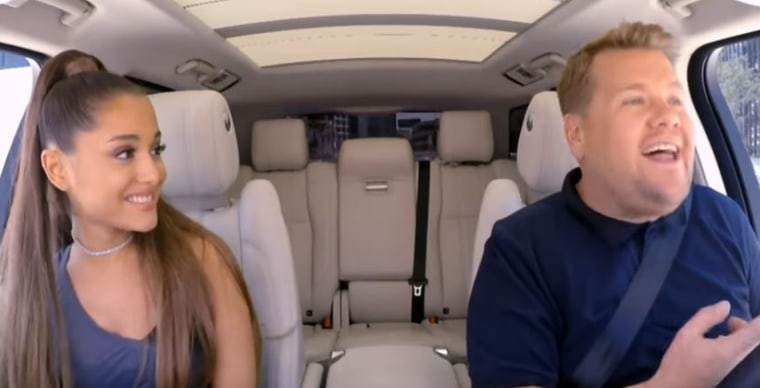 Grande, 25, was happy to set the record straight: "There's a picture of me being carried by my tour manager cause I had just shot a video in (ballet) pointe shoes, and I posted it cause I thought it was cute," she told Corden.
"My toes were bleeding," she added. "I was in pain."
Still, she didn't turn down a personalized lift from Corden, who gave her a piggyback ride into Starbucks so they could get some java. (Naturally, she got a grande soy latte.)
"Hello, I'm Ariana Grande," she told their server, before declaring to the store's customers, "Did you know I demand to be carried everywhere?"
Of course many of the patrons were recording her, which is not exactly going to help dispel those rumors.
Meanwhile, back in the car they returned to singing and duetted on "Suddenly Seymour," the ballad from "Little Shop of Horrors." They both admitted it's a dream of theirs to star in the musical.
Hey, we can dream, too!
Follow Randee Dawn on Twitter.