When you watch the Philadelphia Eagles and Kansas City Chiefs face off during the 2023 Super Bowl on Feb. 12, you'll be far from the only one watching quarterbacks Jalen Hurts and Patrick Mahomes.
Somewhere out there, Eagles QB Hurts' girlfriend, Bryonna "Bry" Rivera Burrows, will be watching, too (as will Chiefs QB Mahomes' wife and family).
The Philadelphia Eagles' quarterback, who has previously kept quiet around his love life, went public with his relationship when Burrows walked onto the field after the team's NFC Championship win on Jan. 29. They walked hand-in-hand.
Hurts has not commented about his relationship on his Instagram, and Burrows' is set to private.
Here's what we know about Burrows, Hurts and their recently publicly launched relationship.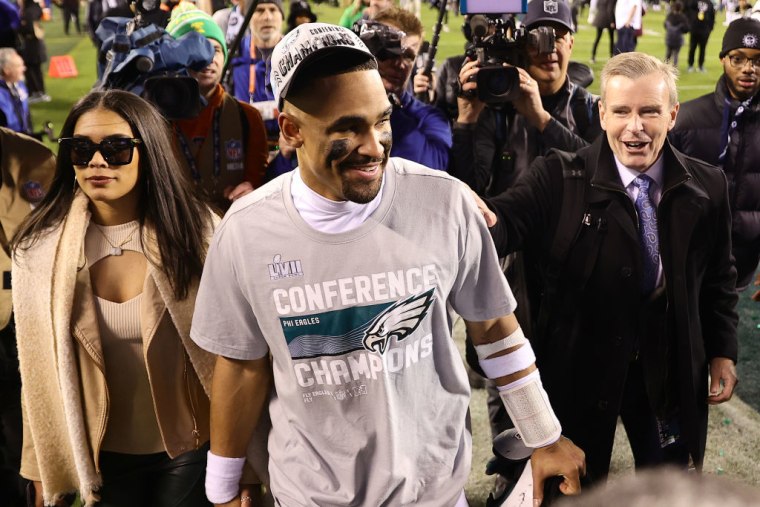 She went to the University of Alabama for her undergraduate and graduate degrees
Burrows attended the University of Alabama, majoring in political science and Spanish, according to her LinkedIn profile.
Hurts also attended the University of Alabama, and was the Crimson Tide's starting quarterback for two seasons, per the NCAA. During his senior year, he transferred to Oklahoma to continue his football career before being drafted to the NFL.
While in undergrad, Burrows kept busy as a member of the Alpha Kappa Alpha sorority and several honor societies, among other extracurriculars, per her LinkedIn. She was a candidate for homecoming queen.
She also received her MBA from Alabama, serving as the school's MBA class vice president.
She was a member of Alpha Kappa Alpha sorority in college
While studying at Alabama, Burrows participated in the Theta Sigma chapter of Alpha Kappa Alpha, which is "the oldest Greek-letter organization established by African American college-educated women," according to the organization's website.
In 2016, her AKA chapter posted a photo to Instagram of her holding a plaque, writing, "Our very own, Bryonna Burrows, was honored as Outstanding Junior for Order of Omega. Congratulations Bry!"
Burrows has worked in tech since graduation
Burrows began her career at IBM in 2019, per her LinkedIn, and has held several positions. Her position is currently listed as AI partner.
She's a self-proclaimed extrovert
In 2021, Burrows shared an Harvard Business Review article on her LinkedIn about how different personalities deal with an "always-on" culture, and said that she identifies as an extrovert.