Jada Pinkett Smith and Gabrielle Union have buried the hatchet.
The actresses got together for an emotional face-to-face conversation in Monday's episode of Smith's Facebook Watch chat show, "Red Table Talk," where they revealed they've recently ended their secret 17-year feud.
"Gabrielle and I were never really girlfriends. We were great associates," the "Bad Moms" star, 46, explained to her mother and co-host, Adrienne Banfield-Norris. "At some point, that dissolved. And for 17 years, we have not really spoken."
Both women admitted there's been longstanding tension between them, but neither could pinpoint when the riff began.
Smith revealed she called the "Bring It On" star, 45, and invited her to hash out their issues on the show.
"It felt so good on the phone with you to even just go, 'Hey, I'm sorry that I didn't even take the time to talk to you,'" she told Union. "And then I had to just apologize and was just thinking to myself, 'Damn, Jada! That was some petty-ass s---. But at the same time going, 'Well, that's where you were then. Thank God you're someplace else now.'"
"Every time we would see each other, we were always cordial and always nice, but (there) was always tension," Smith added.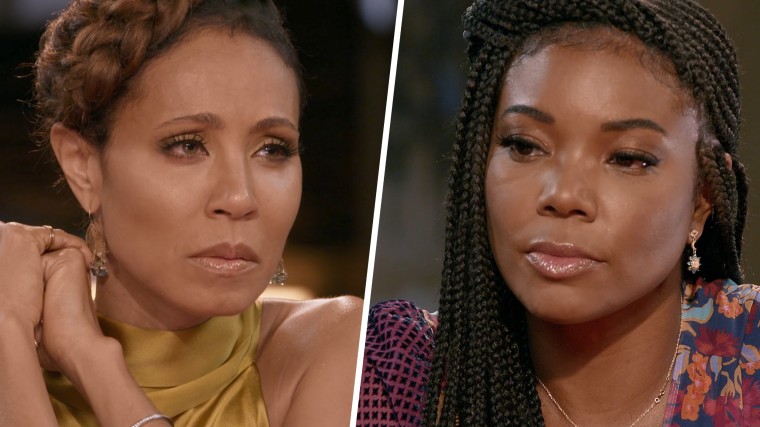 The "Girls Trip" star first addressed the pair's feud in early May during an interview with "Extra" in which she promoted upcoming "Red Table Talk" episodes.
"I have a really touching episode with Gabrielle Union," she said. "We haven't been on the best of terms for 17 years, and we have a reconciliation."
"We don't even know how it started!" Smith said, adding that the feud was "definitely" over.
During a visit to TODAY days later, Union echoed the sentiment, telling host Hoda Kotb, "Neither one of us knows what originally (caused the feud), but the people we had around us were like, 'Well, you know how she feels about you' ... and then it was like 'Girl, bye!' for 17 years."
She added, "We both had too much pride and too much insecurity to just say, 'Hey, did that ever actually happen, or was that a creation of someone else who did not want to see two women rise together?'"