Jack Nicholson made his return to Crypto.com Arena for the first time in nearly two years.
Nicholson attended the Los Angeles Lakers' matchup against the Memphis Grizzlies Friday, April 28. The Associated Press reported that this was the first time the 86-year-old actor attended a Lakers game since Oct. 19, 2021 for the season opener. 
The three-time Oscar-winning actor was photographed courtside donning a pair of burgundy pants, a black shirt, and a navy blazer. He also wore black sunglasses along with a pair of binoculars around his neck.
Nicholson attended the game with his son, Ray Nicholson, and grandson, Duke Nicholson.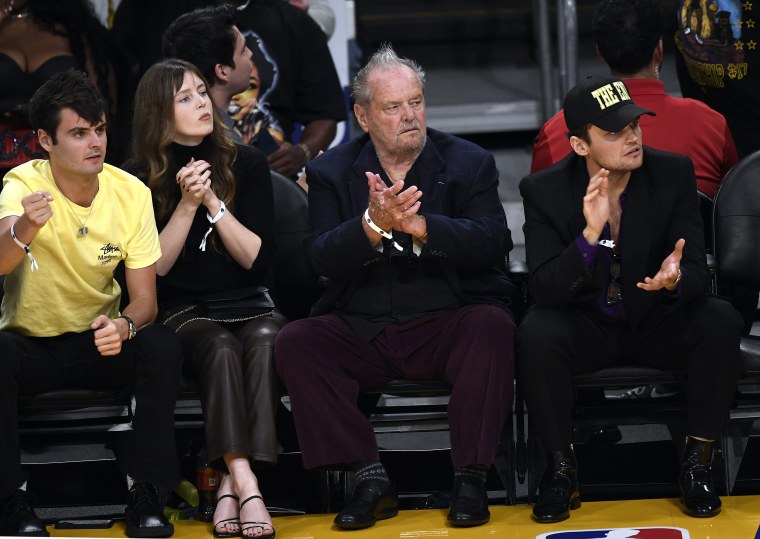 "The Shining" star was in good company at Game 6 of the series between the Lakers and Grizzlies, which was dominated by the Lakers who went on to beat the second-seeded Grizzlies 125-85.
Michael Peter Balzary — known professionally as Flea — from the Red Hot Chili Peppers, Adele and her boyfriend Rich Paul, and Dr. Dre were also in attendance at the game, as shared by the NBA on Twitter.
Another clip from the NBA on Twitter showed Larry David and Nicholson greeting each other at the arena.
On Twitter, the NBA shared a quick exchange between LeBron James and Nicholson ahead of the game. James approached the actor as he stood near his seats before the duo embraced in a hug. They chatted for a moment before the NBA star headed back to the court.
The Lakers also celebrated Nicholson's return to the arena, sharing a photo on Twitter of the actor standing up courtside with the caption, "Game 6: Jack's Back."
Nicholson has famously been a season ticket holder for the Lakers since 1970 and has been photographed celebrating at games for decades.
Duke, who is the son of Nicholson and his ex-wife Sandra Knight's daughter Jennifer Nicholson, opened up to The Hollywood Reporter in December 2019 about what he and his grandfather bond over.
Though he said that he and his grandfather "don't talk about acting much," Duke said that they tend to watch sports together instead. While they both indulge in Lakers games, he said they watch "anything he can get his hands on."