Jack Antonoff has been in the music industry for over two decades, but the singer-songwriter has become even more popular in recent years as he's produced some of the latest pop music hits.
Antonoff made headlines himself when he married Margaret Qualley at a ceremony in New Jersey on Saturday, Aug. 19 packed with a long list of his celebrity friends like Taylor Swift, Lana Del Ray, Channing Tatum and Zoë Kravitz, according to People.
In May, TODAY confirmed that he and Qualley, the daughter of actor Andie MacDowell, had become engaged. The news was confirmed after Qualley, 27, appeared to show off her engagement ring on Instagram.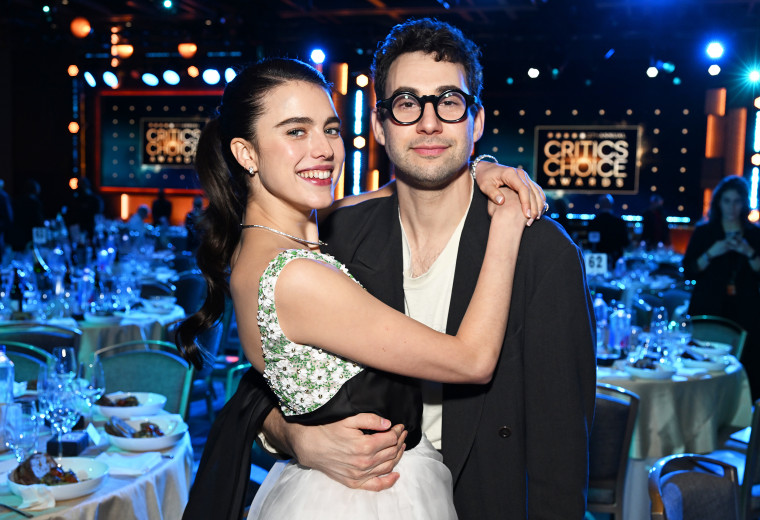 At the time, she captioned the post, "Oh I love him!" However, Qualley's account appears to have been deleted or deactivated as of Aug. 19.
Qualley and Antonoff were first linked in August 2022 after the two were spotted kissing in New York City, People previously reported.
In March, the couple were seen at the Critics Choice Awards, where "Maid" was nominated for best limited series and Qualley was nominated for her performance. Then in April, they appeared together at the 64th Annual Grammy Awards ceremony, where Antonoff won an award for producer of the year.
Before his marriage, Antonoff has been romantically linked to other stars, like Lena Dunham.
Aside from his love life, the 39-year-old has written and produced hundreds of songs, including those of notable artists like Taylor Swift, Lana Del Ray, Lorde, Florence + the Machine and The 1975.
But Antonoff's ear for groundbreaking music isn't the only that's kept him in the spotlight; his celebrity relationships and friendships have also garnered attention.
Here's what to know about the five-time Grammy Award winner.
Why is Jack Antonoff famous?
Starting in 2002, Antonoff was the lead singer of indie rock band Steel Train, which consisted of him and his friends from New Jersey. The group split in 2013, but by that time Antonoff had already been working with fun. as their lead guitarist.
With fun., Antonoff co-wrote the band's hit single "We Are Young" off their 2012 album, Some Nights. While on tour with the group, however, Antonoff began working on music for his solo project-turned-rock band Bleachers.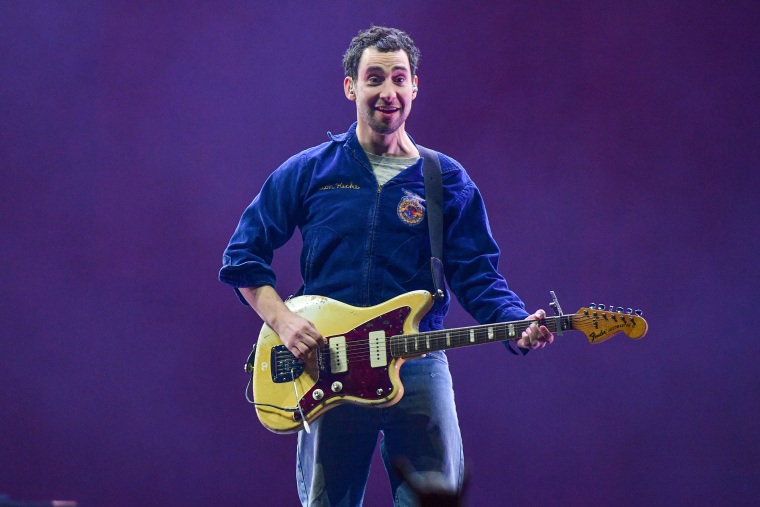 "I wanted to bridge the gap between Disclosure and Arcade Fire — something both streamlined and organic," Antonoff told Rolling Stone of his new band in a 2014 interview. "The production and songwriting is extremely over-the-top, extremely epic and unapologetic."
Also known for popular songs like "Rollercoaster," "Don't Take the Money" and "Stop Making This Hurt," Bleachers made Billboard's top 100 artists chart in August 2021.
Who has Jack Antonoff worked with?
Aside from creating his own music, Antonoff has composed over a dozen Billboard No. 1 albums and singles for fellow musicians. According to Consequence, Antonoff has credits in nearly 300 songs.
Here are some artists and tunes he's worked on:
Taylor Swift: "Anti-Hero," "Cruel Summer," "Sweeter Than Fiction," "Bigger Than the Whole Sky," "Midnight Rain," "The Archer," "False God," "Snow on the Beach," "Glitch," "Question...?" "Maroon," "Bejeweled," "Lavender Haze," "Labyrinth," "Sweet Nothing," "Dress," "this is me trying," "Mastermind," "I Wish You Would," "Mr. Perfectly Fine," "Karma," "mirrorball," "august," "illicit affairs," "Death by a Thousand Cuts," "Look What You Made Me Do," "my tears ricochet," "Cornelia Street," "Getaway Car," "All Too Well (10 Minute Version) (Taylor's Version)," "Out of the Woods," "Lover"
Lorde: "Supercut," "Liability," "Solar Power," "Green Light," "Mood Ring," "Perfect Places," "California," "Leader of a New Regime," "Oceanic Feeling," "Sober," "Fallen Fruit," "Helen of Troy," "The Path," "Stoned at the Nail Salon," "Hold No Grudge," "Writer in the Dark," "The Louvre"
Lana Del Rey: "hope is a dangerous thing for a woman like me to have — but i have it," "Happiness is a butterfly," "Venice B----," "Not All Who Wander Are Lost," "Breaking Up Slowly," "Peppers," "Season of the Witch," "Kintsugi," "For Free," "Love Song," "Looking For America," "Cinnamon Girl," "California," "Chemtrails over the Country Club," "Dark But Just a Game," "Let Me Love You Like a Woman," "A&W"
The 1975: "The 1975," "Looking For Somebody (to Love)," "When We Are Together," "Wintering," "About You," "Human Too," "All I Need to Hear," "Oh Caroline," "I'm in Love With You," "Happiness"
Florence + The Machine: "Girls Against God," "Dream Girl Evil," "Morning Elvis," "Free," "The Bomb," "Cassandra," "Heaven is Here," "Back in Town," "Choreomania," "King"
Phoebe Bridgers: "Goodbye to Love"
H.E.R.: "Dance to the Music"
Sia: "Together," "Play Dumb," "House on Fire"
P!nk: "Better Life," "Beautiful Trauma"
Olivia Rodrigo: "Deja Vu"
Carly Rae Jepsen: "Want You in My Room," "Me and the Boys in the Band," "This Love Isn't Crazy"
The Chicks: "Gaslighter," "Set Me Free," "Texas Man," "Julianna Calm Down," "Young Man," "Hope It's Something Good," "My Best Friend's Wedding," "Everybody Loves You," "For Her," "Sleep at Night," "Tights on My Boat"
Diana Ross, Tame Impala: "Turn Up the Sunshine"
St. Vincent: "New York," "Humming (Interlude 1,2 and 3)," "Somebody Like Me," "Candy Darling," "Waiting on a Wave," "The Nowhere Inn," "Smoking Section," "Down," "Sugarboy," "Fear the Future," "Los Ageless"
What is his connection to Taylor Swift?
Jack Antonoff is reported to have first worked with Taylor Swift on her 2013 release "Sweeter Than Fiction," then went on to produce songs on her albums "1989," "Reputation," "Lover," "evermore," "folklore" and "Midnights."
In 2014, Antonoff wished Swift a happy birthday on Instagram, sharing a group photo featuring the two of them standing with their arms around each other. They continued to celebrate together for years to come.
He wrote, "happy birthday to @taylorswift — an amazing friend and my favorite collaborator. stayed out later than I thought my body could ever handle. it was THAT good a night."
In 2015, Swift revealed in a cover story with Elle that her song "You Are in Love" was written about Antonoff's relationship with Lena Dunham at the time.
Referring to the line "You are my best friend," Swift said she's "never had that" in a relationship, explaining that she "wrote that song about things that Lena has told me about her and Jack."
The "Anti-Hero" singer has continued to gush about Antonoff in interviews, telling the New York Times in 2017 that "he sits at the piano and we both just start ad-libbing and the song seems to create itself."
She continued, "He's an absolute joy. That's why everyone loves him. I personally wouldn't trust someone who didn't."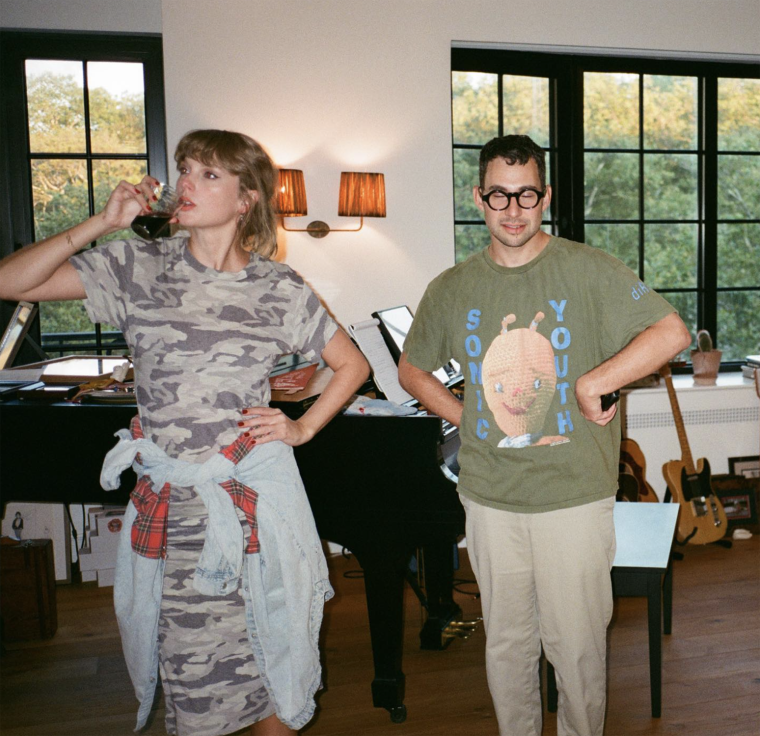 Antonoff hasn't been shy about raving about his friend, either, telling NME in a 2021 interview that he's seen Swift "change the music industry first-hand."
"I've seen her change the music industry first-hand," Antonoff said of Swift. "She's amazing for being a champion, and making things better for the generations to come. She has a long history of rightly exposing some real darkness in the music industry. And I'm personally thankful for it, outside of our friendship and working relationship, just as an artist. She's asked me some questions a lot of people are afraid to ask."
In early September 2022, Swift shared a TikTok video of the two of them sitting on a boat together while sipping on some wine.
"Looks like we ran out of august," she wrote, referring to the hit song off of her "folklore" album.
After collaborating on her latest "Midnights" album, Antonoff was featured in Swift's music video for the song "Bejeweled" as Prince Jack standing behind the "Mastermind" singer draped in royal garb.
In an episode of Time's Person of the Week Podcast released Aug. 17, Antonoff said Swift was the first person to recognize him as a producer.
"A lot of people are afraid to sign off on something that isn't done by a proven person. I had written lots of songs and produced them, but they would always sort of go somewhere else," he said of his work with Swift on the song "Out of the Woods."
"So the label or whoever could say, oh, we had this person produce it. And, you know, I put my heart and soul into that song and she said, 'I love it.'"
He shared a similar sentiment of Swift back in 2021 when he posted a series of photos to Instagram of the pair and their team celebrating the album of the year Grammy win for "folklore."
In a brief tribute to Swift, Antonoff wrote, "and @taylorswift , from 1989 to here…. goddmann. you are the one who let me produce records first. before you i just 'wasn't a producer' according to the herbs. i just wasnt let in that room. then i met you, we made out of the woods and you said, "that's the version" and that changed my life right there."
Who are his celebrity friends?
Working with the likes of Swift and other famed artists, Antonoff has naturally become close with them, in addition to other celebrities, which he often shares on social media.
In March 2021, Antonoff shared a series of photos working Del Rey for album "Chemtrails over the Country Club," revealing that the duo met at a diner in New York.
He wrote, "pics of us making the album at henson and conway in LA + @electricladystudios NYC ::: but first my favorite pic of us taken at town hall by @danielgsilbert — makes me smile the most. love you @lanadelrey. from nfr to chem and everything else i'm so happy we met that diner in NY. what wild one it's been."
Antonoff also shared a behind the scenes look working with The Chicks for their album, "gaslighter."
In the caption, he shared some of his top moments spending time with the country trio, writing, "favorite moment. watching the chicks sing the national anthem in a living room? every session devolving into pranks and tears after dinner and drinking starts?"
He continued, "recording these three voices together that the universe intended to be together? the writing of young man with chicks annie and justin ( @st_vincent and @tranterjustin )? prank calling every restaurant with a "politically incorrect dixie chicken" sandwich? love you all."
In October 2014, he even posed holding a heart beside Bill Nye, writing in an Instagram post, "hi from me and @thescience guy."
Antonoff also collaborated with Vince Clarke of Depeche Mode in March 2014, when he shared a photo of the two of them sitting at a restaurant when they "first discussed bleachers."
He added, "basically spent an hour asking him yaz + erasure questions."