It's Back To The Future Day!
In "Back To The Future Part II," Marty McFly (Michael J. Fox) and Doc Brown (Christopher Lloyd) program the date of their visit to the future to Oct. 21, 2015, making Wednesday a big day in pop culture history (though the movie's vision of 2015 isn't quite the one we have today because we've mostly ditched fax machines and cars can't fly).
People are going nuts over the "Hollywood holiday." A Facebook page dedicated to the day has almost 70,000 likes. USA Today even tweaked its cover in honor of the day, because the 1989 sequel features a USA Today cover with McFly on the cover.
You can get in on the celebrations, thanks to companies that are rolling out products and campaigns inspired by to the franchise. Here's a roundup of the goods that will floor your flux capacitor!
RELATED: 'Back to the Future' turns 30! Take this quiz to test your memory of the '80s movie
1. Ford's Flux Capacitor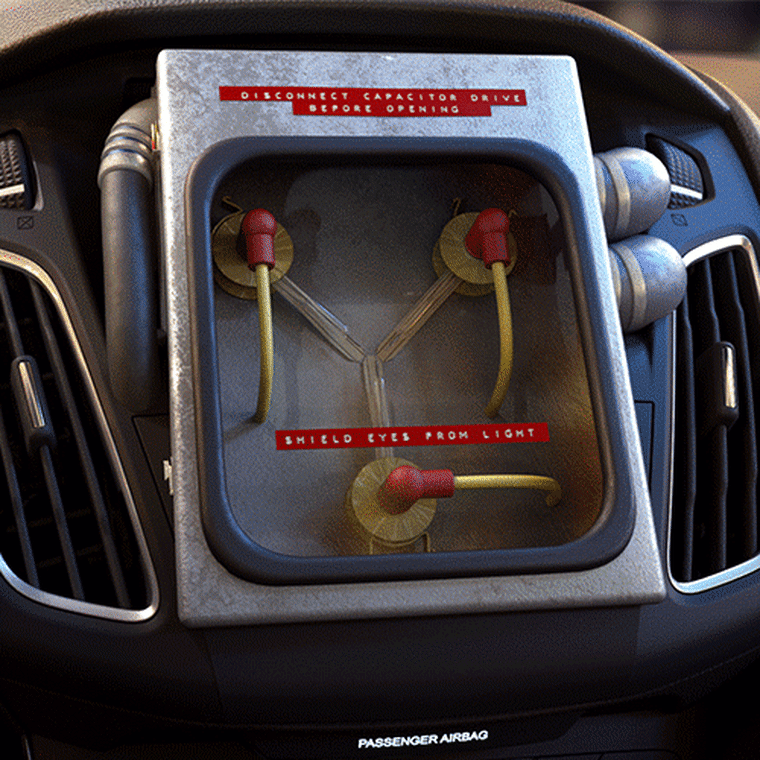 Ford is getting in on the futuristic fun with a 2015 flux capacitor option for Focus and Fiesta cars. The device, which fictionally retails for $1.21 million (remind you of a certain gigawatt number?), is available through Ford's "build & price" online tool from now through October 26.
2. 3M's Gold DeLorean

In the course of its history, the DeLorean Motor Company built fewer than 10,000 cars, three of which were made in gold. Unveiled today is the fourth gold DeLorean, and this one is superior to those of the past. It's more gas-efficient, and is an all around smoother ride. The one-of-a-kind car also has windows that allow up to 90 percent of light in while rejecting heat and blocking 99.9 percent of UV rays.
3. Pepsi Perfect
Pepsi is releasing the famous soda Marty McFly orders in "Back To The Future Part II." The cola was given out to "Back To The Future" fans at ComiCon a few weeks ago, and now the public can buy it for a limited time. A 16.9-oz bottle costs $20.15. See what they did there?
RELATED: Lexus unveils 'Back to the Future II'-like hoverboard
4. "Back To The Future" box set and new art
Mondo, a creator of limited edition re-issues, is releasing the "Back to the Future" full trilogy score on vinyl in two versions: a box set designed by DKNG and 3 individual 2XLPs designed by Matt Taylor. Pre-order for both starts today.
The company is also selling limited edition posters to honor the event.
5. Ride free with Lyft in a DeLorean
In partnership with Verizon, ride-sharing service Lyft is letting loose a fleet of DeLorean DMC-12s in NYC. And the rides, which last 20 minutes, are free! To qualify to win a ride, select "McFly Mode" in the Lyft app. Today only!
RELATED: 'Back to the Future' Monopoly adds time-traveling spin to classic board game
6. An all-electric DeLorean
Queen's University Belfast in Ireland is celebrating the day with an eco-friendly effort: an all-electric DeLorean. Belfast is the home of the original DeLorean Motor Company, so geographically, this makes sense. We think Doc Brown would love a car that doesn't need gas! It's almost as good as running on trash.
7. Stream movies free with Amazon Prime
It may not be as exciting as the offers, but at least it's accessible, and surely all these promos will put you in the mood for some serious chill time with your "BTTF" BFFs. For the month of October, Amazon Prime members can stream the trilogy at no-cost.