/ Source: The Associated Press
Gisele Bundchen set the tone at Victoria's Secret fashion show Wednesday when she stepped onto the runway in a bejeweled "Sexy Splendor Fantasy bra," teeny-tiny red Santa skirt with feather trim, above-the-knee red boots and a huge grin that said: This is going to be fun, this is going to be fantasy, this is going to be fabulous.
Unlike designer fashion shows, where models are anonymous hangers for clothes, the lingerie giant encourages models to smile and show a hint of personality. Some, especially Tyra Banks, Naomi Campbell, Heidi Klum and Victoria's Secret's newest "angel" Karolina Kurkova, downright vamped it up for the cameras. Their smiles usually were bigger than their outfits.
(Some of the less-experienced models stuck to their solemn stomping.)
"It's the Super Bowl for supermodels," said Ed Razek, chief marketing officer of Victoria's Secret. "The first year, there was some difficulty getting models. They had no point of reference. Since then, I can't think of a single model in the world that hasn't been in the show that we've wanted to have in the show."
Backstage before the first of two back-to-back shows being filmed for a TV special, there seemed to be more camaraderie that catfighting as most of the models walked around in short robes made of red satin and flip-flops as they ate — believe it or not — baked ziti, deli sandwiches and bagels, washed down with water, Gatorade and champagne.
"This is much more fun than doing a designer show. It's more dreamy, it's more relaxed," said model Isabeli Fontana.
'Not selling anything anyone needs'The lingerie truly is secondary here, and that's OK with Victoria's Secret.
"We're trying to make an interesting television entertainment show, not an infomercial. It has to be an entertaining hour. We'll sacrifice messages the brand might have wanted to put on a show people want to see," said Razek, adding: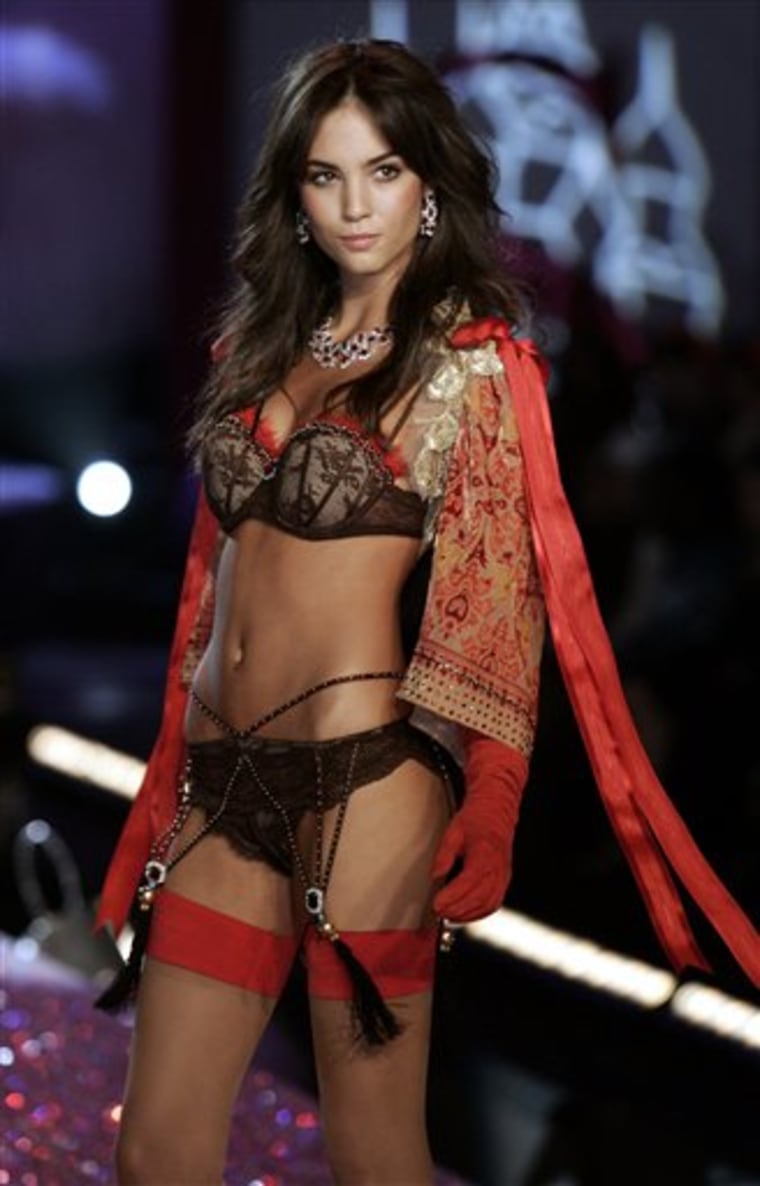 "We're not selling anything anyone needs, so it has to be something someone wants. It's all about creating desire, creating new 'wants' on a continuing basis."
That's hard to argue, with Banks in a black satin corset with satin lace, crystal beads and sequins, and a velvet lace string bikini. Most people probably could do without huge feather wings, but they go a long way in making a memorable image.
A few pieces of lingerie were quite pretty and potentially wearable by the masses, including a hand-beaded lace princess gown with sequin and crystal "snowflake" trim and a light blue strapless bra with organza ruffles and matching panties.
Seal took the stage and sang as his wife, new mother Klum, appeared on the runway in light-up bra and thong with Swarovski beading. They blew each other a kiss in one of the show's sweetest moments. Ricky Martin also performed.
Since the show is being televised Dec. 6 on CBS, it's likely certain concessions were made to keep the garments from being too revealing. When ABC aired it in 2001 several groups complained to the Federal Communications Commission that it was indecent, though the FCC ultimately ruled it didn't break any rules.
Nonetheless, none of this year's outfits were sheer and the bottoms only seemed ridiculously small from the rear view.
This marks the 10th Victoria's Secret runway extravaganza. The company sat out last year after the marketplace seemed particularly sensitive after the Super Bowl flap involving Janet Jackson's bare breast during the halftime show.
In 1999 the Victoria's Secret show was broadcast online and when 1.5 million visitors tried to log on at once, the Web site crashed.
"I think on the whole what they've done is one of the better stories in apparel marketing. Over the long run, there is a very consistent and totally identifiable look," said Andrew Sacks, president of AgencySacks, a Manhattan-based advertising agency with no affiliation to the lingerie company.
"The imagery when you look at it is upbeat. There are a lot of smiles, even a little innocence. They've made lingerie very acceptable for the entirety of the market."