Congratulations to Drew Scott and Linda Phan!
The "Property Brothers" co-star and his love wed on Saturday in Italy, TODAY.com confirmed.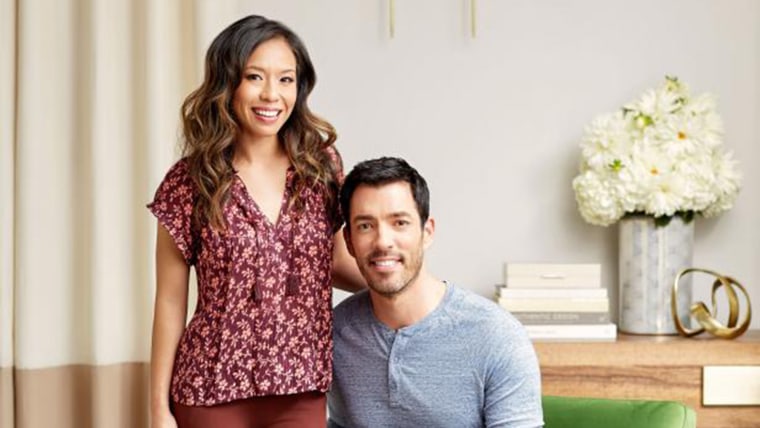 The outdoor ceremony was in front of 300 of their closest family and friends, who flew in from across the globe for the event, according to People magazine.
Phan, 31, who is global creative director for Scott Brothers, wore a delicate wedding gown designed by Claire Pettibone that was adorned with pastel floral appliques. Scott, 40, donned a kilt for the long-awaited ceremony.
"We are still floating on clouds … today couldn't have been more magical," the couple told People. "Surrounded by so many loved ones in such a beautiful place was unreal. We are very, very lucky. Friends, family, amazing food, blue skies and being even more in love than ever before — what more could we ask for?"
The couple, who met at a 2010 Toronto Fashion Week event, became engaged in December of 2016, simultaneously delighting and disappointing fans of the eligible bachelor and his twin brother.
Scott and Phan, who are both big social media users, let Property Brothers fans in on the wedding planning fun, even putting out a call for fans to come up with a wedding hashtag, which is how they got #LindaAndDrewSayIDo.
Scott's brothers, Jonathan (his co-star on HGTV's Property Brothers) and JD, both served as best men, while Phan opted to have 10 bridesmaids instead of a maid of honor. Guests were welcomed to the wedding in style and took part in fun excursions such as a bicycle tour and cooking classes.
And while the honeymoon destination is being kept secret, we're sure it will be somewhere just as romantic and exciting as this beautiful couple.