For the past few years Deirdre Imus and her husband, radio personality Don Imus, have invited children affected by cancer to their ranch in New Mexico for a break from the difficulties of their lives. It is also a break from the kids' regular diets, because the food served on the ranch is totally organic — the couple believing that much of the chemicals and additives used in food used today causes cancer. In her new book, "The Imus Ranch: Cooking for Kids and Cowboys," Imus details many of the meals served at the ranch. She came on the "Today" to talk about the book and to prepare one of the dishes eaten there. Here is an excerpt describing how the ranch came to be founded as well as the recipe from the show.
The Imus Ranch is 4,000 unspoiled acres set in rolling hills and mesa country about 50 miles east of Santa Fe, New Mexico. Our front gate is about 6,000 feet above sea level and right on the old Santa Fe Trail. In a way, you can get a feeling for the whole history of the settling of the West from the Ranch's entrance because the ruts of the famous old wagon trail actually are still visible in spots. Now, not far away, an Amtrak main line runs across a section of the Ranch. And just a short distance from the railroad, there's an interstate that tracks that same timeworn route between the peaks of the Sangre de Cristo Mountains to the north and the Sandia range to the south. Scattered brush, grass, and wildflowers give the landscape a quilted look — a pleasing patchwork of sandy browns and mottled greens as seen by travelers flying over this part of northern New Mexico.
This is a dry part of the world, which gives the air lightness on even the hottest days. Still, most afternoons in summer, thunderheads pile up over the Sangre de Cristo and make their way toward us. Usually, the rain is all spilled by the time the clouds reach the Ranch, but sometimes they burst right over us. With thunder booming and lightning snapping, the rain pours off the stony soil and races downhill along deeply etched arroyo streambeds. These sudden washes dry up as quickly as they arrive, leaving behind gullies and furrows in the red clay and sandstone. Coyotes use the arroyos as hidden passageways to conceal their travels across the landscape.
I loved this land from the moment I first saw it. It was one of the most beautiful places I'd ever been. After Don and I met in 1991, we began traveling through the Southwest in our free time, and because I had grown up in Connecticut and gone to school in Pennsylvania, the sheer dimensions of this vast, open country were amazing to me. But I felt immediately at peace here. We were married in Monument Valley, the breathtaking backdrop of so many John Ford Westerns. On one of our trips, we visited the ranch in northern Arizona where Don grew up, a place named the Willows. It's all public land now, but the house where Don lived as a boy is still there, shaded by willow trees. A stone hanging in the kitchen was carved simply: 1884 william imus. Don talked about how the happiest days of his life had been spent on that ranch, doing chores, riding horses, herding cattle. It was hard work, but that's what made it worthwhile.
While all this was going on, more and more of our time was spent thinking about children and their health. Before we met, Don began hosting an annual radiothon to benefit the Tomorrows Children's Fund and the CJ Foundation for sids charities. Over the years, he raised enough money to build the Don Imus wfan Pediatric Center for Tomorrows Children, a seven-story treatment and research facility that's part of the Hackensack University Medical Center, the country's sixth largest hospital complex located just outside New York City in Hackensack, New Jersey. After Don invited me to help out with the project in 1992, the radiothon became a part of my life, too. For the first time, I saw how many children are being diagnosed with cancer and life-threatening blood diseases. I found myself thinking: These kids should not be getting sick in the first place. The fact is, a high percentage of all known cancers are environmentally linked. Kids are exposed to pesticides and other toxic substances both inside and outside the home. Toxins are everywhere. They're in pest-control products for our homes. They're in pest-control products for our pets. They're in everyday household supplies, from the cleaning closet to the medicine chest, and even in our food. Children are the most vulnerable to these chemicals — especially indoors where enclosed spaces concentrate the toxic effects. Children breathe faster than adults, and their cells turn over faster, too. As a result, kids absorb contaminants faster.
We felt we had to do something about it.
These two ideas, the great American West and a healthier way of raising children, began to come together for us in early 1998 after we'd visited the old Imus family ranch in Arizona. We had completed another successful radiothon, but we wanted to do more. I remember the day it took form: Don was in his office preparing for an interview. I was pregnant with Wyatt and working out on a treadmill. Suddenly, Don burst in, yelling, "I've got it!"
If you know Don, you know he's not the type to get terribly worked up over things. The guy heard by millions each morning — that laconic cowboy with the gruff voice and vicious wit — that's real. That's Don. So when he came rushing in, genuinely excited, he got my attention.
The memory of his childhood and the needs of children struggling with illness and grief had come together in an amazing idea: We could create a wonderful retreat: a working cattle ranch where such kids could live and work alongside real cowboys and discover a more nourishing, richer lifestyle. The idea was perfect.
Eagerly, we began firing suggestions back and forth. To a remarkable degree, the Ranch we envisioned that day is the Ranch that was built. When I imagined the hacienda, I pictured something like the Ponderosa on the old Bonanza television series — a big house with a warm, family feeling. The vision of an authentic Old West town was also there from the beginning. We would build a dance hall filled with games and art supplies and have bunkhouses for staff and guests. Don had the idea of making the infirmary into a saloon where kids could belly up to the bar to take their medicines. We would have fully equipped hospital rooms, in case we ever need them — but they would be decorated in the style of an 1880s bordello. The office would be located inside a marshal's office fit for Wyatt Earp, with desks and phones in the jail cells.
We also knew that the Ranch would be nontoxic and biodynamic, meaning that our farming techniques would work not just to exploit the earth, but also to restore and sustain the earth. Everything we did — from the way we constructed roads and buildings to the way we furnished the Ranch to how we grew our crops and prepared our food — would be environmentally friendly and health-promoting. The purpose was not just to entertain the Ranch kids but also to open their eyes to a healthy way of living: clean, green, and completely organic.
I can't say it too often: This is not a play camp. Don and I are convinced that work and responsibility build confidence, self-esteem, and self-worth. Remember, a lot of these kids have been diagnosed with cancer. Their doctors and parents put limitations on them, understandably. We don't do that. The purpose here is for these kids to work hard, to learn to ride a horse, and to care for the animals — to take responsibility and recover their self-sufficiency.
-----------------------------------------
Fakin' BLTs
BLTs have the perfect trio of flavors and textures — the refreshing crunch of lettuce, the crisp and chewy taste of salty-smoky soy bacon, and the tender sweetness of ripe tomatoes. What could be better? (Preparation time: 20 minutes. Cooking time: 8 to 12 minutes per sandwich.)
1 tablespoon olive oil 12 tempeh bacon strips (tempeh is a soy-based food)8 slices sourdough bread or French baguette2 tablespoons trans fat free margarine 8 tablespoons vegan or regular mayonnaise 2 tablespoons Dijon mustard8 slices soy cheddar cheese or sharp cheddar cheese2 plum tomatoes, sliced8 leaves romaine lettuce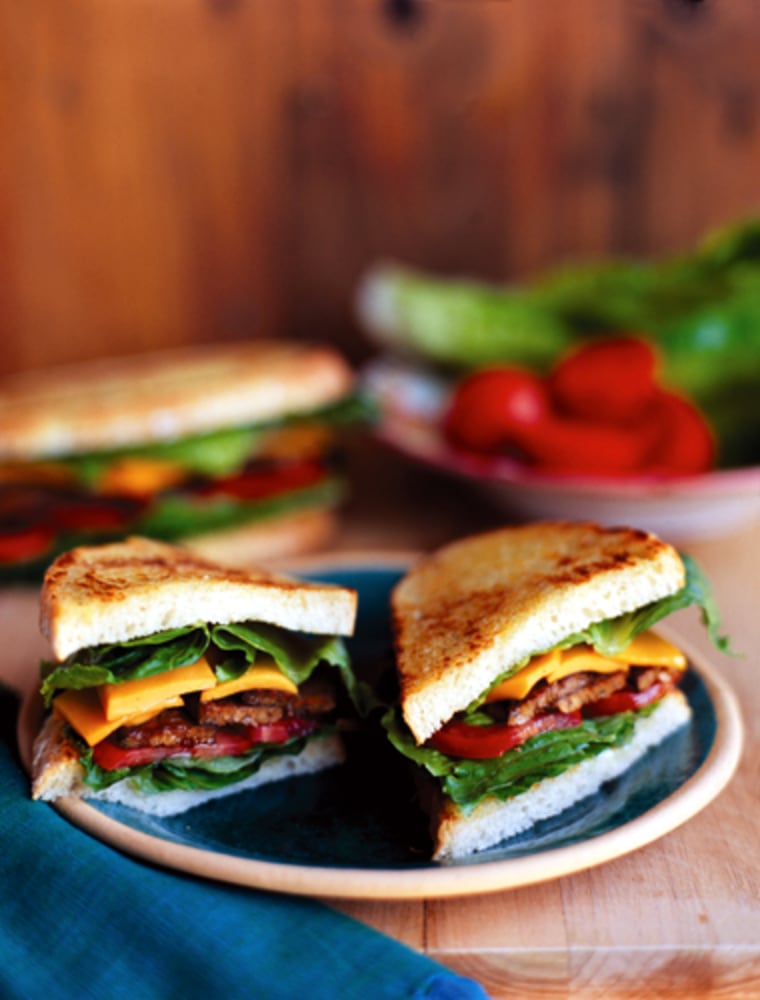 Heat the oil in a large skillet over medium-high heat. When the oil is shimmering, add the bacon strips and cook until browned, 2 to 3 minutes per side. Remove from pan and set on paper towels to drain.
Spread both sides of each slice of bread with margarine and, using a clean pan, toast 4 to 6 minutes on each side, until golden.
Mix the mayonnaise and mustard together. Spread one side of each slice of bread with 1 tablespoon of the mayonnaise mixture. Top with one slice of cheese, bacon, tomatoes, and lettuce; cover with the remaining bread. Cut in half on the diagonal and serve warm. Repeat for other sandwiches.
Makes 4 sandwiches
From "The Imus Ranch: Cooking for Kids and Cowboys" by Deirdre Imus. Copyright ©2004 by The Imus Ranch, Inc. Excerpted by permission of Rodale Inc. All rights reserved. No part of this excerpt may be reproduced or reprinted without permission in writing from the publisher.