/ Source: The Associated Press
Thanks to the long lead time for big-screen productions, the 2008 film schedule will unspool largely uninterrupted despite the writers strike.
With a solid range of prospects, the 2008 lineup offers plenty of intriguing questions.
Can Harrison Ford's Indiana Jones still throw a punch and a wisecrack? Is Harry Potter looking ahead to senior prom now that he's in his next-to-last year at Hogwarts? Will Chris Pine and Zachary Quinto live long and prosper as the "Trek" world's new Kirk and Spock?
And just what have perpetually lovelorn writer Carrie Bradshaw and her gal pals been up to since "Sex and the City" went off the air in 2004?
Sarah Jessica Parker, who reprises the role in New Line Cinema's upcoming big-screen adaptation of "Sex and the City," is not at liberty to say.
"I was given a pill by New Line, and it erased my short-term memory. They took away my script," said Parker, who rejoins castmates Kim Cattrall, Kristin Davis and Cynthia Nixon.
Coyness over plot points is an epidemic this time of year as stars and filmmakers look ahead to their big releases. In the age of Internet spoilers, everyone wants to keep as much as they can secret so fans don't go into the theater already quoting the script.
'The Dark Knight' is no 'standard-issue sequel'Continuing the story of Bruce Wayne after "Batman Begins," director Christopher Nolan bluntly said "you'll need to see the movie" if you want to know what Christian Bale's tragedy-torn superhero is up to.
Nolan does offer an answer to the obvious question: Why doesn't the latest Batman movie have the word "Batman" in the title?
"In doing a continuation of the story, we didn't want to give the impression that it's just going to be the standard-issue sequel," Nolan said of "The Dark Knight," due out this summer from Warner Bros. "We wanted this to be the definitive take on who the Dark Knight is and what that represents and what the meaning of that appellation is."
The sequel does make good on the tease at the end of "Batman Begins," which set up Bale's first encounter with his ultimate nemesis. Heath Ledger plays the Joker, and Nolan promised an utterly different take from Jack Nicholson's in 1989's "Batman."
"The corrupted clown face is built into the icon of the Joker, but we gave a Francis Bacon spin to it. This corruption, this decay in the texture of the look itself. It's grubby. You can almost imagine what he smells like," Nolan said.
Does Shia LaBeouf play Indy's son?Fan imaginations have run wild over Paramount's "Indiana Jones and the Kingdom of the Crystal Skull," the first film about Ford's archaeologist-adventurer in 19 years.
Set in 1957, "Crystal Skull" pits Indy against the Soviets, whose number includes Cate Blanchett, Ford confirmed. Beyond that, Ford's not leaking plot details, including whether new co-star Shia LaBeouf is Indy's son or whether Ford shares any romantic moments with Blanchett.
"They remain true to their characters. There's a certain tension between the two, but not a sexual energy," Ford said cryptically of his and Blanchett's characters.
Jake Johnson and Damon Wayans Jr. on the "Let's Be Cops," red carpet, Selena Gomez is immortalized in wax and more.
Ford also kept quiet on how Indy reunites with Karen Allen's character.
"It's great to have Karen back," Ford said. "I can't really tell you much, though. It's a little too early to be saying much more than what's already been said, and I don't want to be the one to unwrap the Christmas present."
While it remains a mystery if Ford gets to play LaBeouf's dad in the new movie, Indy himself is not reunited with his own father. Ford was disappointed that Sean Connery, who played Henry Jones Sr. in "Indiana Jones and the Last Crusade," decided not to reprise the role.
The 65-year-old Ford had a wisecrack worthy of Indy about that: "As I told Sean, I'm getting old enough to play my own father, so we don't need him, anymore."
James Bond, Narnia and Maxwell Smart returnAlong with Indy, Batman and Carrie, Hollywood serves up plenty of other familiar names this year.
TV's favorite alien hunters, Mulder and Scully, return for 20th Century Fox's as-yet-untitled second "X-Files" movie, with David Duchovny and Gillian Anderson reunited with series creator Chris Carter, who's directing.
C.S. Lewis' sibling heroes are back in Disney's "The Chronicles of Narnia: Prince Caspian," with "The Lion, the Witch and the Wardrobe" director Andrew Adamson running the show again and Liam Neeson reprising the voice of talking lion Aslan.
Daniel Craig has his second outing as 007 in Sony's still-untitled James Bond adventure, with Judi Dench returning as spymaster M and Jeffrey Wright reprising his role as CIA colleague Felix Leiter.
Agent Maxwell Smart, who started as a Bond spoof on 1960s TV, comes to the big-screen in the Warner Bros. action comedy "Get Smart," with Steve Carell in the title role, Dwayne Johnson as a superstar operative and Anne Hathaway as Agent 99.
Minus Rachel Weisz, his co-star in the first two "Mummy" movies, Brendan Fraser has another go at fighting a resurrected dead guy, this time an ancient Chinese ruler (Jet Li), in "The Mummy: Tomb of the Dragon Emperor." Frasier also stars in "Journey," a 3-D take on Jules Verne's sci-fi classic "Journey to the Center of the Earth."
And "Star Trek" revisits its roots, with Pine taking over William Shatner's role as bold Enterprise Capt. James Kirk and Quinto stepping in as Leonard Nimoy's Vulcan science officer Spock. The Paramount film is directed by "Lost" creator J.J. Abrams.
Reunited: And it feels so goodAlong with such action and visual-effects spectacles come an intriguing range of dramatic stories.
Brad Pitt reunites with "Babel" co-star Blanchett for "The Curious Case of Benjamin Button," based on an F. Scott Fitzgerald story about a man who ages backward from old age toward infancy.
Director Baz Luhrmann reteams with "Moulin Rouge" star Nicole Kidman for "Australia," co-starring Hugh Jackman in a tale of a cattle drive down under amid a bombing by Japanese forces during World War II.
In another World War II saga, Spike Lee directs "Miracle at St. Anna," the story of four Americans (Derek Luke, Michael Ealy, Laz Alonso and Omar Benson Miller) who are part of an all-black division fighting in Italy at a time when segregation remained the standard.
"You had the dilemma of these soldiers who really had to battle on two fronts. They were fighting for their country in a foreign land, and at the same time, in many parts of the United States, they were still considered second-class citizens," Lee said. "This offers a really rich character study of Negro soldiers going through that conflict. They want to fight for their country, but they have to ask: Is this really worth it when I could go back to Alabama and be lynched?"
And there's more ... and more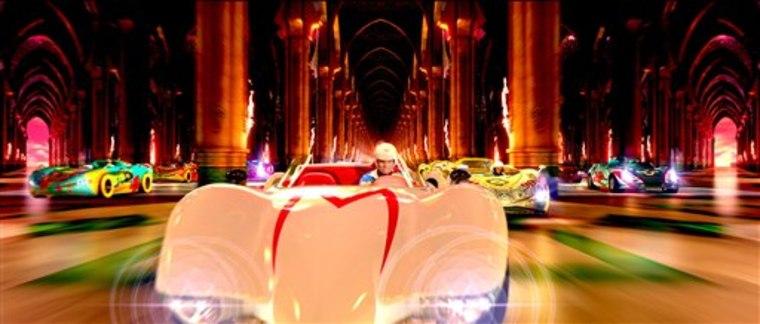 Other big 2008 titles: "Starship Dave," with Eddie Murphy playing an entire space craft in a sci-fi comedy about a group of tiny aliens seeking haven on Earth inside a vessel disguised as a human; "Wall-E," the latest from the animation masters at Pixar ("The Incredibles," "Ratatouille"), about a robot left to tend the planet after humanity has left; "Speed Racer," starring Emile Hirsch in a live-action update of the TV cartoon show, directed by Larry and Andy Wachowski, creators of "The Matrix" flicks; "The Incredible Hulk," with Edward Norton the latest incarnation of the scientist with a really angry alter ego; "Harry Potter and the Half-Blood Prince," featuring Daniel Radcliffe and pals in the second-to-last adventure of the boy wizard; "Leatherheads," a 1920s football comedy directed by and starring George Clooney alongside Renee Zellweger and John Krasinski; and "The Spiderwick Chronicles," a fantasy based on the children's books about a mom (Mary-Louise Parker) and her kids who move into the magical house owned by an eccentric relation.
Parker was not into fantasy as a child, but "Spiderwick Chronicles" allowed her to branch out into the family genre.
"I did read 'Narnia,' but I was more of a 'Little House on the Prairie' person. I'm not really a fan of things flying around, but I always wanted to do a children's movie, and this seemed like sort of an atypical fantasy-type thing," Parker said. "The children, they weren't archetypes. They were very unique and they had some complexity to them. And the mother did, too. She wasn't just the perfect mother who was always struggling. She loses her temper."
Jake Johnson and Damon Wayans Jr. on the "Let's Be Cops," red carpet, Selena Gomez is immortalized in wax and more.
Also coming this year: "He's Just Not That Into You," a romantic comedy that casts Ben Affleck alongside two Jennifers — Jennifer Aniston and Jennifer Connelly, along with Scarlett Johansson and Drew Barrymore; "Mamma Mia!," featuring Meryl Streep, Pierce Brosnan and the songs of ABBA in an adaptation of the stage musical; "You Don't Mess With the Zohan," a comedy with Adam Sandler as an Israeli commando who fakes his death so he can become a New York City hairdresser; "Step Brothers," with Will Ferrell and John C. Reilly as middle-aged slackers who suddenly become kin by marriage; "Dr. Seuss' Horton Hears a Who," an animated version of the children's classic featuring the voices of Jim Carrey and Steve Carell; "Iron Man," with Robert Downey Jr. and Gwyneth Paltrow in a big-screen version of the comic-book hero; and "Madagascar: The Crate Escape," an animated sequel reteaming the voice cast of Ben Stiller, Chris Rock, David Schwimmer and Jada Pinkett Smith as zoo animals in the wild.
Pinkett Smith's husband, Will Smith, returns to the big box-office date he has owned in the past, starring with Charlize Theron in the Fourth of July release "Hancock," the story of an alcoholic superhero that he promises will range from crazy comedy to sober drama to visual spectacle.
"It's in keeping with where I'm trying to be in my career right now. It's not really a specific genre. I'm trying to 'Roy G. Biv' — all the colors of the rainbow, red, orange, yellow, green, blue, indigo, violet — so I'm trying to 'Roy G. Biv' the entire movie and not be trapped by genre," Smith said.