/ Source: The Associated Press
The Independent Spirit Awards celebrate the best in low-budget filmmaking.
But within those honors, the John Cassavetes Award goes to the lowest of the low-budget films: those made for under $500,000.
This year's five nominees talked to The Associated Press about how they did it on the cheap. The winner will be announced at the awards ceremony Feb.24.
'Chalk'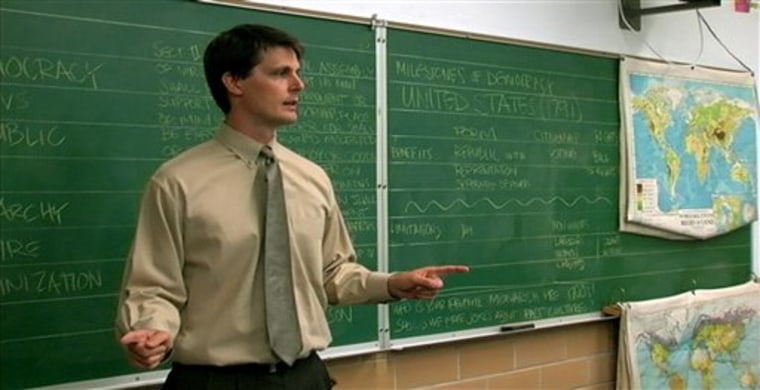 A mock documentary set in a high school. Directed by Mike Akel, written by Akel and actor Chris Mass.
Budget: About $200,000. Shot on video in 22 days in Austin, Texas.
Their secret: Write what you know.
Akel and Mass drew from their teaching experiences at Austin's Travis High School. Akel taught TV/film; Mass, world geography.
"The first thing we had to do was cut out explosions," Mass joked. People donated food, a lot of students pitched in and most of the actors worked on deferred payments.
"My principal was great," Akel said. "[The movie] 'Friday Night Lights' had shot there, and Chris and I brought our kids as extras in it.
"We spent a full day doing that, watching them, how they did it. From what I heard it cost $10,000 a day to rent the school — we got a location agreement because we didn't say it was Travis. We had to hide the school [name], the mascot and all that stuff. Plus we worked there, so we had another little deferred payment."
The hardest part? "Most people, a lot in Austin, had worked on a [Richard] Linklater film or a Robert Rodriguez film. [The University of Texas] has a big program," Akel said. "I think you get one shot at that — to get your friends to hop on — because it's tough when you know your friends are worth money. ... You want to be able to pay someone."
"You say, 'We're a team!' but that wears off. Everything wears off," Mass said. "It's like, 'We're making a film! OK, we're still making that film. And we're still making that film."'
Their advice for aspiring filmmakers: "Do something that you love — don't think of what the audience wants and then try to meet that," Akel said. Or as Mass put it, "Really do what's in your means, what you know and what you're passionate about."
"Four Eyed Monsters"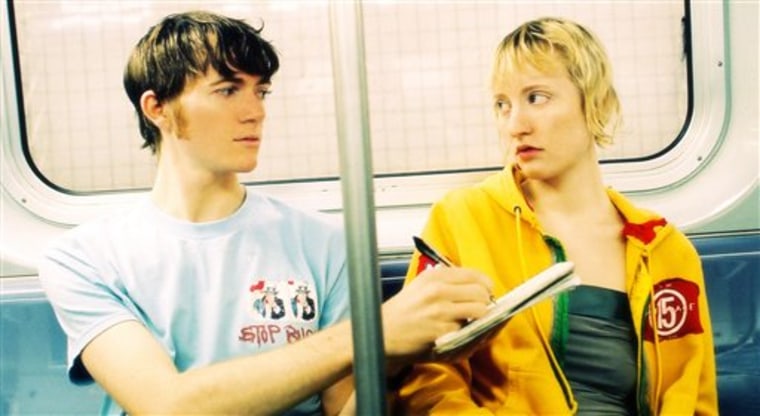 About two artists falling in love. Directed by Arin Crumley and Susan Buice.
Budget: About $5,000 for equipment but they accumulated $81,000 in credit card debt because they had no jobs while they were working on it. Shot on video over three years in New York City.
Their secret: Do-it-yourself.
Crumley and Buice directed, wrote, shot, edited and starred in the movie, based on their real-life story of meeting on the Internet four years ago.
"We own our own equipment, so we basically did everything ourselves and we had friends help us along the way," said Buice.
"I'd been doing freelance video for a long time and I'd been slowly accumulating video equipment, post-production stuff, speakers, computers," Crumley added. "I'd been editing on software I stole from a job I worked on. Anytime I got a job I tried to get a new piece of equipment."
Eventually they decided to take all this technology and experience and make a movie. They did much of it in their apartment, friends' apartments and on the streets of New York (without a permit).
"We'd shoot stuff that would fit into one page, edit it immediately on the computer then watch it and sort of analyze the need to introduce elements for re-shoots. We realized, OK, we need a reflector because the lighting is too crappy outside when it's overcast. So we'd go buy single items as we learned we needed them. We bought a set of used lights for $300," Crumley said. "We acted in it ourselves so there was no paying any fees for actors."
"At a certain point we did start taking acting classes and we met people who were talented and will work for nothing," Buice said. "We tried to be as professional as possible whenever we could but the reason we did the film so cheaply was because we were so unprofessional."
The hardest part? "There was a major psychological problem in trying to wear all these hats," Crumley said. "Of course it saved us money. But we're in a relationship making a movie about the relationship and living together and using the space where we live as the set, so basically we didn't have a place to live.
"In the scenes where we're bummed out or going crazy or losing our minds, that's us losing our minds."
Their advice: "Use your own experience. Life is full of stories and that can be your creative process," Crumley said. "I shoot things on my cell phone and then post them on YouTube. You don't need a hugely sophisticated system."
"Old Joy"About two longtime friends on a camping weekend. Directed by Kelly Reichardt.
Budget: $30,000. Shot on Super 16 film over three weeks in Portland, Ore., and the woods of Mount Hood.
Her secret: Less is more.
"We worked with a small crew: a six-person crew, two actors and a dog. We were making a road trip movie and we were essentially on a road trip together," Reichardt said. "We used all daylight so we didn't have any gear beyond our camera. We used an A-Minima camera — it only takes a 200-foot load. It's like a very compact-sized camcorder, but it's a film camera. On big films they use those cameras just to shoot in cars. We used that for the whole production.
"The smallness of it is doable but it also really worked for the film we were making — just the scaled-downness," she continued. "It's a minimalist film in terms of intimacy and just in terms of being able to maneuver in these old-growth forests. You could put the camera in your backpack and hike up the mountain. But we could only shoot for five minutes at a time so you'd have to adjust around never having a take that's longer than five minutes."
The hardest part? "We had a very short script, a 40-page script, so the tricky part was telling the actors to expand on a scene and really take their time but at the same time we're working with 200-foot loads so those are sort of contrary ideas: Take your time, let it play out, but hurry up because we only have five minutes."
It helped having an executive producer in Neil Kopp who knew the mountain back roads and found places to stay.
"He ended up finding a church retreat up in the mountains that nobody was at and we were able to live there," Reichardt said. "There was no one around on a BlackBerry, no craft service, no trucks, no trailers, no agents, no lawyers on this whole film. It was much more of an art project with friends: Get together, go off and see what we come back with. It was challenging. We had to plan, we had to be meticulous. But it was also a really great experience, and at the end of the night we all had dinner together around the campfire."
Her advice: "Get a day job — I teach — so you don't have the pressure of trying to survive off your films."
"Quinceanera"
About a girl who learns she's pregnant as she's celebrating her 15th birthday. Directed by Richard Glatzer and Wash Westmoreland.
Budget: $420,000, shot on digital video over 18 days in Los Angeles' Echo Park section.
Their secret: The kindness of strangers.
"The movie really came from sort of, like, this crazy New Year's resolution in 2005," Westmoreland said. "We sat actually at this table having our breakfast and we were a bit hungover on New Year's Day and we were like, 'OK, we're going to make a film this year. We're going to shoot it in our neighborhood, we're going to do it really low budget, we're going to use nonprofessional actors."'
"We had four locations on this block," Glatzer added. "I'd say, like, 70 percent of the movie was just shot within walking distance of this place, and it was friends who just opened their doors to us and neighbors and everything, and people were really nice about it. I mean, we were bitching and moaning because we had to shoot some of the scenes in the interior here, and when you're directing and you're up until 2 in the morning shooting and then there's people here at 5 in the morning or 6 in the morning painting, you're like, 'Aaah!' But our neighbors never complained."
Extras even cooked food and brought it in, which kept costs down. "It was a battle for the tamales," Glatzer said.
The hardest part? "We were worried at first that we wouldn't be able to get a really great cast because it was nonunion but what we found was that there were tons of just really talented people who haven't had the breaks yet," Westmoreland said. "Our cleaning lady's in it, our cleaning lady's sister, our cleaning lady's sister's niece, our cleaning lady's daughter and her grandson."
They used high-definition video thinking it would be cheaper and easier — and it was at first, Glatzer said, but transferring to film cost them added time and money. There were mistakes with color correction, plus they had to transfer twice: with and without subtitles.
Their advice: Make the most of what's around you.
"It was like a charm offensive," Westmoreland said. "Our locations manager was so super smiley and charming and really kind of got people into the idea of the movie that it was about this neighborhood and it was about gentrification of this neighborhood. It's not just some random crime drama. It's about your lives."
"Twelve and Holding" About preteens responding to a friend's death. Directed by Michael Cuesta.
Budget: Just under $500,000, shot on Super 16 film over 23 days in New Jersey and Long Island.
His secret: $100 a day. That's what everyone got paid, though some crew members — the production designer, cinematographer, Cuesta himself — were offered back-end points.
The hardest part? "Keeping everyone inspired."
"I find that part of my job on set, when you're working under those constraints, is keeping everyone believing that what they're doing is worth doing for the sake of making a good movie, for the sake of creating a piece of art, hopefully something that has some sort of validity, some sort of shelf life," said Cuesta, whose first film, 2001's "L.I.E.," cost about $700,000.
"I try to empower everyone to throw in the kitchen sink and allow me to pull them back," he added. "I think that inspires people a little bit — they feel like they own their own thing."
Much of the credit goes to screenwriter Anthony Cipriano, he said. "It all starts with a great script. If the script is great then everyone comes on board and believes in it."
Right now Cuesta is developing a pilot for CBS, which he's finding is completely different.
"There, I'm working with a giant corporation," he said. "You have to collaborate a little bit more. You don't have that autonomy that you have in a little movie."
His advice: "Make it and find a producing partner that believes in it as much as you do — and you have to believe that they believe in it as much as you do. You need someone like that. It's so important to have a strong support person. It's too big of a thing without that partner.
"I like making films this big," he added. "I don't care, as long as I can make a living and have a day job, I'll keep making small films. It's so liberating."