Let's kick the tires and light the fires, Big Daddy ... again!
Don't say "goodnight" to an "Independence Day" sequel quite yet. A follow-up to the 1996 alien invasion blockbuster, which starred Will Smith and Jeff Goldblum and made more than $817 million worldwide, has been in the works for several years. The latter star, who played computer genius David Levinson, recently gave an update on its progress.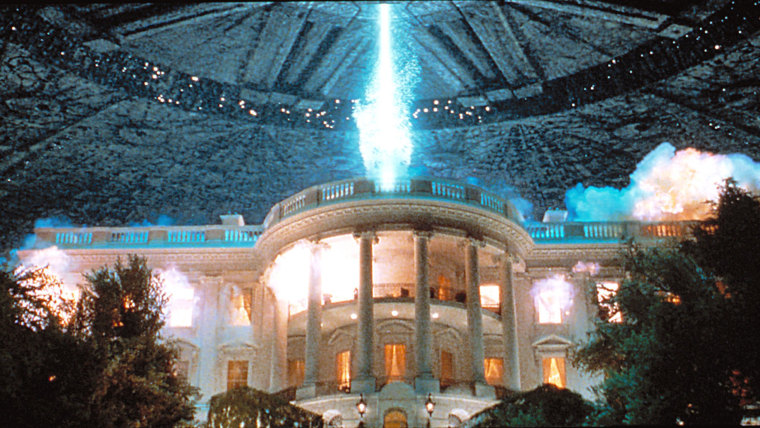 "Well, people like that 'Jurassic Park' thing, and I think they're making another, which I tell them, I'll be first in line for, but am not in," Goldblum, 61, told Time magazine in an interview posted on Tuesday, referring to that other hit franchise he's famous for. "And then 'Independence Day,' I had a meeting and have been talking over the last several months or year with [Director] Roland Emmerich and Dean Devlin, the producer, and they've been cooking up and say they have a part for me in what they hope will be a plan to make another one pretty soon."

He added, "They're still talking about it and I've heard recent rumblings here and there about it, and 'Oh, there's a scripting coming in' — maybe last weekend there was a script handed in, so it's brewing."
WATCH: Jeff Goldblum goes shirtless, piles on the hair in wacky GE commercia l— check out the hilarious video
Here are some of the things that have been reported about the follow-up to "Independence Day" so far:
In 2011, Devlin confirmed to Collider in an on-camera interview that he and Emmerich hoped to make not one but two "Independence Day" sequels.
In 2013, Emmerich talked to The Los Angeles Times about the sequel plans, saying about Goldblum, "I think we'll invite him back."
Also that year, while promoting his movie "White House Down" (which features a scene that sort of pays homage to "Independence Day"), Emmerich told Entertainment Weekly that an "Independence Day sequel" would be made up of two parts, titled "ID Forever Part I" and "ID Forever Part II," and that Smith is not confirmed to return. He told The New York Daily News that the actor would not be featured in the new movies "because he's too expensive" and because "he'd also be too much of a marquee name."
And President Thomas Whitmore did not go quietly into the night. Emmerich told The Huffington Post that year that Bill Pullman, who is now 60 and whose character gave an epic (and arguably cheesy) motivational speech in the original film, will return for the next "Independence Day" movie. The director also told the outlet that the sequel also features a gay character.
Emmerich also told Entertainment Weekly that the new "Independence Day" movies would take place 20 years after the first film and would see more aliens invading Earth (which has been rebuilt following all that destruction) after they receive a distress call by the ones defeated by humans.
Who will potentially fight them off? Besides the president, that is. Well, for starters, Smith's character's stepson, said the director, adding, "It's still some of the same characters, but also new younger characters; it's a little bit like the sons take over."
In May 2014, Deadline reported that following several screenplay rewrites, Carter Blanchard is set to write a new script for an "Independence Day" sequel, directed by Emmerich, and that the movie is set for release on July 1, 2016.