"The Incredibles: Two-Disc Collector's Edition"
It's not easy being a superhero. The duties include fighting crime, rescuing damsels in distress and generally saving the world from annihilation by evildoers. The drawbacks: no benefits to speak of, no pension, long hours and often a lack of gratitude by citizens.
It was that last one, combined with a few lawsuits, that caused Bob Parr (a.k.a., Mr. Incredible) to leave the life and settle down in suburbia with wife Helen (formerly Elastigirl), where they would raise three super kids, Dash, Violet and Jack-Jack.
But you can't take a man who has not only seen the world but saved it and cram him into a cubicle at an insurance company and expect him to stay there. Bob gets the itch to return to the superhero life, and does. Eventually he gets into a little jam concocted by the diabolical Syndrome and has to be saved by his wife and kids, which is not the ideal superhero scenario.
Brad Bird wrote and directed "The Incredibles," a wickedly entertaining animated romp that just took home an Oscar for best animated feature film. On the heels of that comes the two-disk DVD package, and now you can sit home and see for yourself what all the fuss was about.
While you watch "The Incredibles," one question inevitably comes to mind: "How the heck did they do that?" That's why the behind-the-scenes featurettes here are much more useful and satisfying than on most DVDs.
The making-of documentary is in two parts. The first dwells mostly on concept, with lots of interviews with Bird and his legion of animaniacs. The second is the more interesting one, getting down to the nuts and bolts of how the animation was actually accomplished. It spends time on story, character design, etc.
There are lots of other goodies as well, including audio commentaries, a somewhat disappointing "Incredi-Blunders" blooper reel, as well as a couple of fine shorts, "Jack-Jack Attack" and "Boundin'"
With due respect to the five best picture nominees at this year's Academy Awards, "The Incredibles" is one of the best written and directed films of the year, and it transcends the animation genre. It's a delight for young and old and should not be missed.
Buena Vista Home Entertainment, $29.99
"Alfie"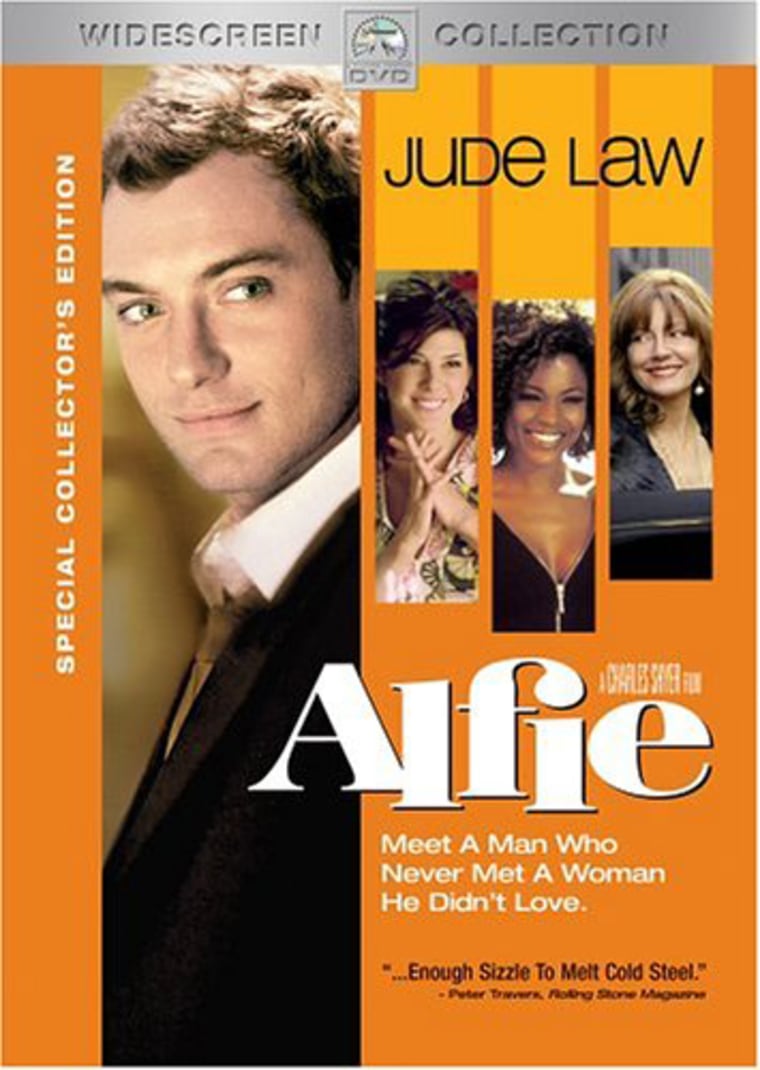 What's it all about, Alfie?
Does anybody really care?
That's the main issue with Charles Shyer's remake of the 1966 British film that starred Michael Caine. The lead character is a cad, and obviously every cad eventually gets his comeuppance. But is that worth watching for two hours?
In this updated version, Jude Law plays Alfie. He is a randy man about town — in this case, New York City instead of London — who works as a limo driver and has almost as many ladies as he has passengers in his back seat.
The problem is that this Alfie is introduced as highly unlikeable, with no redeeming qualities other than an accent and a smile. Shyer and co-writer Elaine Pope make the added miscalculation of breaking the fourth wall and allowing Alfie to talk about his conquests directly to the audience; although it was used somewhat effectively in the original, by now it has become a tired gimmick that is more annoying than endearing.
Obviously the filmmakers wanted to start Alfie off as selfish and egotistical in the first act, so eventually when women begin to dump him he learns the error of his ways and finds redemption in the end.
That might have been interesting if handled right. But in this picture, Alfie suffers a series of rejections by women and friends, learns only that being a ladykiller is a lonely existence, and then asks in the closing scene, "What's it all about?" There is no well-crafted arc of redemption for the character to follow, only a path from lothario to dejected lothario.
The special collector's edition DVD contains commentaries by Shyer, Pope and film editor Padraic McKinley, a round table discussion with the filmmakers and lots of other stuff including deleted scenes. The making-of pieces are somewhat interesting from a filmmaking standpoint, but you would have to like the movie in order to appreciate it all, and that's a big hurdle.
Chris Rock made a joke at the Oscars about how Jude Law is in just about every movie that comes out nowadays. This is one he would have been better off avoiding.
Paramount Home Entertainment,  $29.95