Imagine Dragons hails from Las Vegas, and somewhat appropriately, they appear to have hit the jackpot with awards, big hits (like "Radioactive") and a double-platinum album.
And on Friday, they brought some of that good fortune to the TODAY plaza, which was packed early on with fire-breathing, eager fans who were treated to the band's super-early soundcheck and later performance.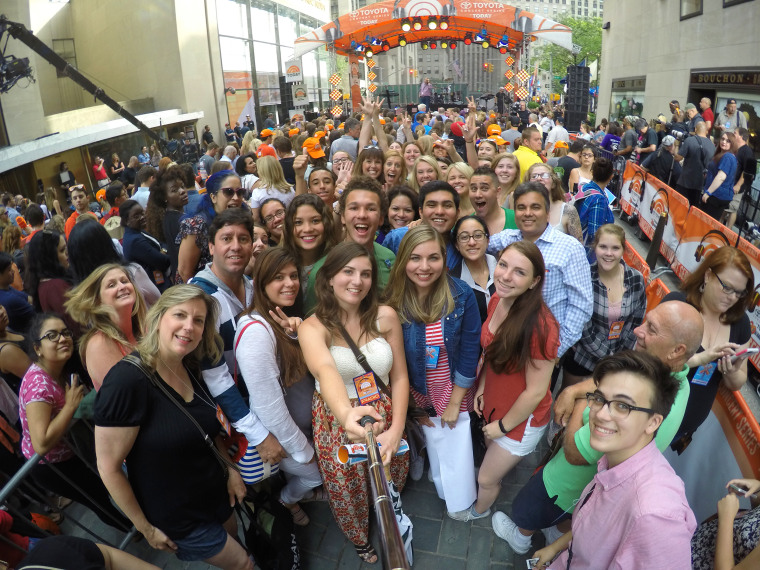 The band (Dan Reynolds, Daniel Wayne Sermon, Daniel Platzman and Ben McKee) formed in 2009, and just three years later had their big break when their album "Double Visions" went double-platinum in the U.S., selling over 4 million copies around the world.
Earlier this year, their follow-up album, "Smoke and Mirrors" debuted at No. 1, and the band is lighting up stages around the country on their uber hot summer tour.
They're already lively on social media (Ben, we appreciate your early-morning sacrifice):
And plenty cheeky when they had a chance to chat with TODAY recalling how they once opened for a mime in their small club days, got their big break when members of Train had to pull out of a festival concert due to illness and revealing that it took "epic battles" to whittle down 100 demos into 13 songs for the new album.
"We're definitely perfectionists while we're recording, but once you finish an album you let go of it," noted singer Reynolds.
The band stuck around between songs for an interview inside the studio, and even answered some fan questions in the Orange Room:
Be sure to check out all the videos from Imagine Dragon's summer concert series performance on TODAY!