Across social media, tributes are pouring in for the late Lance Reddick.
On Friday, March 17, the actor died of natural causes at age 60. Reddick was best known for his role as Cedric Daniels on "The Wire" and as Charon in the "John Wick" franchise, a role which he reprised in the upcoming "John Wick: Chapter 4."
Since news of his death broke on social media, tributes for Reddick have poured in from his wife and his co-stars to mourn the loss of the talented actor.
In a statement shared on the late actor's Instagram account, Stephanie Reddick wrote that her husband was "taken from us far too soon."
"Thank you for all your overwhelming love, support and beautiful stories shared on these platforms over the last day. I see your messages and can't begin to express how grateful I am to have them," Stephanie Reddick said.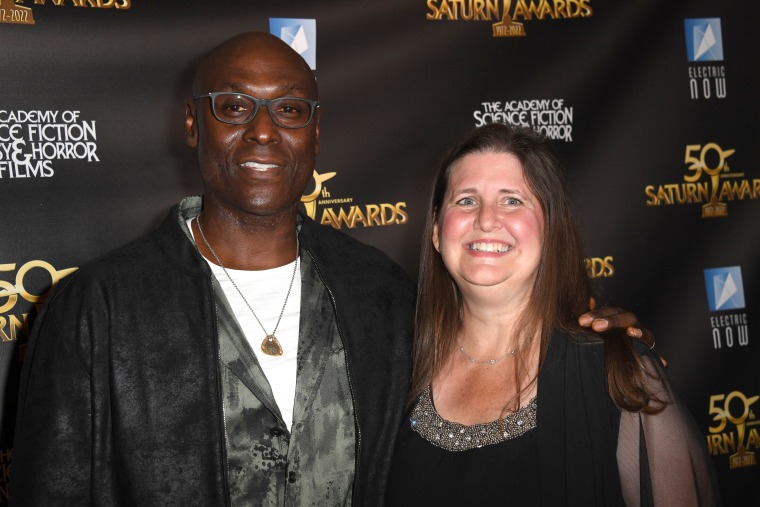 In a joint statement issued to Variety, Keanu Reeves and director Chad Stahelski shared thoughtful words about the "John Wick" star, writing in part, "We are deeply saddened and heartbroken at the loss of our beloved friend and colleague Lance Reddick."
"He was the consummate professional and a joy to work with," the statement continued. "Our love and prayers are with his wife Stephanie, his children, family and friends. We dedicate the film to his loving memory. We will miss him dearly."
Reddick's "The Wire" co-star Idris Elba shared two emotional videos on his Instagram story to pay tribute to the late actor.
"Lance really was the guy," Elba said at the beginning of the video. "I love him, and I miss him…I don't give a f--- what anyone has to say, he killed that role as an actor. I'm f------g crying right now, heart bleeding for my guy because he f------g went in for us."
Elba continued his message to honor the legacy of Reddick and highlighted the late actor's impact before adding a touching dedication, "Rest in peace. To your family, and everyone who knows what you did for us in the community."
"Lance, I love you pal," Elba concluded his video. "I know your soul is going up. Nothing but love. Watch over us, my guy."
Wendell Pierce, who portrayed Bunk Moreland on "The Wire," shared a tweet Friday afternoon to mourn the loss of Reddick. Alongside a photo of the actor, Pierce wrote he was a "man of great strength and grace." 
"As talented a musician as he was an actor. The epitome of class," Pierce added. "A sudden unexpected sharp painful grief for our artistic family. An unimaginable suffering for his personal family and loved ones. Godspeed my friend. You made your mark here. RIP."
Reddick's "The Wire" co-star Isiah Whitlock Jr. also shared a touching message of support on Twitter following the actor's death.
"Shocked and saddened by the news that Lance Reddick has passed away," he wrote. "Truly heartbreaking. R.I.P. My friend. You will be missed. God speed."
In January, it was announced that Reddick will play Zeus in the upcoming Disney+ series "Percy Jackson and the Olympians," adapted from the book series by Rick Riordan, who also serves as executive producer. Riordan shared a tribute to Reddick on his website, writing, " I feel so fortunate that our paths crossed, if only briefly."
"His gravitas and regal bearing made him perfect for the king of the gods, but from what I could tell, in person he was nothing like the blustery and distant sky god," Riordan continued. "He had a marvelous and quirky sense of humor. He was thoughtful, caring and piercingly perceptive."
The writer added that while "it will be difficult working on those scenes in which Lance appears," his performance will get to be shared with his fans.
"We will get to see his artistry in action one more time," he said.
Kirk Acevedo, who worked with Reddick on several projects, shared his condolences following the actor's death in a message on Twitter.
"I've worked with Lance on OZ and then on Fringe. Too many stories and good times with Lance," he wrote in part. "You'll be terribly missed. Jesus he was taken way too soon. Rest easy my friend."
In addition to his co-stars, fellow celebrities shared messages honoring Reddick life and legacy, including Ben Stiller who recalled past work he had done with his late mother years prior. 
"Lance Reddick was an [sic] beautiful and compelling actor. And a beautiful person," Stiller wrote on Twitter. "He worked with my mom Anne Meara in her play 'Afterplay', playing Raziel, the waiter slash angel of death. He was exquisite in that and all he did."
Stiller concluded his tweet on a poignant note, adding, "Nothing is lost."
Questlove, whose real name is Ahmir Thompson, shared a simple message on social media alongside a photo of Reddick to mourn his death, writing, "I can't take it no more. rip Lance Reddick."
James Gunn posted a message on Twitter to pay tribute to Reddick, writing, "Lance Reddick was an incredibly nice guy, and an incredibly talented actor."
"This is heartbreaking," he added. "My love goes out to all his family, friends, and collaborators."
"The Walking Dead" star Jeffrey Dean Morgan also tweeted a thoughtful message, calling his death a "big loss."
"Rest in peace my man," he added. "An amazing actor, and an even more amazing dude. Condolences and love to his family and all that knew him."
Meanwhile, Stephen King referred to Reddick as a "wonderful actor" and a "wonderful man," in his tribute tweet, adding, "This is sad news."