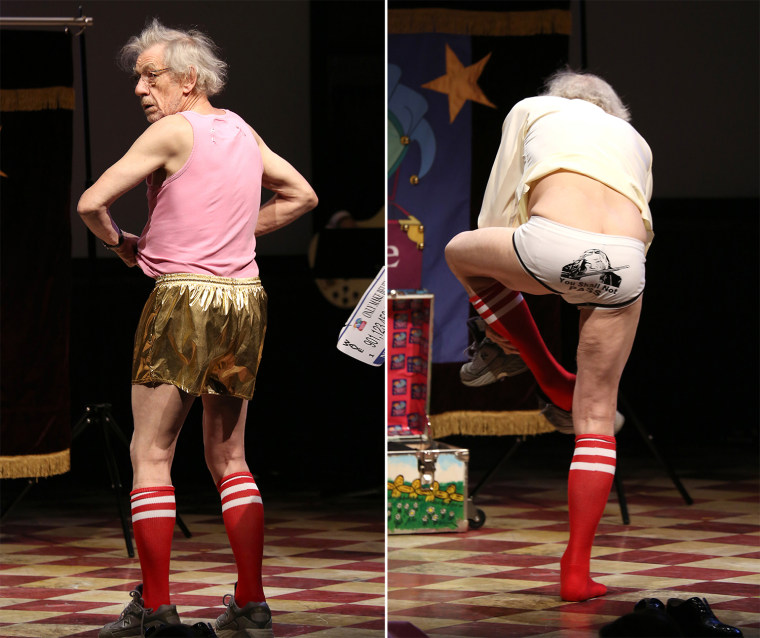 The mysteries of Gandalf's underthings are probably best kept under his flowing robes. But as Ian McKellen, who plays the wizard in the ongoing "Lord of the Rings"/"Hobbit" movie franchise showed on Monday, there's no mystery about what he's got under his jogging shorts: Gandalf underpants.
The 74-year-old McKellen, who has been delighting fans with his whimsical Twitter photos of himself and best bud/Broadway co-star Patrick Stewart for weeks, was onstage as part of the Only Make Believe charity gala. 
As Broadway World reported, he dashed onstage at the Bernard B. Jacobs theater as a marathon runner (the New York City Marathon was held on Nov. 3), then quickly doffed his clothing, all the way down to distinctive tighty-whities ... which revealed an image of Gandalf on his backside and the phrase "You shall not pass," one of the wizard's most memorable lines.
He then quickly slipped on a suit and tie while still onstage, and handed over part of his Gandalf costume from the films and some gold coins to one of the night's honorees, Dr. Alex Karp, according to the New York Post. (Susan Sarandon was the night's other honoree.)
Only Make Believe is a non-profit that performs interactive theater for children in hospitals and other care facilities, and holds a gala each year.