When the news that Carrie Fisher and Harrison Ford had an "intense" affair a long time ago in a galaxy far, far away (that is, London in the 1970s) while filming "Star Wars" dropped last week, it hit fans like a light saber.
And we're still talking about it!
But Fisher herself, admitted to Savannah Guthrie on TODAY that she can't figure out why we care.
RELATED: Carrie Fisher reveals 'intense' affair with Harrison Ford during 'Star Wars'
"I'm surprised at the reaction," she admitted. "I don't think it is that surprising."
She 'fessed up to the affair, which happened in 1976 when she was 19 and playing Princess Leia and he was 33 and playing Han Solo, in her new memoir "The Princess Diarist."
"I don't remember any details; I don't have a good memory," she admitted. But she said she only wrote in her diaries when she was "upset," and the affair was about two to three "months of upset."
"It was sad because I was so insecure, and it's very raw and obviously I didn't expect anyone, including myself I suppose later on, to read it," she said.
Who made the first move? Fisher was a little iffy about nailing that down (though it's in the book) and later told Hoda Kotb and Kathie Lee Gifford, "I didn't make the first move, no. ... I was tipsy and I was surprised."
Part of the problem, as she revealed in the book, was that she felt guilty about carrying on with a married man. "I wasn't raised that way," she said. "But when you're on location — this is something I discovered — everything is permitted."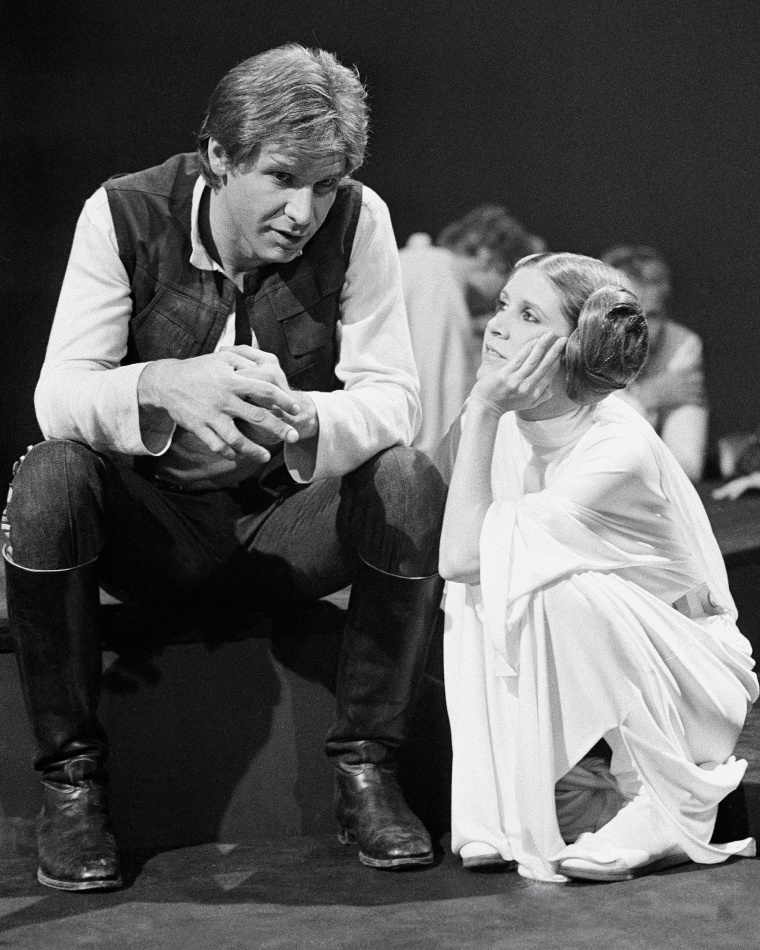 "It was a three-month one-night stand," she said ultimately.
But fans should bear in mind that "Princess Diarist" is not full of steamy sex scenes.
"Thank God!" cried Fisher. "There's only so far you want to go. This is already too far."
RELATED: Carrie Fisher strikes back at ageist 'Star Wars' body shamers on Twitter
So has Ford read the book? She's not sure. "He's incredibly private," she said. "I feel really bad about doing that too him. But yes, I told him I had found the journals and that I was going to publish them. He sort of went, 'Lawyer.'"
Best we can tell, he was kidding. We would not want to see this story head over to the dark side!
Follow Randee Dawn on Twitter.