Singer/songwriter Sara Bareilles joined us on TODAY Wednesday to share a few details on her new book, "Sounds Like Me: My Life (so far) In Song," which hit shelves yesterday. Since we can't deny our love for all things Bareilles, we were thrilled to also receive this excerpt from the book, reprinted with the permission of Simon & Schuster, Inc. Read on for the full scoop, and be sure let us know what you think of the songstress' essay in the comments.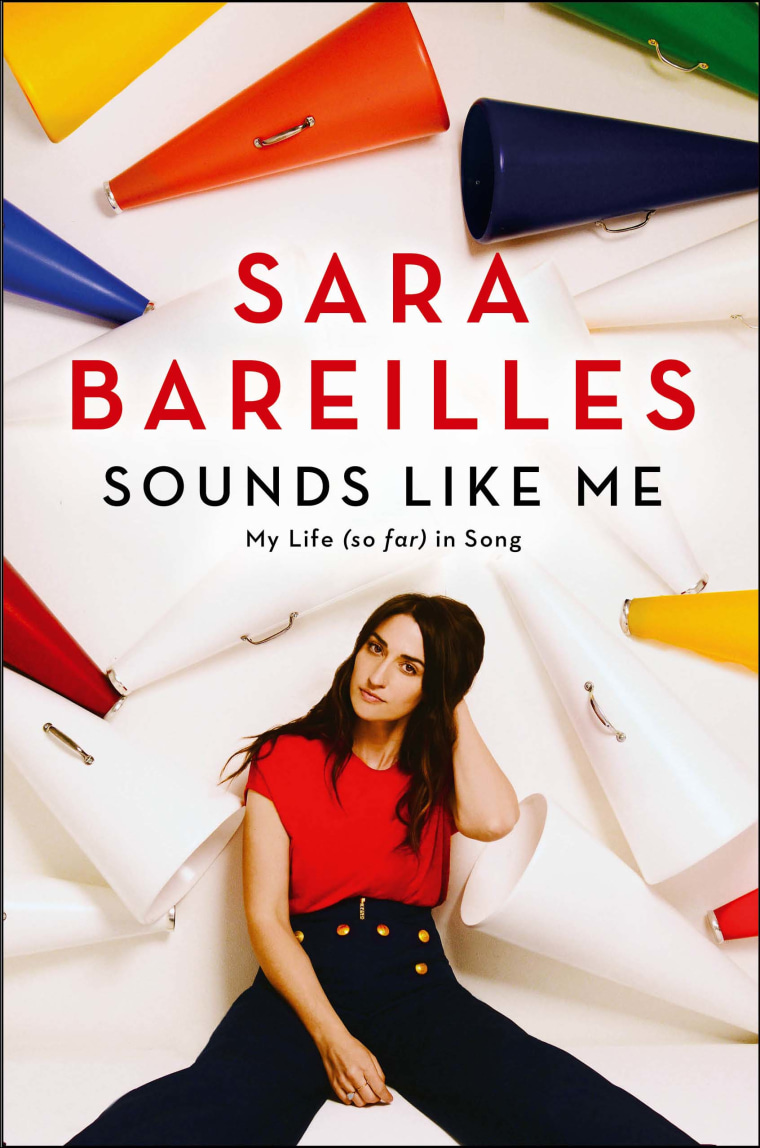 From the essay, "Once Upon Another Time":
As a child, I was a tomboy, and felt most myself with my clothes and my hands dirty, running through the woods with my two dogs by my side, following the clues of a self-laid treasure hunt, or clip-clopping along on my make-believe pony through a soft bed of pine needles. Our house was on five acres of redwood forest, and I spent the vast majority of my kid days out in what felt like cavernous wilderness. I wrote one of my first songs in my backyard, but realize now that it's maybe more creepy than cute to sing a song called My Special Place.
My uncle and his family lived next door to us, separated by an acre of field and forest. We were lucky to be close to our extended family, and the organized chaos of our combined houses is the backdrop for some of my best memories. Their house mirrored our own home down the hill: a sizable but modest ranch-style redwood house, tucked under the trees, where most things are a little bit broken but that's okay. There were always tons of people, some colorfully exaggerated stories being told around a table, plenty to eat, and a roaring fire in the fireplace…
My mom and sisters had been involved in theater productions for as long as I can remember, and some of my most floaty, blissful moments as a kid were among their theater friends. Loud, brash, eccentric, creative, accepting, and hilarious, they represented a spectrum of people I could see myself inside of. Their bright passion for being in the spotlight was something I could relate to, and maybe it was possible for me as well. Among these people, I never felt fat. I never felt ugly. I was welcomed into the center of all of it. The cast parties were (of course) hosted by my mom, and dancing and singing at the top of my lungs to our beloved Love Shack, I felt truly happy. This was a community of people who made me feel accepted and celebrated, and I wanted more of that.
Singing. Music. Performance. Those things had been threaded through my whole childhood. Whether it was our mini variety shows on the fireplace hearth, or singing along to my dad playing the piano late at night with a little glass of red wine (he had the wine, I had that bowl of croutons), I had always been a natural singer. I had a good ear, and although the mechanics of playing along to myself on the piano were much more difficult, I always had an affinity for it. I took piano lessons for a little while in the second grade, but as soon as my piano teacher (who pronounced my name "SAY-rah") asked me to do something different with my left hand than my right hand, I was overwhelmed and over it. But my love of music and of the piano in particular stayed. And now, I was seeing performance in a whole new light. My mom, my sisters, and their friends sparkled onstage in dozens of community theater productions. When Stacey was Eva Perón in Evita, I must have seen it seven or eight times. It was intoxicating. The drama, the costume, the emotion, the lights, the attention, the company of actors. I couldn't wait to get the chance to officially be a part of an artistic community.
I got cast in my first show alongside my sister Stacey when I was around thirteen. The experience was an awakening for me. I wore a shin-length gingham dress and pigtail braids, and played a little girl living on the prairie in a show called Quilters. I sang a solo about rolling green hills, and preparing for that moment, when all eyes were on me, was my favorite part of the show. I could feel the weight of being handed the attention of an audience and somehow knew how to hold that space, probably from watching my family before me. I felt powerful. And strong. And important. And beautiful. I was hooked. I wanted more and more of that feeling and I sought it out. Over the next few years, I had supporting roles in community theater productions of The Mystery of Edwin Drood and Charlotte's Web. When I got the lead in Little Shop of Horrors at my high school, I was in heaven. I sang in all sorts of choirs and musical ensembles and was not only welcomed into that world, but validated and rewarded. I sang Cyndi Lauper's Time After Time at our high school graduation, and watched my friends get emotional. It made me feel like I added something of value to the experience, and I was proud of that. I started writing music, and though I didn't yet share it, I had found my place by finding my voice.
I still spend a lot of time inside the rose-colored and complicated nostalgia of childhood. I still see myself as a little girl a lot of the time. Those years were precious as well as painful, and they taught me a lot. I learned empathy. I learned humor. I learned compassion. I learned how to soothe myself with my own private world of writing. In the midst of a group of peers who only made room for me sometimes, I sought out the places where I felt acceptance. I found it first in nature, and then on the stage, through performance. We go toward the softest places to land, and sometimes they are few and far between. I was lucky to find some sort of path that stretched out in front of me, like yellow lines on a freeway, and even luckier to have the feeling that it was going to take me somewhere special.
Excerpted from Sounds Like Me: My Life (so far) In Song by Sara Bareilles. Copyright © 2015 by Sara Bareilles. Reprinted by permission of Simon & Schuster, Inc. All Rights Reserved