/ Source: The Associated Press
As it ripped through Mississippi's coast and submerged New Orleans in a toxic stew, Hurricane Katrina laid waste to some of the region's cultural institutions but spared others with slight or moderate damage.
From Mobile, Ala., where the retired World War II battleship USS Alabama was listing eight degrees at its pier and its memorial park closed indefinitely, to Baton Rouge, La., where the zoo lost some of its trees but none of its animals, the storm wreaked capricious damage on historical sites, science centers, art museums and botanical gardens.
"We're learning now that the destruction was even greater than we thought," Ed Able, president of the American Association of Museums in Washington, D.C., said Wednesday. "What we need most now is skeleton staffs to protect these collections — not just in New Orleans but all along the Gulf Coast."
He said that state officials were to meet Wednesday in Baton Rouge to discuss museum security. "We can't just lock the doors of the museums and walk away," Able said. The region includes 126 historical and cultural sites, "literally from A to Z — aquariums to zoos."
Some stayed to protect artNew Orleans especially is noted for its gardens and more than 40 museums. But with most telephones out of service, it has been difficult to contact many of them for damage reports, Able said. At most institutions, phones rang busy and e-mails were not answered.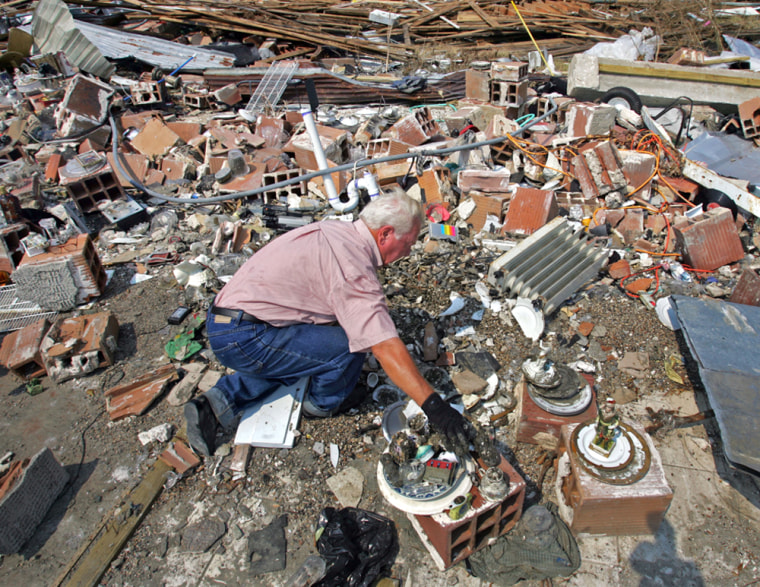 At the New Orleans Museum of Art, which has one of the country's largest glass collections, a 45-foot metal sculpture, "Virlane Tower," by Kenneth Snelson and valued at $500,000, was "reduced to a twisted mess in the lagoon," AAM reported.
Snelson said Wednesday in an e-mail to The Associated Press that another of his works, an eight-foot tower at the World Trade Center, was destroyed in the Sept. 11, 2001, terror attacks. "I can't wait to see what happens next time because I'm running out of towers," he said.
Other outdoor sculptures at NOMA were moved indoors before the storm hit by museum employees who then stayed to protect the art collection, despite being urged to leave by the Federal Emergency Management Agency.
Able said one report he received described the museum as surrounded by water, "looking like a castle on a hill with a moat around it."
Relying on press reports and information from Web sites and other sources, the AAM has posted a list of storm-impacted sites extending as far north as Jackson, Miss., where the Old Capitol Museum of Mississippi History lost part of its roof and art and natural science museums suffered damage from leaks.
Some institutions, especially aquariums and gardens, could suffer further from a lack of power or diesel fuel for generators to maintain life-support systems.
"The problem is that these institutions made it through the storm but the worst may be yet to come," Able said.
Most of the salt and fresh water fish were lost at the Audubon Aquarium of the Americas at the foot of Canal Street in New Orleans, while sea otters, penguins, raptors and a white alligator were saved, officials said.
Among demolished attractions were the Marine Life Oceanarium in Gulfport, Miss., and the Maritime and Seafood Industry Museum in Biloxi, Miss. The Maritime museum featured an exhibit on Hurricane Camille, which devastated the same area in 1969.
Beauvoir, the Biloxi home of Confederate President Jefferson Davis, was heavily damaged but Davis' papers survived, according to its Web site. The storm obliterated the historic G.B. Dantzler House, leaving an overturned tree on the debris. The mansion was recently renovated to become a Mardi Gras museum.
The hurricane also pushed a multistory casino barge in Biloxi a quarter of a mile inland where it crushed part of the unfinished Ohr-O'Keefe Museum of Art, a $30 million project designed by architect Frank Gehry. Scheduled to open in 2006, it will showcase the cultural legacy of Southern artists.
Some of New Orleans' major cultural institutions, in the Warehouse district and the French Quarter, suffered "moderate to severe" wind damage but were on ground high enough to avoid flooding when the levees broke. These included 12 historic French Quarter properties owned by the Louisiana State Museum, among them the Presbytere, the Cabildo and the Old U.S. Mint, which contains historical archives. Preservation Hall, the Quarter's historic jazz center and a tourist destination, was not seriously damaged but will be closed indefinitely, according to its Web site.
The National D-Day Museum escaped the flooding. Confederate Memorial Hall, across the street, also remained dry and its staff safe, according to curator Pat Ricci, quoted on the AAM Web site.
New Orleans' Ogden Museum of Southern Art came through in good shape, curator David Houston said. In Ocean Springs, Miss., the Walter Anderson Museum of Art survived but the artist's studio and other facilities were damaged, the AAM said.
Longue Vue House & Gardens, a well-known botanical garden in New Orleans, had "significant tree damage," according to its executive director, Bonnie Goldblum, but water damage was unknown. The garden is next to the 17th Street Canal, where one of the levees broke.