Hugh Jackman and wife Deborra-lee Furness have managed to defy the Hollywood odds and stay happily married for 21 years. So, what is their secret?
"You have got to find the right person," he told TODAY on March 13. "It's powerful, but simple."
More than that, according to the "Greatest Showman" star, it's about finding the person with whom you can be yourself. "When you're dating, you literally put on the best version of yourself," said Jackman. "When you get on the dance floor, you're like, all right, I am pulling out my best moves here, I am doing my best lines, I have got my best clothes on. How do you transition from that person to actually truly being yourself? The tracksuit pant version of yourself."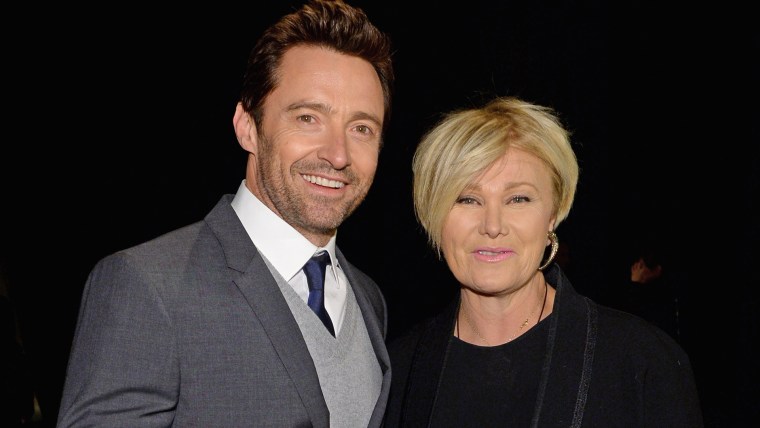 Jackman, who spoke with us during a SXSW appearance with his coffee brand, Laughing Man, added, "Until you feel that comfortable with your partner, you don't really know if you're right together. So literally from day one, Deb and I had that feeling. It was like a relief. I could just be myself. I am not saying we don't ever dress up or impress each other, but being comfortable is a key."
The Aussie actor also revealed that the pair have some agreements to keep their relationship strong.
"Deb was in the business before me and made some rules," said Jackman. "We are not going to spend more than two weeks apart, and we are not going to work at the same time if we don't have to financially. So, one of us is always there to support the other. And we have maintained that for … well next month is 22 years."
In addition to the career support, Jackman revealed that he and Deb also promised they would travel and experience the world together. One of the most memorable trips they took was to Ethiopia, where they met a poverty-stricken coffee farmer named Dukale in 2009. It was this meeting that inspired Jackman to start his socially conscious coffee brand, Laughing Man.
"For Deb and me, being able to be in those hospitals, work in the fields, have lunch in the huts," said actor-turned-entrepreneur. "That is really life-changing and is ultimately the motivation that I draw onto this business."
Almost a decade after that inspiring trip with Deb, Jackman's side venture is still going strong. In fact, he announced at the Austin, Texas, festival that Laughing Man Coffee is making a renewed commitment to the advancement of coffee growing communities around the world by doubling charitable donations this spring.
It's this passion for giving back that the father-of-two hopes to pass down to his children. "For my kids to see and grow up with this business that is growing, I think they feel like that is going to be something that is going to be their responsibility in future years," said Jackman. "That is what Deb and I hope they will be proud of and continue. It's the 2.0 of giving back."
The Aussie couple even hopes to bring their children with them to Ethiopia one day. "I am still in touch with Dukale, but I haven't been back yet," said Jackman. "But he wrote to me and said that the trees I planted, which are named after my children, are now bearing fruit. It takes about five years, so I'm excited to go back and see them. And I would 100 percent want to bring my children this time."