Hugh Jackman is one of those rare of A-list actors: He can leap from a snarling superhero in the "X-Men" series to a delightful singer and dancer in films like "Les Miserables" and his upcoming movie, "The Greatest Showman."
But while we're thrilled to have a brand-new musical (songs were written by the Oscar-winning "La La Land" team, no less) featuring Jackman as a singing, dancing P.T. Barnum, it almost didn't happen.
In fact, Jackman almost didn't became the dancer he is today, thanks to someone who early on told him it was a "sissy" move.
As he explained to TODAY's Savannah Guthrie, when he was around 11 years old, a teacher saw he had native talent and suggested he get lessons. His father was solid with it ... but not everyone was on board.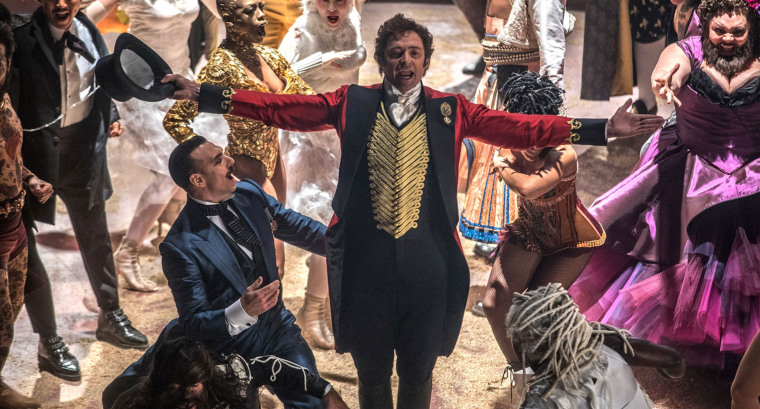 "Someone said, 'You're a sissy dancer! ... Dancing's for sissies!' And I was like, 'I'm not a sissy, so I didn't do it,'" the Oscar-nominated actor recalled.
Who was this someone who had so much pull? Turns out it was Jackman's older brother, as he revealed to the Los Angeles Times in 2012.
But when Jackman went with his father to see a production of "42nd Street" when he was 18, his brother had a change of heart. "(He) said, 'I said something really stupid to you about eight years ago. You belong on the stage, and I'm really sorry.'"
The next day, said Jackman, he signed up for dance lessons, and the rest is history.
But it underscores a powerful message that the actor says is also part of "Greatest Showman": Namely, accept yourself and never give up your dreams.
"For my kids and for any kids out there, I don't care if you want to be a mechanic, make pizza, dance — if you love it, you do it," he said. "Don't care what anyone else says, and that's part of the message of this movie: (It's) never too late."
"The Greatest Showman" opens in theaters on Dec. 20.
Follow Randee Dawn on Twitter.