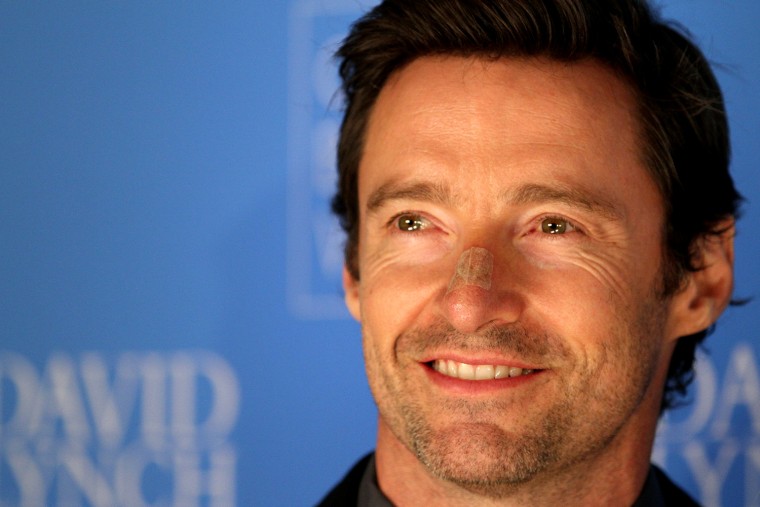 Hugh Jackman wears a bandage on his nose these days, but it's no fashion statement: He's had it since late November, thanks to an unplanned surgery on a basal cell carcinoma. But he's now opened up about the incident with his "schnozz," and how much worse things could have been.
"The whole time, I thought it was not much, but only afterwards did they say 'You're really lucky you got it checked out now,'" he told TODAY. 
He emphasized that it was not melanoma that he had removed, but a basal cell carcinoma, which is less severe but "does grow and there are complications the bigger it is."

Jackman Instagrammed a photo of himself post-surgery on Nov. 21, telling his fans to get their own skin checked and to wear sunscreen. Jackman admitted he wouldn't likely have gotten it checked in the first place, without urging from his makeup artist and his wife. 
It all started, he said, during filming of the upcoming "X-Men: Days of Future Past."
"I was shooting the movie, and I had a bit of blood one morning, and I thought I'd scratched myself in a fight," he said. For the next few weeks, he assumed when his nose was bloodied again that he'd just scratched off the scab. But then his makeup artist noticed, and told him to get it looked at.
That's where his wife, Deborra-Lee Furness, stepped in: "She hounded me to get it checked."
How did it get to this point? Jackman points to his native, sunny country as the likely source. "Australians," he says. "It's par for the course. I don't remember being stopped and someone saying, 'Are you boys wearing sunscreen' until I was around 15, 16."
For now, he says, he'll keep getting the area checked a few times a year. And he can even joke about it a bit. "People presume actors are very vain, but I told the doctor to make it an even bigger scar," he said. "Go about 45 degrees up, then a little tilt down — I've always wanted one of those."